Nearly four-in-10 Millennials lived with their parents or relatives last year — the highest proportion of young adults to have such an arrangement in more than seven decades, according to Trulia, a company that provides real estate information.
It's a situation that is creating some concern, as experts say it's possibly being driven by an array of issues, including high rent, low wages and large shares of student debt. The only time the proportion was higher was in 1940 when the country was recovering from the Great Depression and preparing to enter World War II, according to CBS News.
The results of the Trulia analysis are seemingly corroborated by a previous report from the Pew Research Center, finding that, in 2014, young adults aged 18 to 34 were more likely to be living with their parents than with a partner or spouse — something that happened for the first time in 130 years.
Millennials living with parents or relatives apparently kicked up into high gear before the 2008 recession and intensified thereafter, the Daily Mail reported.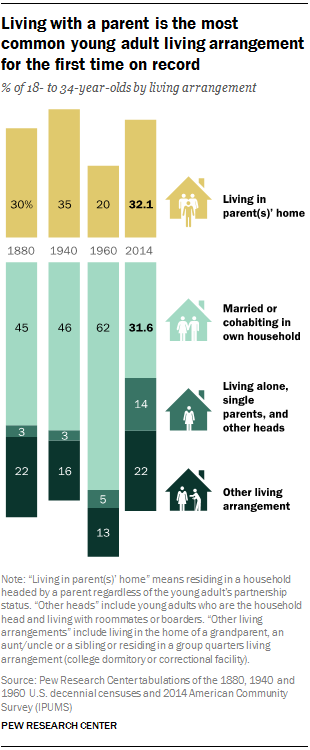 "By 2014, 31.6 percent of young adults were living with a spouse or partner in their own household, below the share living in the home of their parent(s) (32.1 percent)," the aforementioned Pew report read. "Some 14 percent of young adults were heading up a household in which they lived alone, were a single parent or lived with one or more roommates."
Pew continued, "The remaining 22 percent lived in the home of another family member (such as a grandparent, in-law or sibling), a non-relative, or in group quarters (college dormitories fall into this category)."
Millennials are also less likely to get married early and aren't having as many children, arguably some of the other factors critics might tie back to the financial constraints faced by the generation. Regardless of the causes, Cheryl Young, senior economist at Trulia, said these challenges are profoundly impacting the generation.
"Even though unemployment rates have decreased and the economy is picking up, we know wages are stagnant, so this will impact this generation of homebuyers," Young said, according to CBS News. "The millennials are getting married later and having fewer children, and that's particular to this generation."
Read more about the issue here.
—
Other Must-Read Stories:
– 'I Was a Monster': Woman's Shocking Transformation After Abandoning Heroin and Embracing Jesus Goes Viral
– Stunning Version of 'Little Drummer Boy' Includes Only 'Sounds Made By the Human Voice' — Check It Out
– Parents Are About to Be Given the Power to Cut Negative Language and Scenes From TV Shows and Movies
– The Top 5 Reasons Americans Chose Not to Vote in the 2016 Showdown Between Trump and Clinton