This is a Faithwire Original story. All footage and images are property of Faithwire.com. Contact dandros@faithwire.com for permission to use any of the photos or videos in this feature.
---
President Trump sparked controversy with his "tough" comments about impoverished countries such as Haiti and Africa when in a meeting  with colleagues discussing DACA. The President denies he used the term "sh**hole countries" but did admit to using "tough" language about the third world nations.
It's true, nations like Haiti are an economic mess – but that has nothing to do with the character of the people living under that mess. I want to dispel that myth by highlighting a few incredible stories from my recent time spent in Haiti.
I went there a few months back and the poverty is breathtaking, to say the least. Here's some mind boggling footage I captured oceanside featuring a mountain of trash, wild pigs roaming about, and half-naked children playing & going to the bathroom wherever they please:
The first thing I noticed when arriving in country was the trash everywhere. Rivers of it – literally. It is difficult to put into words just how remarkable the Haitian people are to not only survive in this harsh reality, but in many cases thrive. They have a unique spirit, and many of the people I came across were filled with gratitude and joy despite having virtually no material possessions.
Imagine routine daily life using outhouses (if you're lucky), no running water, tin roofed makeshift homes (if you're lucky) and taking the family to the market on this:
If a family is fortunate enough to have transportation, this is likely what they'll have. Routinely I witnessed families of 3, 4 even 5 people on one of these small motorcycles. Small children balanced on the front while groceries were smartly placed on heads or tied to the back.
Here's what we showered with:
Yes, that is a small bucket of cold water.
The average Haitian survives on $2 per day. Given the creature comforts in America, that's something we cannot even begin to comprehend. Take this family I met, for example (video below). Their young son – barely a teenager – wanted to help his family put food on the table. So, he went to a nearby construction site and asked the foreman if he could have some concrete.
He was initially declined, but the boy clarified that he just wanted the leftover concrete that had been scraped off and left on the ground. So, for several weeks the boy would head over to the site as the works left for the day and gather up bits of concrete. He ended up making this bread oven, and now his family can cook bread and other foods they couldn't previously.
Look at the pride on this young man's face as he showed me his creation:
Who wouldn't be inspired by a people with this much resiliency? What parent in America wouldn't give their left leg to have their young sons adopt a similar work ethic? And yes, material things make our lives easier. But after spending time in Haiti, I began to wonder if all the material comforts we accumulate actually blind us from taking part in something bigger.
Here's a bit of a church service I briefly attended in Haiti. I was there about an hour – but service began at 7:00am in the morning and didn't stop until the afternoon.
We have a tough time keeping our attention for 45 minutes a week – are you beginning to see what I'm getting at here? Maybe the Haitians do have something of value to offer us after all. Maybe we could benefit from a few of these faithful Haitians heading to America. Maybe they are the ones who can help us, not the other way around.
The little girl I'm holding in that video doesn't smile. I was trying my best, showing her the viewfinder so she could see herself, but it still didn't work. Lord knows what hardships she's experienced in her life, but Lord knows she's going to persevere. Because that's what Haitians do.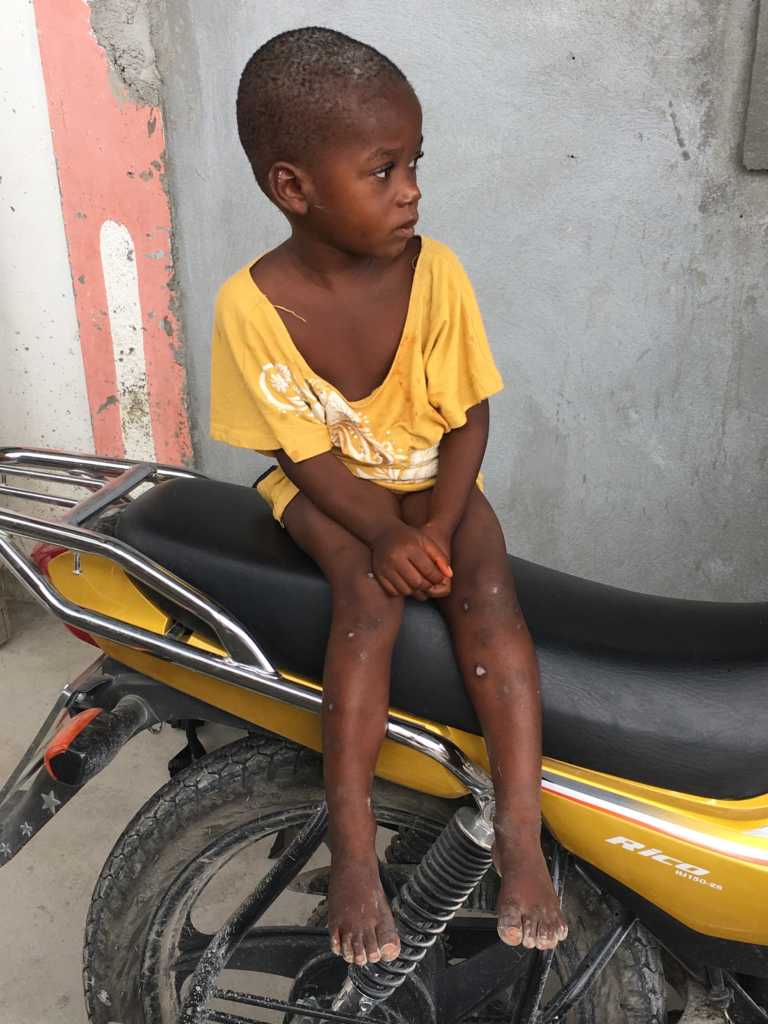 And that's not to say they don't need help – of course they do. They are in extreme need. But just because we have more material things to offer them, doesn't mean they have nothing to offer us.
Here's another family I visited. This room you see in the video (below) is one of two rooms in their 'house'. But look at the sheer joy on their faces. The gratitude. They greeted the American missionary I was with (Kate Bartow) with this same enthusiasm every single day. 
They immediately welcomed me, this sorely sticking out like a thumb white American dude, and assured me that I was home. Our country is your country they told me, followed by some perhaps a little over-enthusiastic hug offerings.
Look at how their positive attitude spills out into the young children, especially the girl featured in this short video who nearly lost her leg to a simple cut. It became infected, as often happens in Haiti, because so many people don't have easy access to water in order to clean it.
WATCH:
I was only in country for less than a week, but what I saw will stay with me forever. I often teach my kids about what I saw and learned there, and hopefully you'll be able to take this information and do the same.
We would be wise as Americans to remind ourselves that superior wealth doesn't mean superiority. In fact, the argument could be made that our great wealth actually weakens us. What is the stereotypical critique of the young person today? They are soft millennials, the trophy generation, the snowflakes, the PC police, the war on Christmas crowd, and so forth.
American abundance has caused us to search for new things to be passionate about. No longer do we have to strive so hard to put food on the table, so now we have time on our hands to complain about trigger warnings and micro-aggressions. Side note – don't even try to compare American struggle to struggle in a place like Haiti. When our 6 year olds are trekking up and down steep hillsides to get water for the day – then we can talk.
The conditions of a country shouldn't be grafted on to the people of the country by default. Sh**hole country does not equal sh**hole people.
Some of the same derogatory language was used to describe Ireland, but their immigrants helped build America – and Ireland happens to be a pretty nice place to live these days. It's the government leaders who make their countries sh**tholes, and the people forced to live in squalor because of it are actually quite amazing people – because they've managed to survive under the most dire circumstances.
They have much to offer. We'd be wise to simply humble ourselves and receive it.