A Pennsylvania bagel shop is hoping to find an elderly customer after his wife sent them a beautiful note, thanking the staff for always treating her husband with respect. The old man, only known as Walt, suffered from Alzheimers and would present a laminated sheet containing his regular order to the staff at Redhouse Bagels in Bensalem after attending mass every Sunday.
"Walt was a regular. He would get pork roll, egg and cheese" on a plain bagel, Redhouse Bagel staff said. Then all of a sudden, he stopped coming. The bagel shop was concerned about Walt, considering he stopped by the shop at 7 am on the dot every single week.
As it turns out, Walt had been taken into care due to the deterioration of his health. The Redhouse team was amazed to get this note through from his wife: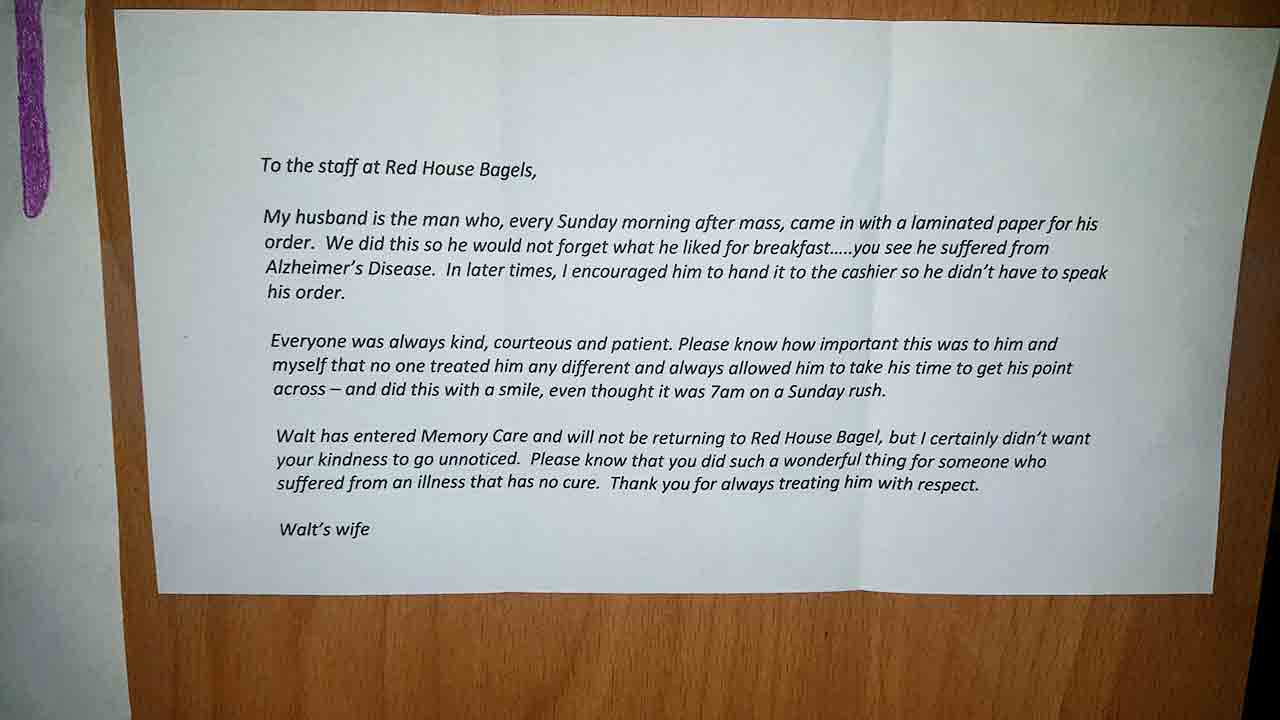 "Please know how important this was to him and myself that no one treated him any different and always allowed him to take his time to get his point across – and did this with a smile, even though it was 7 am on a Sunday rush," Walt's wife wrote.
"Please know that you did such a wonderful thing for a man who suffered from an illness that has no cure. Thank you for always treating him with respect."
The owner of the bagel shop, Richard Redhouse, is now trying to locate Walt and his family.
"He loved coming here and this is our 20th year and it makes it all worthwhile – makes you feel good and makes you want to help Walt and wherever he's at now and get him his fave sandwich again," Redhouse said, as reported by 6 ABC.
Walt's wife never gave her first name, of even her husband's last name, so it has become difficult for the Redhouse team to locate him. But they are determined to find Walt and to deliver him a special porkroll, egg and cheese bagel wherever he might be.
Comments of support have been pouring in on social media. "You guys are killin' me…amazing!!" one person wrote on the Redhouse Bagel Facebook page. 
Some gave tips about where Walt could be found: "Redhouse – Aria hospital has a memory care unit. Possibly could find him there. I sure hope you find Walt and his family. You all have a huge heart."
One person even suggested that Walt's favorite bagel be named after him from now on. "Pork Roll Egg and Cheese should now be called "The Walt"" they wrote. What a great idea!
We'll keep you posted on the story as Redhouse continues to search for Walt. We hope they manage to deliver him a delicious fresh bagel first thing Sunday morning!