A Pennsylvania bagel shop has located their loyal customer Walt, who suffers from Alzheimer's disease. As Faithwire previously reported, Walt showed up to the food outlet every Sunday morning with a laminated sheet detailing his regular order so he wouldn't forget. Then suddenly, he disappeared.
"Walt was a regular. He would get pork roll, egg and cheese" on a plain bagel, Redhouse Bagel staff said a couple weeks back. Then, the shop received a letter from his wife, who explained the situation.
As it turned out, Walt's Alzheimer's had worsened and he had been taken into care. The staff at Redhouse were so moved by the note that they set about tracking down Walt and his family. They wanted to deliver him his favorite bagel, wherever he might be.
Well, they found him. And their response was beautiful. "Walt" is Walt Skibiszewski, a 78-year-old suffering from Alzheimer's, as reported by BillyPenn.com.
In honor of this special customer and his battle with incurable illness, the shop decided to name his favored bagel after the man himself. Now, you can head to Redhouse and pick up "The Walt" to go. How cool is that! They are also donating a percentage of the sales to the much-needed research into this devastating disease.
"So…I keep saying through all of this social media frenzy that I am overwhelmed and amazed by it all. But I really feel like I need to express exactly what I mean by that," wrote co-owner Sharon Keck Redhouse on Facebook. Sharon neatly summarized the whole situation in her brilliant post:
"When I break down the course of events, this is how it goes:
– Walt, who suffers from Alzheimer's, regularly came into Redhouse and our staff always treated him KINDLY.
– Walt's wife KINDLY wrote a beautiful and touching note recognizing them for treating him KINDLY.
– Rich and I KINDLY posted her note on social media to let our staff know that we appreciate a job well done."

Then, the story exploded.

"- Literally thousands of people responded KINDLY to our posts with praise and positive comments as well as personal stories of how Alzheimer's has affected their own lives.
– We responded to the outpouring of love, KINDLY honoring Walt by naming the sandwich after him and donating part of the proceeds to Alzheimer's research/awareness.
– Social media exploded again, KINDLY responding to that simple gesture
– People have been coming into Redhouse ordering "The Walt" like crazy to KINDLY support the cause and some have even KINDLY just made donations in Walt's honor.""
Redhouse added:
"I hope I've made it obvious that the common thread through this entire course of events has been KINDNESS!!!  And THAT is what overwhelms and amazes me! Thousands of people, thousands of posts (and I've tried really hard to keep up with them, reading and liking as many as I could)….we have not seen a single unkind word!

It's amazing to me that there truly is SO much kindness in this world and that it literally takes only ONE, seemingly small, single act of kindness to spark such an enormous and far reaching (I've been told that this story has made its was to Illinois and Cleveland) outpouring of love, compassion and more KINDNESS than I could ever imagine possible!"

"CHOOSE KIND because obviously, it's amazing what happens when you do!"
The mission to #findwalt took off on social media. The Facebook post announcing Redhouse had been in touch with the family received over 1,000 likes and hundreds of shares.
"Beautiful and well said," one person commented on Sharon's post. "Proud to know you and to live in a community that supports such a wonderful establishment."
"Love this! Can you imagine if everybody tried their hardest to be more kind, understanding and patient. This world would be even more beautiful," another added.
"It's so refreshing to see kindness and compassion on social media. Kindness is contagious. Just takes one small gesture to start the outpour."
Walt's wife, Michele Recupido, responded to the outpouring of love and kindness for Walt and others suffering from Alzheimer's. "The power of the written word is amazing," she said, as reported by BillyPenn.com. "This story shows there's kindness in the world — I want it to be told."
When Recupido slipped this note onto the counter of Redhouse Bagels in Bensalem, she thought that would be the end of it: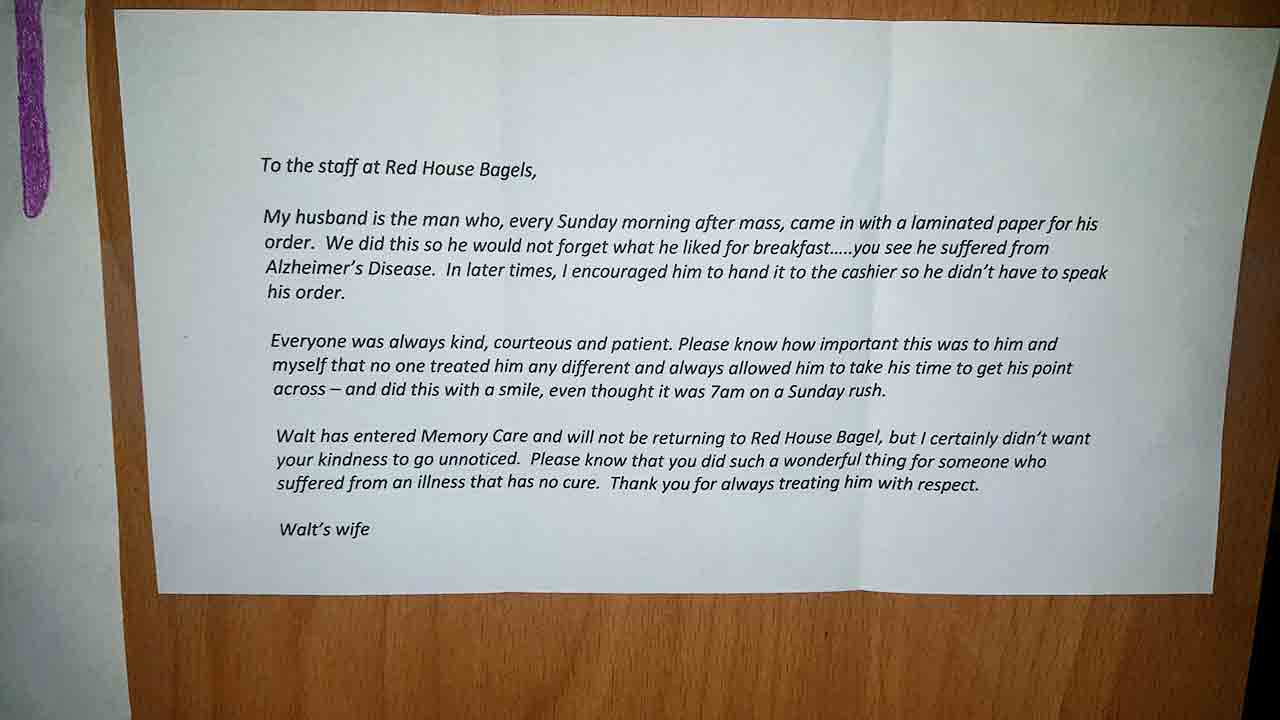 But staff immediately started searching for their mystery customer. "Is that your Walt?" asked friends who'd gotten to know Walt over him and Recupido's 30-year marriage. "That's you they're talking about, right?"
Then, Rob Loper of care services company Visiting Angels made a call. "My friend Rich Redhouse is looking for you," Loper told her. "He's a good guy, you should reach out."
"I realized it's not about me," Recupido added. "It's about my husband, who's the sweetest man, such a nice, nice guy."
"The comments on the Facebook page made me realize the disease is affecting so many people," Recupido explained. "I hope this story helps people realize it's nothing to be embarrassed about."