Former president George W. Bush has been enjoying a huge resurgence in popularity lately. His approval ratings have been shooting up as he has avoided wading into politics almost entirely.
Six in 10 Americans, 61%, assert that they now have a favorable view of the 43rd President of the United States, according to the latest CNN poll. His approval rating was around half of that at 33% when he left the White House almost a decade ago, in January 2009. The poll of 1,005 adults was taken from Jan. 14-18, and has a margin of error of 3.7 percentage points.
Bush is just below Barack Obama's approval rating of 66% but is a mark above current US President Donald Trump, who came in at just 40%. Incredibly, Bush holds a majority favorable rating among every single demographic group except for liberals. He has strong approval ratings in democratically-dominated groups such as non-white and those under the age of 35.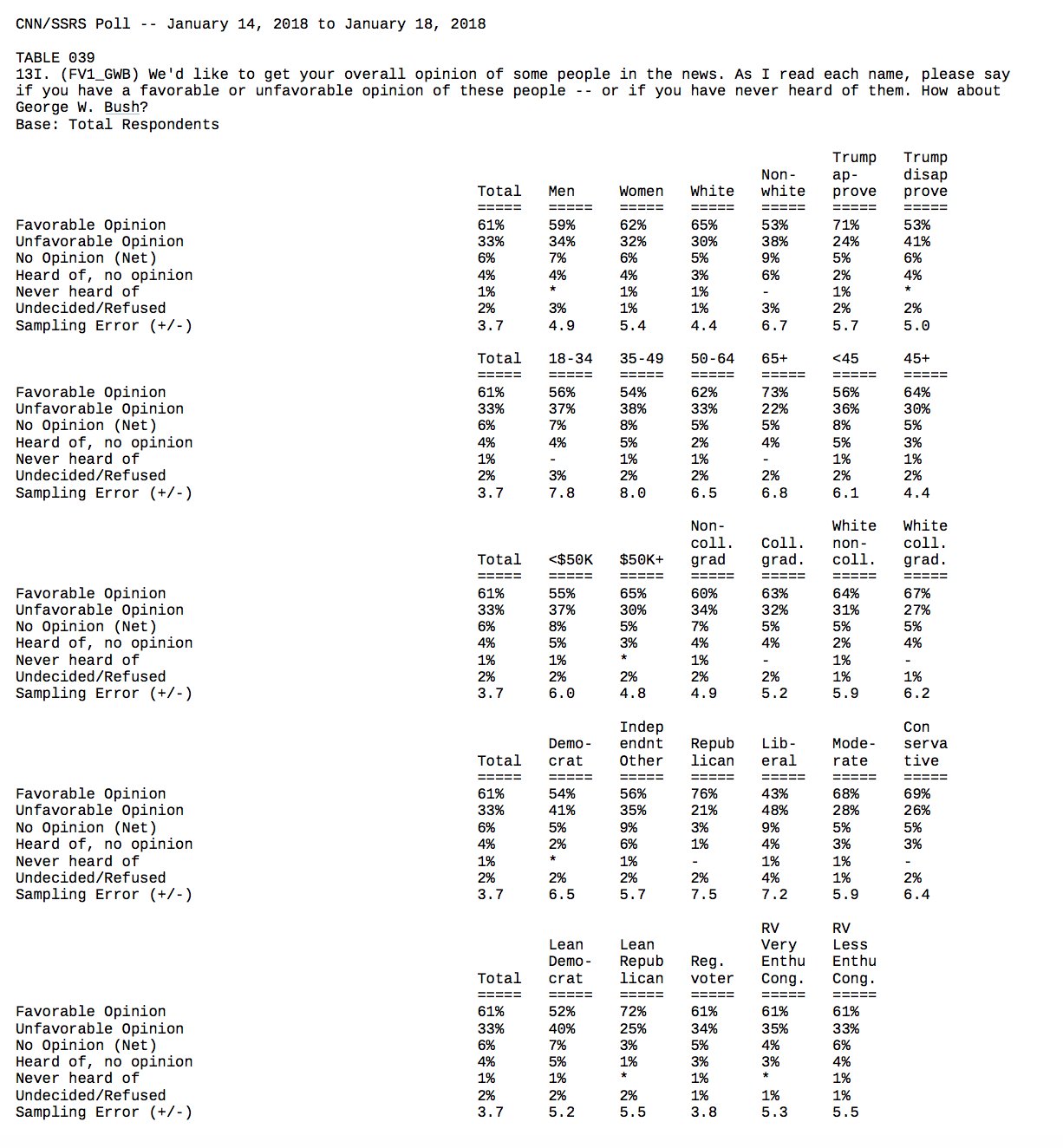 A polarizing figure in the Oval Office as he dealt with 9/11 and lead the charge in the Iraq war, Bush has been spending his time in very different environments over the last few years. CNN caught up with him in Africa, where he is building health clinics and seeking make a difference to people's lives.
"It's an awesome experience being here," Bush said, speaking outside a clinic in Zambia. "It's good for my soul. I come from a privileged land and a land of plenty. When we come to a pace where there is deprivation and see such joy. It is a reminder that the human condition can be full of a great spirit."
Bush has chosen to stay out of the limelight of Washington. And Trump? He remains silent. "It's difficult. A former president doesn't need to make it harder as far as I'm concerned," he commented on the subject.
Bush has, however, sought to speak out against increases in white supremacy and ultra-nationalist activity in the US.
"Our identity as a nation, unlike other nations, is not determined by geography or ethnicity, by soil or blood. … This means that people from every race, religion, ethnicity can be full and equally American," Bush said at an October event. "It means that bigotry and white supremacy, in any form, is blasphemy against the American creed," he continued, adding that "bigotry seems emboldened."
In response to the race riots in Charlottesville last year, Bush stated: "America must always reject racial bigotry, anti-Semitism, and hatred in all forms."
Lydia Saad at Gallup attempted to offer up an explanation for why "W" has enjoyed such a resurgence in the polls:
"Bush has not stirred much controversy, as he comments little on issues or candidates, and is usually in the news only for an occasional appearance on behalf of a pet cause or publicity about his newfound love of painting. Perhaps accordingly, his image has gradually recovered to a level not seen since a few months after he won re-election in 2004, mainly because of improved ratings from independents and Democrats."
George W. Bush is all ??? over his fav-unfav numbers in new CNN poll

2009: 34-62%
2014: 46-51%
2015: 52-43%
2018: 61-33% (WOW!) pic.twitter.com/TQX26rNQsA

— Chas Anderson (@ChasAnderson) January 22, 2018
Often characterized as a bumbling and gaffe-prone figurehead rarely in touch with the situation on the ground, Bush continues to reveal his compassionate side – something that also happens to work wonders for his approval ratings. Since leaving office, the former Commander in Chief has focused on charity work including the issue of women's health issues in Africa – something he feels very strongly about.
"We view it as a mission of mercy, but it's not our mercy," he said, locking eye contact with the reporter. "It is spiritual. Our motivation is to help save lives."