Hundreds of people have lined the streets in Colorado Springs to honor a police deputy who was gunned down as he attempted to thwart a car theft Monday.
Crowds of civilians and officers gathered along South Nevada Avenue to pay their respects to 34-year-old Micah Flick, who is survived by his wife Rachael and 7-year-old twin daughters. Flick and three other officers were investigating a stolen vehicle in Colorado Springs when they approached a suspect, and struggled with him, authorities said. The man then pulled a gun and opened fire on the officers. The incident occurred near the intersection of North Murray Boulevard and Galley Road around 4pm, according to CBS News.
A witness told KOAA-TV that he saw multiple people on the ground and one person being given CPR. He also detailed that he heard someone yelling, "drop the pistol!"
Hundreds of people from the community, stand in silence and unity on E. Las Vegas for procession of fallen Deputy Micah Flick. @KKTV11News pic.twitter.com/sCa1TO9jIx

— Jessica Leicht KKTV (@JessLeichtKKTV) February 6, 2018
Three other officers were injured in the gun battle, two from the El Paso County Sheriff's department, and one from Colorado Springs. All are being treated in hospital at this time.
"This indeed is a difficult day for our agencies," Colorado Springs Police Chief Pete Carey said at a press briefing Monday night. "Tonight there is no distinction between our uniforms. State Patrol, Sheriff's Office and the Colorado Springs Police Department, our hearts are all broken."
The sole suspect was killed by the officers involved in the incident. Monday marked Flick's 11th anniversary on the job.
Jill Gaebler, the Colorado Springs City Council President Pro Tem, who represents the area where the shooting took place, called it a "tragedy," but said she was not "surprised," adding, "People seem to be less and less concerned about the lives of our public safety officers. It's in all of our neighborhoods and it's enough."
This afternoon, Deputy Micah Flick was shot and killed in the line of duty. He is survived by his wife and 7 year old twins. Today was his 11 year anniversary with EPSO, and our hearts are broken. #LoDD

— EPCSheriff (@EPCSheriff) February 6, 2018
"He always has a smile on his face. He has done so many things in this department in his 11 years. Today was his 11th anniversary," said Reni Dehaan, whose husband worked alongside Flick in the force.
Our Brother Deputy Flick. End of Watch, February 5, 2018 pic.twitter.com/EkCLTICtfl

— EPCSheriff (@EPCSheriff) February 6, 2018
One boy, the same age of the deputy's daughters, watched the powerful procession alongside his father.
"It's sad when someone dies because they might have kids and stuff," said Shane Neener, as reported by CBS Denver. "It's heart wrenching every time something like this happens… And it's important for me that my kids know that these are important people in the community," said Shane's dad, Mike.
"This is the least I could do," said another onlooker.
"It is with profound sadness that I say that this afternoon, Deputy Micah Flick, 34-years-old, was shot in the line of duty and has died," Sheriff Bill Elder said at a press briefing, as he fought back tears. "Deputy Flick was an outstanding member of my agency and he will be missed."
Colorado Governor John Hickenlooper issued a statement following the deadly shooting:
"A senseless act of violence has claimed the life of another member of Colorado's law enforcement family. Late this afternoon, we learned that El Paso County Sheriff's Office Deputy Micah Flick was killed, two other deputies were injured, as was a Colorado Springs police officer and two bystanders. With the recent loss of now three deputies and many others injured, there's no denying the grave impact this sequence of shootings is having on our state.

"We will once more come together to provide sympathy and strength for the deputy's loved ones and pray for the recovery of those injured; however, we also must come together and say enough is enough. We want each officer, every deputy, to know we are grateful for their service."
We are grieving the loss of @EPCSheriff Deputy Micah Flick. Again saying words of condolence, crying tears of sorrow, screaming in frustration at another life taken too soon. 5 weeks, 3 deputies, 3 black bands, 3 broken families, 1 thin blue line that will only get stronger.

— Arapahoe Sheriff (@ArapahoeSO) February 6, 2018
In 2016, Flick was interviewed by KRDO on the issue of credit card theft. "Please do not leave wallets, personal identification, documents, bank statements inside your vehicle. That's a very easy target for criminals," the police officer said at the time.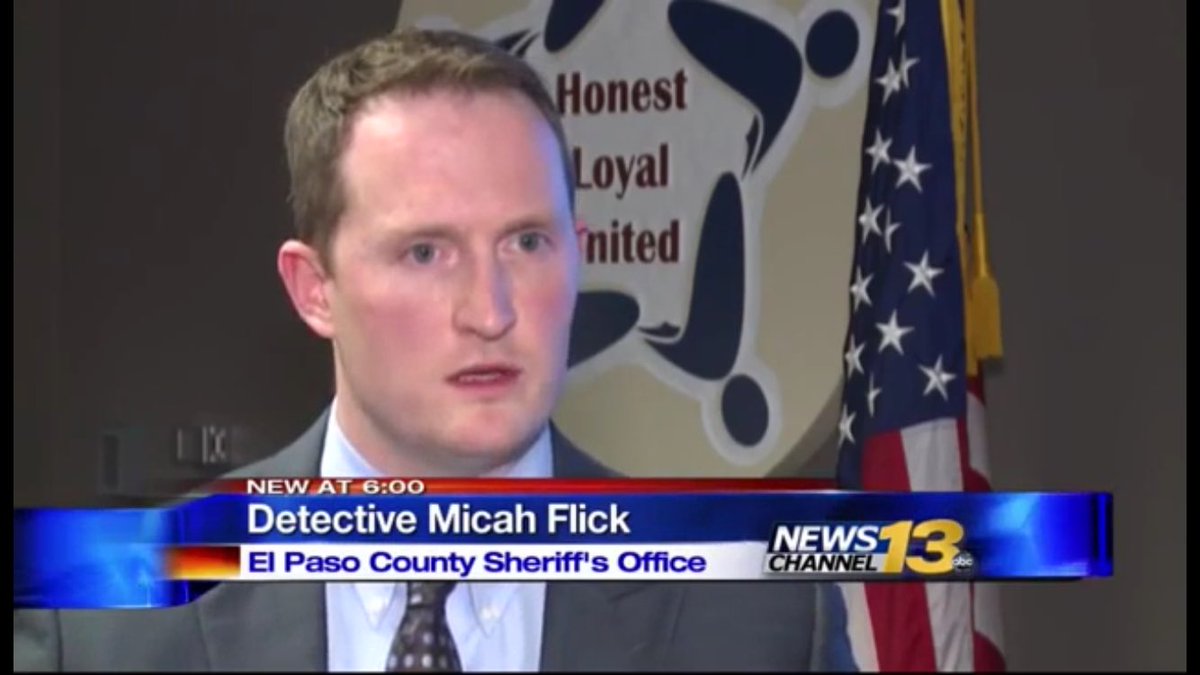 Flick graduated from the Colorado Springs Christian Schools (CSCS) in 2002, according to a Facebook post by the school. "Please uphold this family in your prayers as well as the other officers wounded in this incident," CSCS wrote.
Staggeringly, Flick is the third deputy in Colorado to be fatally shot in the line of duty in the past 37 days.
A deputy who was injured on December 31 simply tweeted: "enough" in response to the latest killing.
On January 24, Adams County Deputy Heath Gumm was shot and killed while chasing a suspect at an apartment complex in Thornton. At his funeral, his widow, Natasha, read from a letter saying, "Can we please end these awful, pointless tragedies," according to the Denver Post.
Heart breaking…a Sheriff's Deputy in El Paso County was shot and killed and two other Deputies were injured today. When will this senseless violence end? We are mourning for our blue family. Please join us.

— CSP Larimer (@CSP_Larimer) February 6, 2018
U.S. Sen. Cory Gardner said his "heart breaks for this deputy and his family," after hearing of Flick's death.
"Once again, a member of Colorado law enforcement has made the ultimate sacrifice while protecting the community," Gardner said in a series tweets. "I'm also praying for the other law enforcement officials involved in this tragedy. We owe everything to these brave, selfless heroes."