A Texas man has had both his lower legs amputated as a result of complications from contracting the flu. Bran Herndon went into septic shock just one day after be diagnosed with influenza.
"He had a 104.7 temperature right away… and then he had trouble breathing. We didn't wait, we went to the ER. It was that quick," Brian's wife Jaye Herndon told WFAA.
Herndon developed pneumonia and "quickly went into septic shock," according to the news outlet. He was rushed to Baylor University Medical Center in Dallas. Since then, Herndon has been "intubated and in and out of consciousness," his condition fluctuating.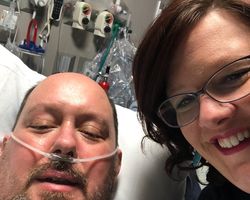 "One minute you've got the flu and the next minute you're septic," he told WFAA. As a result of his septic shock, Brian has had both his lower legs amputated, and has lost nine fingers. According to Health Line, septic shock "occurs when chemicals that fight infection by triggering inflammatory reactions are released into the bloodstream." It can be life-threatening and can leave doctors no other option but to amputate.
"With sepsis, the blood's clotting mechanism can go into overdrive and cause blockages inside the blood vessels. When blood can't pass through the blood vessels, oxygen, and vital nutrients can't get to the body's tissues. If the tissues can't get the nourishment they need, the tissues die. When too much of the tissue dies, it has to be removed. Sometimes, doctors can remove just a small part, but other times, more drastic measures must be taken and parts of the body must be amputated," the Sepsis Alliance details on its website.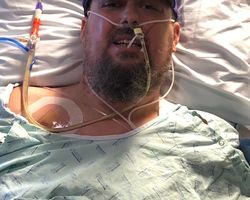 A GoFundMe campaign has been set up to help the family raise money for Brian's continued treatment. It reads:
"Brian has been facing all kinds of complications due to flu, pneumonia, septic shock, and multi organ failure. As of today Brian will need prosthetics for both legs, below the knee. He will also need special hand work as parts of every finger have been removed. While this is a challenging complication, we can do this together. Our amount needed is rapidly growing but your help makes a huge difference. Every dollar will help show love to an amazing man! Funds will be used for prosthetics and his medical care. Thank you!!"
So far, over $28,000 has been raised.
A recent update read:
"Hello all! Brian has had a very busy day today, and is currently enjoying some well earned rest! We are greatly appreciative of all of your prayers and generosity. Hoping to be able to think about a step down unit by the end of the week. Our journey ahead is still long and I've no doubt we will face setbacks, but we are thankful God has brought us here and we have a future to look forward to!"
"Daddy's going to get new legs. He's going to get 'Iron Man' legs," the Herndon's have told their kids, who are 5 and 2. "They have seen him. They know what Daddy's lost," Jaye Herndon told the Star-Telegram. "But that doesn't change anything about who he is or what he means to us or his role in our family."
Following their horrific ordeal, Jaye is working hard to raise awareness of the speed at which the flu can overtake your body.
"This flu is serious business," she said. "People need to pay attention to it. Do not send your kids to school with a fever. We have to help each other out. Not everyone's body deals with the flu like maybe yours does."
For Brian, the road to recovery is set to be a long one, but this family are determined to get their lives back on track in their home town of Fort Worth.
"We might actually get to come home to Fort Worth, which would be so great," Jaye said. Brian, who loves to shoot, will have to take some time getting used to his new limbs.
"We'll need some prosthetic fingers to aid with shooting," Jaye said. "But eventually those will all be things that he is able to enjoy again."
The family have a strong faith in the Lord and are entrusting the next season into the hands of God as they move forward.
"He's a man of faith," Jaye said of her brave husband. "We're all just trusting God to carry him through and bring us to that new normal."