The heroic high school athletics coach who reportedly saved the lives of many of his students during the mass shooting yesterday, has died. According to The Marjory Stoneman Douglas High School football team's Twitter account, which confirmed Aaron Feis' death in a post early Thursday morning.
It is with Great sadness that our Football Family has learned about the death of Aaron Feis. He was our Assistant Football Coach and security guard. He selflessly shielded students from the shooter when he was shot. He died a hero and he will forever be in our hearts and memories pic.twitter.com/O181FvuHl3

— MS Douglas Football (@MSDEagles) February 15, 2018
Broward County Sheriff Scott Israel had mentioned in an evening news conference that a football coach had died, but did not identify him at the time.
As Faithwire previously reported, witnesses described seeing Feis jumping "in front of bullets to save some students lives."
this is one of the genuinely greatest people to walk this earth. jumped infront of the bullets to save some students lives… unbelievable. Rest in Paradise, Coach Aaron Feis https://t.co/tIaWfEdZKD

— mike schmidt ? (@mikeeschmidt) February 15, 2018
Feis, who also served as the school's security guard, responded to a call on the school's walkie-talkies to the loud pops heard on campus. "I heard Aaron say, 'No, that is not firecrackers.' That's the last I heard of him," Willis May, the high school's head football coach, told the South Florida Sun Sentinel.
"He was a great guy," Gage Gaynor, a sophomore who plays football for the high school, told the Sun Sentinel. "Everyone loved him. Shame he had to go like this. Always gave his all to making us better. Definitely learned a lot from him."
Feise has been remembered as a staff member who always had time for his students, and was willing to lend a listening ear. "Even if I wanted so much as a place to sit, his office was always open," one student told The Daily Beast. "He'd sit with me. He'd talk to me. He'd let me be in silence."
"He was friendly with everybody, but he also knew when not to be friendly and when he needed to be the authority figure."
"Greater love has no one than this: to lay down one's life for one's friends." ~ John 15:13″ one person simply tweeted in response to the news that Feis had passed. "With all respect and prayer. RIP Coach Fies, thank you for your sacrifice so that others might live. God bless," New Kent Sherrif's office replied.
According to his bio on the school's website, Feis graduated from Stoneman Douglas High in 1999 and worked at the school for his entire coaching career.
The alleged shooter, Nikolas Cruz, has been charged with 17 counts of murder. He tried to escape the school by concealing himself mass crowds of students evacuating the buildings. He was seen running out of the school with hundreds of terrified students, authorities said.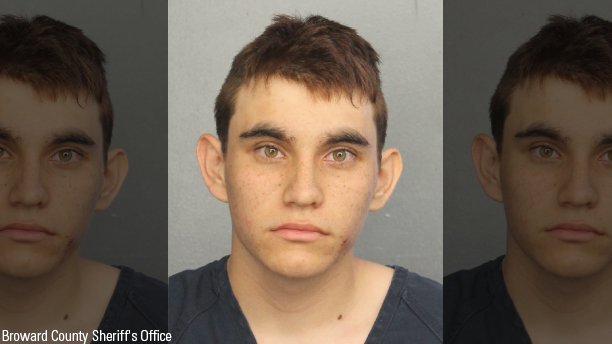 Footage has emerged of Cruz being booked into jail:
19-year-old Parkland, Florida, school shooting suspect Nikolas Cruz has been charged with 17 counts of premeditated murder, according to sheriff's office https://t.co/8XEE7sNFoP pic.twitter.com/SC5whP8FbO

— CBS News (@CBSNews) February 15, 2018