Authorities in  Whittier, Southern California believe they have thwarted a potentially devastating school shooting after a student was overheard saying that the school would soon be "shot up."  School resource deputy, Marino Chavez , was patrolling the corridors of El Camino High School last Friday when he heard something extremely alarming.
"I guarantee you the school will be shot up in three weeks," a 17-year-old student was heard telling a classmate, as reported by the LA Times. "He didn't appear scared, but he was like, 'Well, I didn't mean it,' " Chavez said Wednesday, describing how he had confronted the student, who had a long record of school disciplinary action.
The incident took place just 48 hours after Nikolas Cruz went on a shooting rampage at a school in Parkland, Florida – killing 17 innocent kids. After Chavez reported the incident to his superiors, the authorities swooped in immediately. Investigators with the Los Angeles County Sheriff's Department combed through the teen's home and made some staggering discoveries: two semiautomatic AR-15 rifles, two handguns and 90 high-capacity magazines.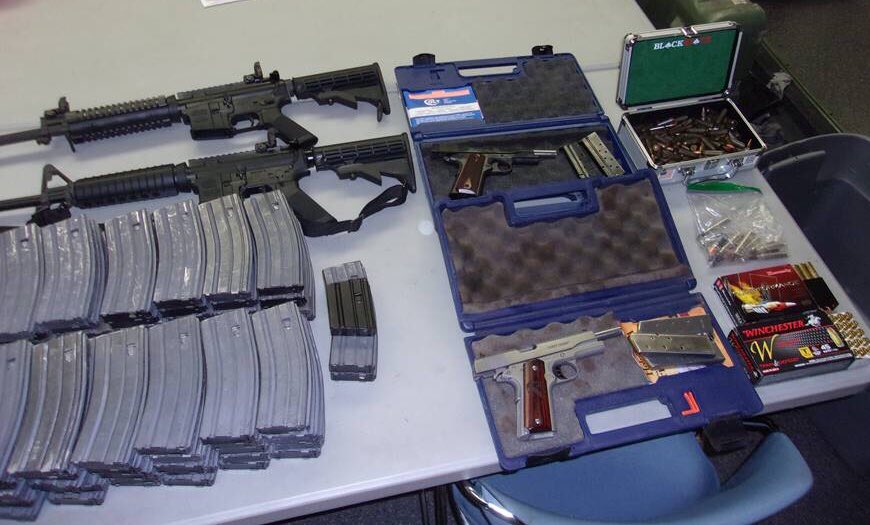 The sheriff's department detailed more on their investigation via a statement:
"The deputies recognized the ghastly possibilities and the need to pursue a conscientious and methodical, yet exigent, investigation to halt the sinister plan and intervene on a potential threat to life.  Station detectives assumed the investigation and served a search warrant at the subject's Norwalk residence. There, they located a cache of ordnance, including two AR-15 semiautomatic rifles, two pistols, 90 high-capacity magazines, and ammunition, and placed them into evidence."
The teen, who has not been identified due to him being a juvenile, has a 28-year-old brother, Army veteran Daniel Barcenas, who claimed the weapons in the home belonged to him. Barcenas is being held in lieu of $35,000 bail and is currently scheduled to appear in court Thursday morning, according to jail records.
Whether a child articulates violence bc they need attention, counseling, or mental health assistance, or simply joking, the idea of committing such acts is staggering & increasing nationwide. Parents, this should be a wake-up call for all of us. READ https://t.co/qeqxNHbA1i pic.twitter.com/B3SfNOyITK

— Jim McDonnell (@LACoSheriff) February 21, 2018
Robert Jacobsen, an attorney for the Norwalk-La Mirada Unified School District, explained to reporters gathered outside the school Wednesday in video posted by KCBS-TV that the student had been angry about keeping to classroom rules.
"The teacher has expectations for the students to engage in learning during class time and told students to keep their cellphones and their earphones off so they can learn," Jacobsen said. "And this student wasn't happy about that…. At least what we understand at this time, it was simply over that."
In a statement released Wednesday, Los Angeles County Supervisor Janice Hahn praised the response by Chavez and responding officers:
"Thanks to the actions of school safety officer [Marino] Chavez and Sheriff's Deputies Scott Reynal and Martin Maciel, a potentially deadly and devastating attack on our children was avoided," the statement read. "As we continue to mourn the lives lost at Marjory Stoneman Douglas High School and recent mass shootings across this country, this incident is a reminder that our own communities are not immune to the epidemic of gun violence in this nation."
In the wake of the Parkland massacre, the Sheriff of LA County, Jim McDonnell, issued a warning to parents.
"Parents, this should be a wake-up call for all of us," said McDonnell. "Please, talk to your kids, no matter how young, about the challenges we are facing in society today.  If you don't, someone else will."
Meanwhile, Elaine Williams, Chief of School Safety for Norwalk-La Mirada Unified School District, urged a community-led approach to preventing incidences of violence on school campuses.
"Outreach to the community is important because communities help raise children," she said.  "It is critical for the community to be involved in recognizing possible threats to our local schools, and saying something to school officials when things are overheard and don't sound quite right."
The Sheriff said that Chavez was something of an "unsung hero" for remaining vigilant and noticing the student's remarks. He certainly did his duty.
"I'm not a hero," said Chavez, a 26-year veteran. "I'm just doing my job every day."