An Arizona police deputy is doing all he can to assist the family of a toddler he helped save from a tragic drowning.
READ: Police Place Armed Guards Outside Home of Florida School Officer After Sheriff Revealed He 'Did Nothing' to Stop Parkland Shooter
Maricopa County Sheriff's Deputy Christian Kaufman was first on the scene on Feb. 17 after 3-year-old Noah Chapman of Queen Creek, Arizona, reportedly climbed under a fence into a neighbor's garden and fell into the pool.
"It affected me in a different way, just seeing this little boy be given and administered CPR, just seeing his condition, it was like nothing I'd ever seen in my entire life," Kaufman told KNXV-TV.
Kaufman traveled to the hospital with Noah, who was in critical condition.
"The father was led into this trauma room and I turned around and saw this dad standing over his lifeless son," Kaufman said.
The deputy also shared that he prayed with the family and placed his hand on little Noah's head.
"When I felt this little boy's hair in my hands, it completely changed me," he said. "My heart just broke."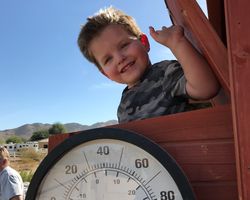 Noah is still is in a serious condition—the child went 30 minutes without his heart beating on its own.
Devastated by the tragic accident, Kaufman decided he had to do something more. Two days after leaving Noah's bedside, the deputy asked Noah's family for permission to set up a fundraising page for them.
As of Friday morning, the GoFundMe campaign Kaufman started had reached just over $2,000 of its $50,000 goal.
The page details the incident:
"On February 17 2018 at around 4:00 PM Noah Chapman was found in a pool. After being pulled from the pool CPR was immediately started and Noah was unresponsive. Queen Creek Fire department and the Maricopa County Sheriffs office arrived on scene and paramedics started life saving efforts. Noah was transported to the local Emergency Room where they were able to start more invasive saving efforts. Noah went 30 minutes without his Heart beating on his own. Noah and his family are member of the Church of Jesus Christ of Latter-Day saints. Before he was Air Evact to Cardons Childrens Hospital, Noah was administered a Priesthood blessing."
In response to press coverage,Kaufman posted an update to the page on Thursday.
"[Noah] remains in critical condition. If everyone could continue to keep Noah and his family in their prayers it is appreciated. Please also continue to spread the word about this fundraiser! Everyone's contribution will go toward helping Noah receive the best treatment at this time. We all believe in miracles and the power of prayer!"
Messages of support and prayer have been pouring in for the child.
"I am praying for Noah and your family," one person posted.
"Sending my love and heartfelt prayers to you all. You and Noah will be in my prayers daily. Stay strong," another added.
Take a moment to pray for Noah today, and if you feel so moved, contribute HERE.