In northern Karen State, an area considered part of the ceasefire in Myanmar, witnesses have accused Burma Army troops of attacking villagers. Reports indicate that soldiers have been shooting at villagers and killing livestock, causing some 1,736 civilians from 14 villages to flee for safety.
"This area of Karen State had made an agreement with the Burma Army that they are only allowed to supply their camps by foot or pack animal and must stay within 50 feet of the road," humanitarian group, Free Burma Rangers (FBR), reported Thursday.
READ: 'A Miscarriage of Justice': Turkish Officials Want to Keep American Pastor Accused of 'Espionage' Behind Bars for Life
The FBR report includes details surrounding the situation:
"During the Burma Army offensive of 2006 and 2007 the Burma Army built a north-south road connecting their camps of Ler Mu Plaw and Kay Pu. Many smaller camps were also built along this roadway. The KNLA fought to regain this area and by the end of 2011 the Burma Army no longer used the road between Ler Mu Plaw and Kay Pu and had withdrawn from the camps in between. After the signing of the preliminary ceasefire agreement in January 2012, villagers waited for a few years to see if the peace would last and if they could trust the Burma Army to uphold their agreement to the ceasefire."
Following the ceasefire, many villagers have begun to move back to their home settlements. The Karen Peace Support Network confirmed that the army has been breaking the ceasefire agreement known as the "National Ceasefire Agreement."
"The Burma Army soldiers violated the NCA by entering territory of the Karen National Liberation Army (KNLA) without obtaining permission. Then, they started building roads, deployed around 600 soldiers from six battalions and displaced almost 2,000 villagers," Saw Way Lay, a spokesperson for the KPSN told Karen News. "These actions are against agreement laid down in the NCA.
Lay has called on the Joint Ceasefire Monitoring — Union to investigate.
"The JMC should investigate and take action promptly. The large number of soldiers deployed and the occupation of places by the Burma Army is a concern," he said. "As this could lead to further tension and displacement of local villagers. We hope leaders from both sides find ways to solve the problem by peaceful means."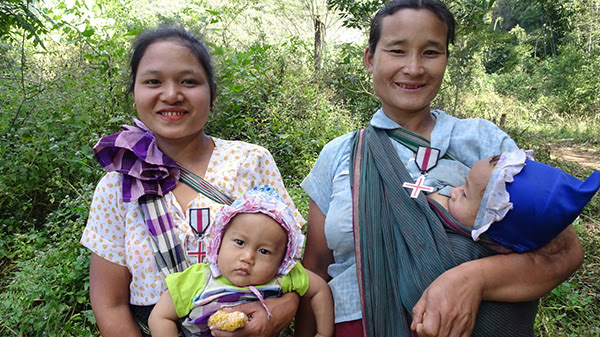 Lay explained how nearly 2,000 displaced villagers, many with young children, are in need of support as they were forced to flee their homes with little to no supplies:
"They are urgently in need of shelter, food and medicine – they can't go back to their home until its is safe."
(H/T: Free Burma Rangers)