When an Atlanta police officer discovered Ebony Rhodes and her children penniless, living out of their car, the department's deputy chief knew that they needed to do something.
"A lot of times I didn't sleep, because the kids were asleep," Rhodes told CNN. "I was watching to make sure nothing happened — no one tried to rob us … so we'd just stay right there in the car."
But one day, what seemed like bad luck became a blessing. Mother-of-four, Ebony Rhodes, was pulled over for an expired tag while taking her children to the library. Well aware that her license was also not valid, she began to cry.
"She [the officer] came to the car and asked why was I crying, and I was like, 'because I know my license isn't good,'" Rhodes recalled.
The officer had no choice but to arrest her and impound the car.
Ebony Rhodes was booked into jail and her sister was called on to look after her kids. It was a pretty hopeless situation. Rhodes' youngest daughter has Lupus, an autoimmune disease, and is partially blind in one eye. And her middle son, Jaheame, was inflicted with serious burns during a tragic accident that occurred while visiting family in Florida. The mother-of-four, who also suffers from chronic health issues, was doing the best she could.
Rhodes' situation filtered through the ranks of the Atlanta Police Department all the way up to the police chief — the department felt compelled to do something about this family's situation.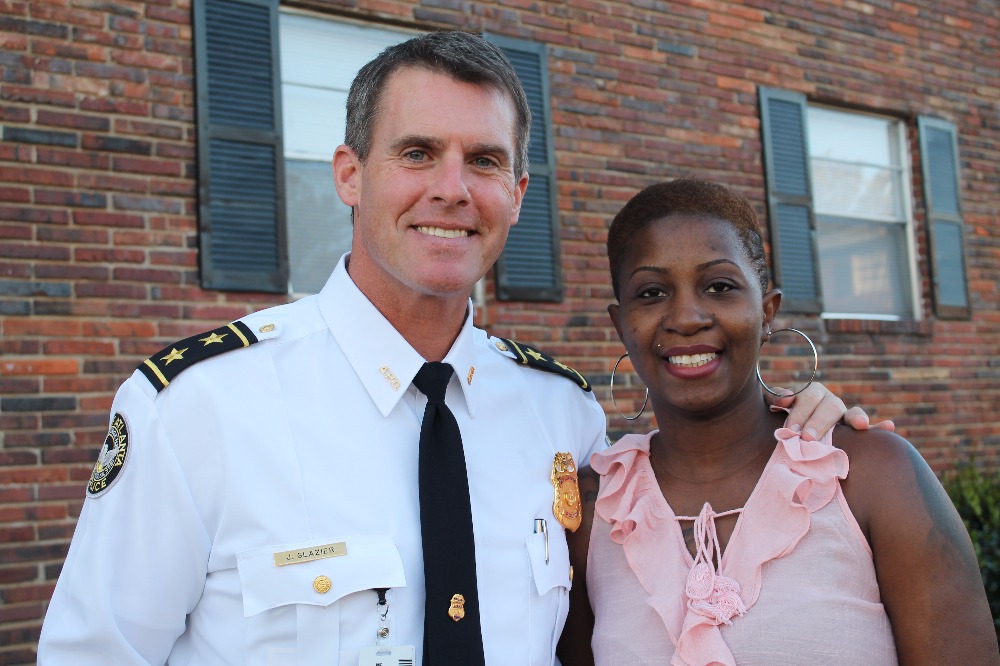 "We have to do something about this," 25-year APD veteran Chief Jeff Glazier told his wife, Michelle.
Using the wealth of contacts he had accrued during his two and a half decades with the department, the devout Christian police chief put a call in with an acquaintance who runs a homeless shelter.
That single phone call would change Ebony Rhodes' life.
"I called her up and said, 'Listen I've got a family of five including three boys and a girl, and he's 17.' And she goes, 'Yeah, I have some room.' And if you know anything about shelters in the middle of the winter, there's nothing available and she had something available. I couldn't believe it."
Rhodes was completely overwhelmed by the officer's kindness and compassion.
"When he called me that day I just started crying, because I'd been trying to get into different shelters for a long time," she said. "No one would ever accept us."
But Glazier was finished yet. Determined to create an opportunity for the family that would bring lasting change in their circumstances, he continued to press for a more permanent solution.
"You know, staying in a shelter is not optimal," Glazier explained. "I considered that the whole time just to be a short-term solution for this family. Because even those conditions weren't great — by any stretch of the imagination."
"If you talk to Ebony and you watch her, she has a great work ethic. It's just that she was sick. And so, when you're sick you can't work and you can't make any money. It's not like she didn't want to work, when I first met her, she had two jobs … trying to do the right thing, she's trying to earn money for her family."
Now, over a year after Rhodes and her family were found holed up in their 1997 Buick Regal, they are living safely in the comfort of their own home. Ebony can afford an apartment and is working as an assistant manager at a fast food restaurant. She says a close bond has formed between her family and the Atlanta Police Department as a result of their kindness and generosity.
"The whole APD is my family, because I can call on them for everything," Rhodes explained, adding that the police are a "blessing."
Glazier and the Atlanta Police Department have also set up a GoFundMe campaign to ensure Rhodes and her family are never subjected to the perils of homelessness again — over $55,000 has been raised. Glazier explained that, due to the poor health of Rhodes and her children, homelessness is always knocking at the family's door.
"I've created a GoFundMe account to make a safety net for her family," he wrote on the page. "My goal is pay her rent, food, medicine, and transportation for a year so she can continue to work and save money without the stress of wondering if her family will be homeless again."
The outpouring of support has been incredible. Glazier recently posted a powerful final update:
"Final Update. The long and winding road…It has been awe inspiring to watch this family grow while receiving support from complete strangers. Jaheame was transferred to Grady Hospital in Atlanta where he resumes his treatments for his burns. Ebony is back to work and her children are studying hard. "Truly I tell you, whatever you did for one of the least of these brothers and sisters of mine, you did for me." (Matthew 25:40)
Deputy Chief J. Glazier"
"We want to pay for rent, we want to pay for food and transportation … this is obviously long-term," Glazier told CNN. "It's not going to end just because we give her a little bit of money. It's about getting through the hard times, having someone to talk to and someone to lean on, to get advice from."
Rhodes insists that had it not been for the concern and goodwill of Atlanta's dedicated police officers, she would likely still be out on the streets.
"Had I not got pulled over that day, I'd probably still be in my car, just taking a risk every day," Rhodes explained. "Losing that car and getting pulled over that day changed my life."
(H/T: CNN)