A Southwest Airlines pilot has been praised as a hero after she safely landed a plane following a massive mechanical malfunction in the left jet engine that resulted in an explosion and severe damage to the aircraft.
Tammie Jo Shults, a former Navy fighter pilot, was at the helm when the blast occurred, sending shrapnel through a window and causing a female passenger to be sucked halfway out of the aircraft.
The flight was en route to Dallas Love airport from New York City, when it was forced to make an emergency landing in Philadelphia. Audio from Shults' conversation with Air Traffic Control shows how she kept her cool as passengers feared they were experiencing their very last moments.
Many of the passengers took to social media to personally thank the pilot for guiding them into a safe landing, and to thank the Lord for watching over them.
"The pilot, Tammy Jo was so amazing! She landed us safely in Philly," Amanda Bourman wrote on Instagram. "God sent his angels to watch over us. I actually heard someone say, there is a God!!"
Shults, a Christian, once said in an interview that sitting in the captain's chair gave her "the opportunity to witness for Christ on almost every flight." https://t.co/R1dImtUoUY

— Kimberly Willingham (@kimiwillingham) April 18, 2018
"Everybody was crying and upset," Bourman told the Daily Mail. "You had a few passengers that were very strong, and they kept yelling to people, you know, 'It's OK! We're going to do this!"
As passengers began to grasp the seriousness of the situation, many turned to prayer.
"I just remember holding my husband's hand, and we just prayed and prayed and prayed," Bourman added. "And the thoughts that were going through my head of course were about my daughters, just wanting to see them again and give them a big hug so they wouldn't grow up without parents."
The passenger who was partially sucked out of the aircraft, later identified as 43-year-old Jennifer Riordan, died from her injuries.
Passenger Alfred Tumlinson of Corpus Christi, Texas, recalled seeing a man in a cowboy hat rushing forward a few rows "to grab that lady to pull her back in," according to the Daily Mail. "She was out of the plane. He couldn't do it by himself, so another gentleman came over and helped to get her back in the plane, and they got her," he added.
Annunciation Catholic School, where Riordan's two children attend school, identified the banking executive as the victim on Tuesday afternoon.
"She was en route from New York when her plane experience (sic) trouble," assistant principal Amy McCarty wrote in an email to parents, as reported by ABQJournal.com. "At this point, the family needs all the prayers we can offer."
Passenger Kristopher Johnson explained the incident in detail to CNN:
"We were leaving LaGuardia heading to Dallas. We were west of Philadelphia probably about 30,000 feet, and all of a sudden we just heard this loud bang, rattling and then it felt like one of the engines went out. The oxygen masks dropped and flight attendants did a good job. The pilot came on and said we're diverting to Philadelphia and, you know, there was a serious medical injury. I don't know much about that, but I was sitting in the front. With a couple passengers. We just got the mask on and as soon as we landed, we were thankful.

The pilots did a great job, the crew did a great job. They got us down to Philly, and that's when I took the photo of the engine, and it appeared that it just shredded the left side engine completely. So we were coming down — we dropped probably from 30,000 feet to 25,000 feet, and then the pilot kind of regained control and brought it down safely to Philadelphia. So we got off the plane and onto buses and we're trying to head over to the tarmac in Philly… It was pretty scary, but the pilots did a great job."
You can listen to the astonishing Air Traffic Control audio below:
"We have a piece of the aircraft missing so we're going to have to slow down a bit," Shults said calmly as she arranged an emergency landing.
"Could medical please meet us there on the runway? We've got injured passengers," Shults said, before adding that the plane was "not on fire but part of it's missing."
"They said there was a hole and someone went out," she added, to the dismay of the Air Traffic Controller.
After the flight, Shults reportedly took time to speak with each of the passengers personally.
"Tammie Jo Schults, the pilot came back to speak to each of us personally," passenger Diana McBride Self wrote on Facebook. "This is a true American Hero. A huge thank you for her knowledge, guidance and bravery in a traumatic situation. God bless her and all the crew."
Several passengers posted photos and videos of the incident from inside the cabin.
"We watched the engine blow off at 40k feet from our seat," Cassie Adams posted on Twitter.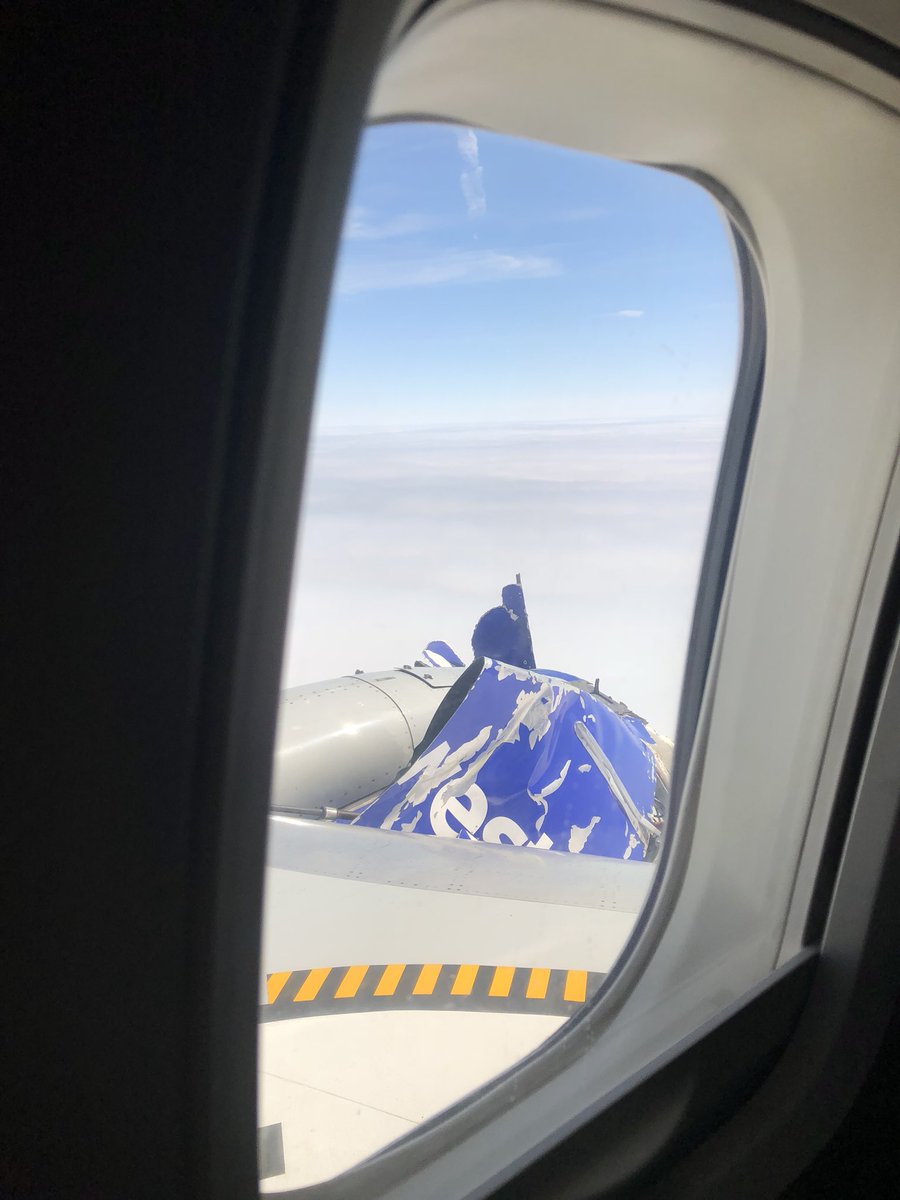 Passenger Marty Martinez even managed to take a Facebook Live video of the incident.
"I literally bought WiFi as the plane was going down because I wanted to be able to reach the people I loved…thinking these were my final moments on earth," he wrote on Facebook after the incident. "And put in a position to have to prioritize the people I loved to send them my final words was an absolutely gut wrenching feeling. So I thought to Facebook LIVE my experience, thinking this would be my last communication with the people I loved and my team back home."
"Just found out the woman on the flight who was injured didn't make it," Marty wrote on Facebook. "My thoughts and prayers are with her family. I feel very lucky to be alive."
"I Survived #flight1380 Jesus Saves!! #imnotluckyimloved" another passenger posted to Instagram.
What a flight! Made it!! Still here!! #southwest #flight1380 pic.twitter.com/Cx2mqoXVzY

— Joe Marcus (@joeasaprap) April 17, 2018
Two years ago, the victim Jennifer Riordan and her husband Michael were interviewed by KOB-TV about the challenges of juggling a busy work and family life.
The Juggling Act: Balancing work, parenting & marriage

All week on KOB-TV Eyewitness News 4 we're talking about "The Juggling Act"- the issues working parents face when trying to balance it all! We talked to Jennifer and Michael Riordan about how they juggle busy jobs, enjoying parenting- and making time for their marriage. Bottom line: "It's not really about balance- it's about blending."

Posted by Erica Zucco on Wednesday, November 18, 2015
"I love this man," Jennifer said in the interview. "I've been married to him for almost 20 years. I want to have that same relationship we had before children, after children. The only way you can ensure that is to make time for our marriage, and make time for us."
STATEMENT from the family of Jennifer Riordan, the @SouthwestAir passenger killed during the explosive decompression of SWA 1380 this morning. She was an Albuquerque, NM resident. pic.twitter.com/s4nf6O22JW

— Jason Whitely (@JasonWhitely) April 18, 2018
Albuquerque mayor, Tim Keller, also issued a statement on the tragedy.
— Mayor Tim Keller (@MayorKeller) April 18, 2018
Pray for the Riordan family as they come to terms with this tragic loss.