Former President George H.W. Bush broke down in tears after hearing his son Jeb read aloud some powerful words from a 1994 letter at his late wife's funeral. The letter, penned by the 93-year-old on the couple's 49th wedding anniversary, demonstrated something of the stunning bond the two of them shared and illustrates the true power of a love-filled marriage.
Jenna Bush Shares Final, Sweet Words From 'Dearest Granny' Barbara Bush
In the letter, read out at Barbara Bush's funeral Saturday, George H.W. wrote:
"Will you marry me? Whoops, I forgot, we did that 49 years ago. I was very happy on that day in 1945, but I'm even happier today. You have given me joy that few men know. You have made our boys into men by balling them out, and then right away, by loving them.

You've helped Doro be the sweetest, greatest daughter in the whole wide world. I have climbed, perhaps, the highest mountain in the world, but even that cannot hold a candle to being Barbara's husband. Mom used to tell me, 'Now, George, don't walk ahead.' Little did she know, I was only trying to keep up with Barbara Pierce from Rye, New York. I love you."
When Jeb began to read these tender words, you could see just what it meant to the elderly former Commander in Chief.
Despite the heartache of losing your life partner of 73 years, George maintains a strong faith that his wife is resting easy with Jesus.
"I always knew Barbara was the most beloved woman in the world, and in fact I used to tease her that I had a complex about that fact. But the truth is the outpouring of love and friendship directed at The Enforcer is lifting us all up," Bush said after his wife passed. "We have faith she is in heaven, and we know life will go on — as she would have it,"
"So cross the Bushes off your worry list."
Watch: Jeb Bush reads a wedding anniversary letter from George H. W. Bush to Barbara Bush at her funeral Saturday. https://t.co/EDVJdmfq3a pic.twitter.com/uKRr74SEl9

— NBC Bay Area (@nbcbayarea) April 21, 2018
The couple saw their family become something of a political dynasty. They watched their son Jeb become Governor of Florida in 1999, and their other son George become President in 2001. The pair also experienced heartbreak, losing their three-year-old daughter Robin to Leukaemia in 1953.
This photo of George H.W. Bush sitting in front of his beloved wife's casket pierced my soul.

George & Barbara Bush were married for 73 years. They suffered through losing a child together. They made it to the WH together. They watched their son become president.

What a life. pic.twitter.com/xSha0O0e8r

— Jason Howerton (@jason_howerton) April 21, 2018
Four former President's were pictured together at Mrs. Bush's funeral, alongside former first lady Laura Bush, Michelle Obama and current first lady Melania Trump. President Trump did not attend, explaining that he wanted to "avoid disruptions due to added security, and out of respect for the Bush Family," according to the BBC.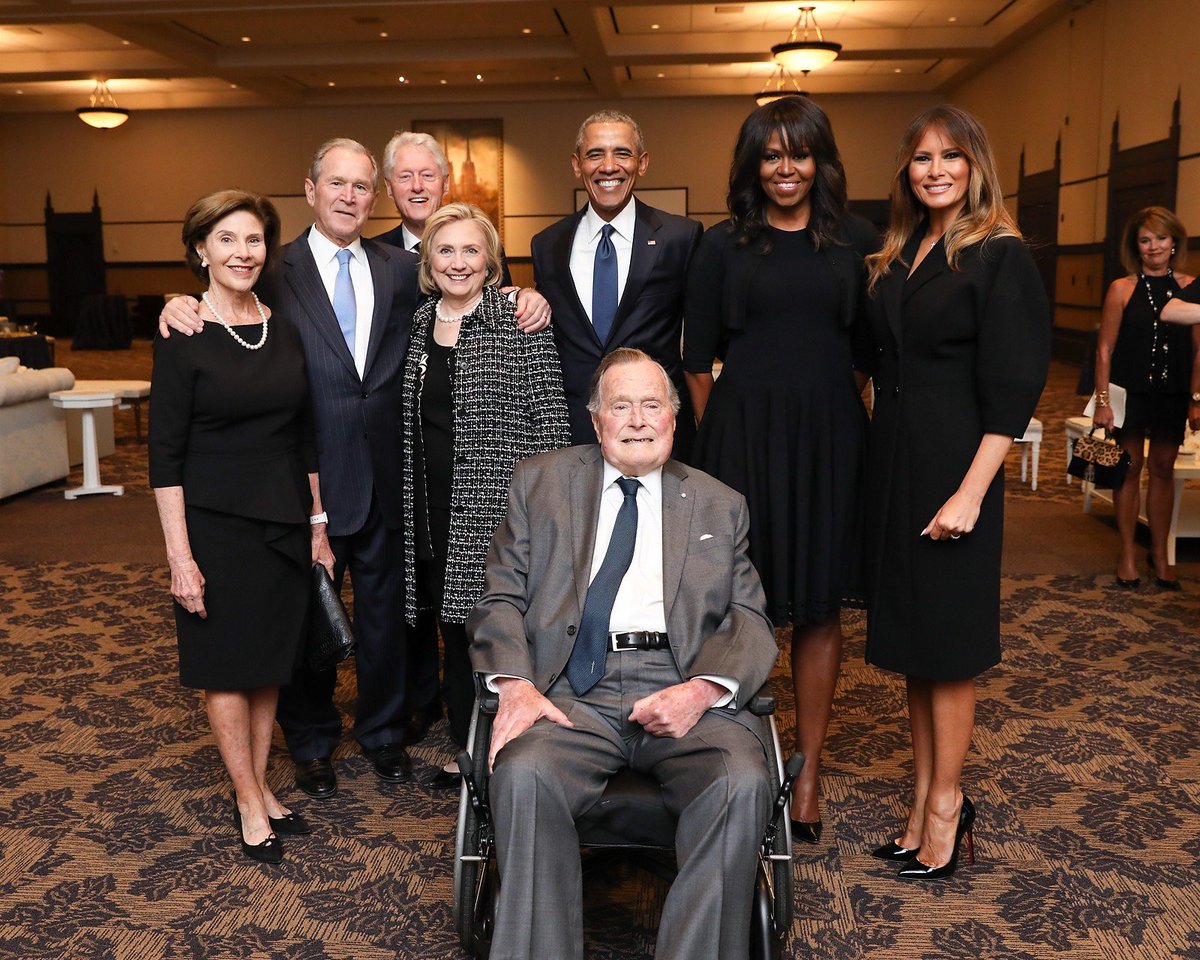 George H.W. honored his wife in other subtle ways. Barbara was notorious for bringing literacy to millions of people across the world. In recognition of this, her husband donned some colorful socks to his late wife's funeral.
George H.W. Bush wore socks with books on them in dedication to Barbara at her funeral today.

Barbara raised over $110 million over 30 years for family literacy. pic.twitter.com/WqZvgB4J0Q

— Caleb Hull (@CalebJHull) April 21, 2018
While previous First Lady's have focused on issues such as health or crime reduction, Barbara realized that the power of reading and writing could cure many ills.
"After much thought, I realized everything I worried about would be better if more people could read, write and comprehend," Bush wrote in her 1994 autobiography, "Barbara Bush: A Memoir.""
In March 1989, just a few weeks into her husband's presidency, she founded the Barbara Bush Foundation for Family Literacy.
"The mission of the Barbara Bush Foundation is to advocate for and establish literacy as a value in every home," the organization states on its website.
Mrs. Bush championed a literacy initiative that changed the lives of millions and brought incredible opportunity to countless individuals.
"We believe literacy is a right that provides equal opportunity to achieving the American dream, which every child deserves. If we help the nation's precious children get on the path to learning in the earliest years, even before they enter kindergarten, they are far more likely to succeed in school and life," the foundation's mission continues. "We also believe in investing in low-literate parents who are unable to provide the stimulating learning environment that young children need to jumpstart their education.

We help families understand:

– The child's first school is the home.
– The parent is the child's first teacher.
– The child's first subject is reading."
You left each of us so much and taught us about the importance of family, about caring for everyone, about passion for doing what's right, and about living life with purpose and grace. And for all that, we give you our thanks. pic.twitter.com/FCgMpcXN7k

— Barbara Bush Foundation for Family Literacy (@BarbaraBushFdn) April 22, 2018
Pray for the entire Bush family as they grieve the loss of this amazing woman.