British singer-songwriter Ed Sheeran has heavily criticized a group of pro-life activists who have adopted his song "Small Bump" as an anthem for their campaign to keep abortion illegal in the Republic of Ireland.
The Guardian reported that the song was being played by a group of activists who are seeking to keep unborn babies protected under Ireland's stringent abortion laws. A referendum vote will be held this Friday, May 25, to decide whether or not the Eighth Amendment of the Irish Constitution is to be repealed.
Currently, the Irish Constitution protects the life of both the mother and her unborn child as equals. Abortion has been officially outlawed in Ireland since 1861. Under the current law, abortion is permitted only if the mother's life is at immediate risk.
Despite the fact his song has a pretty clear message about the value of an unborn child's life, Sheeran made a point to distance himself from those using his music for pro-life purposes, stating in a post on Instagram that "it does not reflect what the song is about."
The song's lyrics include these lines:
"You're just a small bump unborn, in four months you're brought to life
You might be left with my hair, but you'll have your mother's eyes
I'll hold your body in my hands, be as gentle as I can
But for now you're scan of my unmade plans,
A small bump in four months you're brought to life
A small bump in four months you'll open your eyes"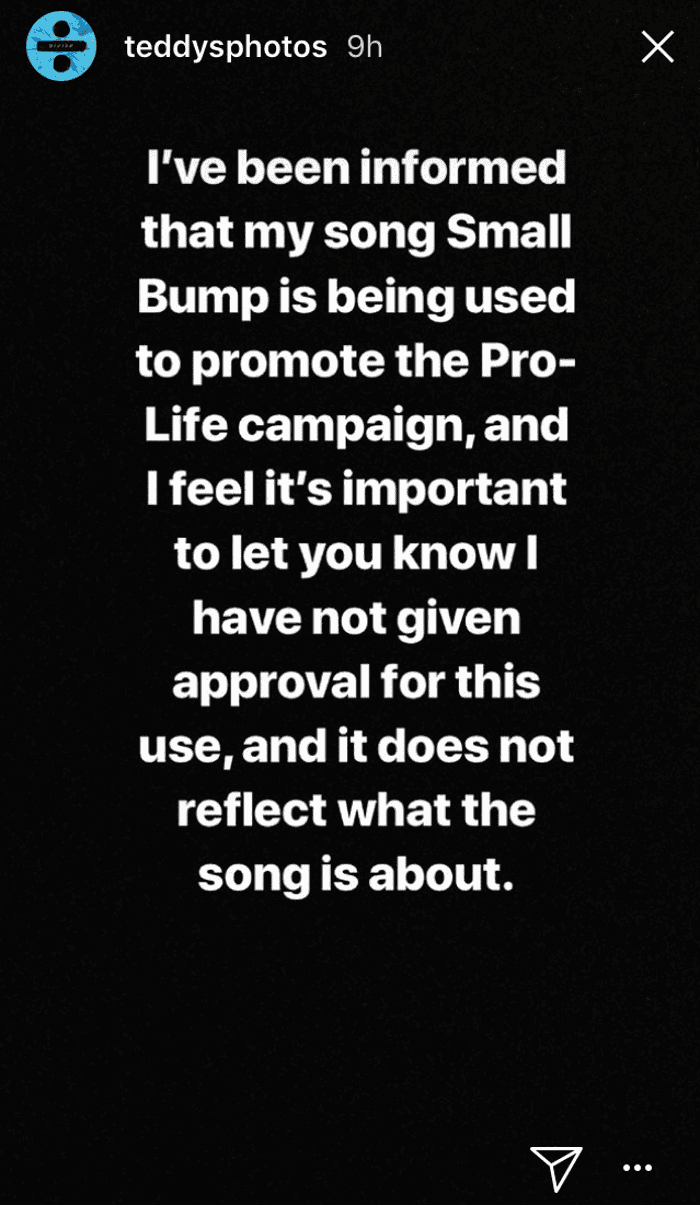 Fans on social media rushed to defend the musician, noting that the song is really about a friend of Sheeran's who experienced a devastating miscarriage. But many pro-lifers were quick to note that though the song isn't about abortion, it is explicit about the fact that unborn children are precious, living humans.
Guys Ed Sheeran's song Small Bump is about his friend that sadly lost her baby due to a miscarriage 5 months into her pregnancy, NOT because of an abortion. Do your research. I can't believe that pro life are using his song without his permission… and it's not even about that.

— sophie // exams!! ♡ (@mercyydun) May 18, 2018
Um, exscuse me, @edsheeran? You cannot write a song like "Small Bump" and then act shocked when the #ProLife movement uses it in campaigns. You ran that risk when you humanized baby humans. #votenotoabortion #savethe8th pic.twitter.com/yDQ12Sx8uN

— Hazel (@RoseHazel12) May 18, 2018
"'Cause you were just a small bump unborn for four months then torn from life"
Indeed. #DefundPlannedParenthood

— Hazel (@RoseHazel12) May 18, 2018
If the Eighth Amendment is repealed on Friday, it will mean that the Irish parliament can begin to introduce more liberal abortion laws. It will also mean that the crucial "right to life" that has been bestowed equally to both mother and child for hundreds of years will no longer apply to Ireland's unborn.
"Where one party has a panoply of constitutionally-protected rights and the other party has no rights at all, it will be argued that the legislature must give full effect to the rights of the rights-holder," wrote George Binchy at The Irish Times. "We already know what resulted in the United States from the supreme court's embrace of the right to privacy in the decision of Roe versus Wade. The same pattern has emerged in other countries around the world."
Now, Friday's choice is clear. As Binchy eloquently noted, "we can choose to retain the Eighth Amendment, under which doctors in Irish hospitals protect the lives of both their patients, mother and baby, to a standard of care that is among the safest in the world; or we can repeal the amendment and face the prospect of our politicians introducing laws providing for abortion on demand."
Despite Sheeran rejecting the notion that his song has anything to do with the pro-life campaign, many continue to cite the powerful truth contained within the song as a means of galvanizing support for the protection of the unborn.
"If we take Sheeran at his word that the song is not about abortion — and we should, as he wrote it — it doesn't put the song at odds with the pro-life message that life inside the womb is precious and deserves protection," wrote Bre Payton at The Federalist. "Whether a baby's life was lost at the hands of an abortionist or in a miscarriage, it is still a tragedy that deserves to be mourned. Acknowledging that a baby is human in the womb and that in a matter of months he will open his eyes and take his first breath is to recognize truth, which is so often shunned from pro-choice rhetoric."
Sheeran is finishing up a stadium tour of Ireland, having just played three enormous concerts in Dublin, which is likely to be the epicenter of multi-sided protests as voting gets underway this Friday.
Faithwire will be providing live updates on the events in Dublin as the nation heads to the polls to decide on the future of its laws concerning the rights of the unborn.
(H/T: The Guardian)