If you've ever scrolled through an Instagram feed, it is highly likely that you've seen a #CrossFit post. The branded fitness regimen has been extraordinarily successful, with founder and CEO Greg Glassman building a gym empire consisting of some 13,000 affiliated facilities. But Crossfit has hit the headlines this week after one of the owners of an Indianapolis gym, CrossFit Infiltrate, chose to cancel an LGBT pride event, citing religious reasons – and then firing a high ranking spokesperson who tweeted that celebrating pride is sin.
After Gay Wedding Cake Ruling, SCOTUS Fight Over Same-Sex Adoption Looms
Here's how it all unfolded:
During the last final week of May, CrossFit Infiltrate's manager and staff created a Pride workout event and proceeded to publicize it on the gym's social media channels. Though the workout was scheduled for Thursday 7 June, it was abruptly canceled June 1 by Infiltrate's owner Brandon Lowe. A statement regarding the reasons for the cancellation was emailed to gym members by manager Johnnie Martin. It read:
"Our underlying goal for the staff and members at CrossFit Infiltrate and our other gyms CrossFit White river and University Ave CrossFit is total health and well-being for the individual and community. Total health involves the body, the emotions, relationships, and the spirit. At the foundational detractor from health, as we believe God sets the parameters for, is pride.

We believe that true health forever can only be found within humility, not pride. Humility is seeing oneself as they truly are, and as God truly defines them to be. As a business we will choose to deploy our resources towards those efforts and causes that line up with our own values and beliefs."
As you can imagine, there was outrage from the LGBT community. Pride workout organizer Ryan Nix immediately posted a call to action on Facebook:
"Last week we received an email from the gym cancelling our PRIDE workout. We emailed the owner since it seemed that there was an issue with people who may be LGBT. You can see from his response that there is. Since this time the coaches and general manager have all quit. This is all from the owners of the gym. Many of us are leaving the gym due to the owners. Please tell your friends not to join this place."
Following several complaints, Brandon Lowe issued a further statement to CNBC, saying that what is being reported about the situation "grossly misrepresents what CrossFit Infiltrate stands for and what it believes."
"The majority of the reviews and statements being read about the gym largely point out that Infiltrate's community has been incredible and welcoming and that the decision not to host an Indy Pride event is the reason we are called bigots or discriminative," he added.
"However, let the history of the gym speak for itself and for the position we take in this divisive atmosphere, CrossFit Infiltrate welcomes, serves, and prioritizes training people to be fit and functional in body, mind, and spirit. It never has and never will be anything but welcoming to all human beings who live, move, and breathe in God's world."
But that didn't stop the barrage of abuse directed toward the gym's social media pages. As a result of the intensity of such threatening messages, Lowe declared the gym was officially closing Tuesday.
"One of the things I love about CrossFit is the inclusive community," said Becca Kimball, who had been a member at CrossFit Infiltrate for years. "It was clear from this action that the goals and beliefs of the director of the gym did not align with those of the members, coaches or manager Johnnie."
Others in Crossfit argued that Lowe was right to cancel the event. But when a legal researcher for the company, Russell Berger, tweeted that he was backing Infiltrate's decision and that he "personally believes celebrating 'pride' is a sin," things really kicked off.
In a series of now-deleted tweets, Berger declared that the "tactics of some in the LGBTQ movement toward dissent" is a clear and "existential threat to freedom of expression."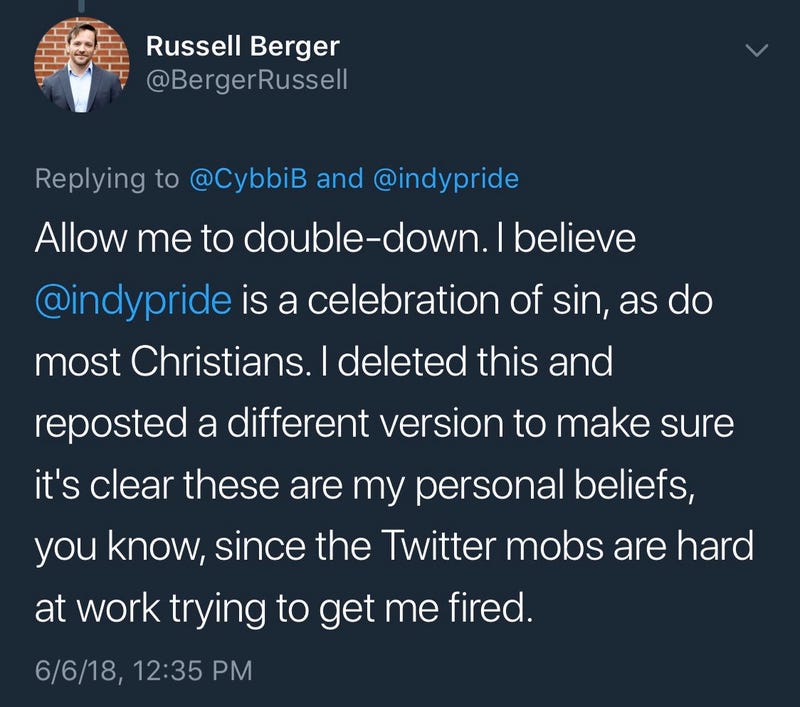 Clearly, that didn't go down well with his employer. Berger, whose Twitter bio lists him as CrossFit's "Chief Knowledge Officer," was summarily suspended for his comments pending further investigation. Speaking to Buzzfeed, Crossfit CEO Greg Glassman harangued Berger for his remarks, even labeling him a "zealot."
"We're all upset," Glassman added. "The whole company is upset. This changes his standing with us. What that looks like, I don't know. It's so unfortunate."
Berger was placed on unpaid leave while "management completes a thorough review," according to a messsage posted on the company's Twitter account yesterday.
Then, a couple hours after this, Berger tweeted a reply confirming that he had, in fact, been fired from his role: "As an update, I've been officially terminated," he wrote. This was subsequently backed up by Crossfit: "The statements made today by Russell Berger do not reflect the views of CrossFit Inc," the company tweeted. "For this reason, his employment with CrossFit has been terminated."
The statements made today by Russell Berger do not reflect the views of CrossFit Inc. For this reason, his employment with CrossFit has been terminated.

— CrossFit (@CrossFit) June 6, 2018
Many have expressed outrage at Berger's firing, saying it is a gross violation of his right to free speech and individual opinion; not least because Berger himself stated that he was speaking out of "personal opinion." Still, from the tone of his deleted tweets, it appears that he was acutely aware of the backlash that was to befall him.
"When I speak for CrossFit, I won't speak in the first person and use phrases like "I believe." Of course, it's obvious to you that I'm speaking only of my personal view, you're just ignoring that so you can leverage my employer to try to punish me for my opinions," he wrote.
He added: "That my personal opinions don't reflect the entirety of the CrossFit community is painfully obvious. Let's not pretend this isn't just an attempt to silence my personal views by pressuring my employer."
Berger further clarified his position on homosexuality: "I believe that all humans, regardless of their sins, (and we are all sinners), are image bearers of God and worthy of dignity, respect, and value," he tweeted. "That also means we should care enough about them to tell them the truth about sin."
"I do not know Russell Berger well, though we attended Reformed Theological Seminary together," wrote Erick Erickson at The Maven. "He was chief marketing officer for CrossFit until yesterday afternoon. That's when the gay mob came for Russell. He had the audacity to, on his personal Twitter feed, accurately declare celebrating gay pride a sin."
"Russell Berger is an orthodox, Bible believing Christian and merely voiced his support for Biblical orthodoxy on his personal social media feed," Erickson added.
"Gay rights activists will call it bigotry to voice orthodox Christianity, but it is certainly bigotry to drive someone from his job for voicing an orthodox tenet of his faith. CrossFit has every right to do it. But I don't think they should have."