The man accused of shooting and killing five staff members at the office of a Maryland newspaper has been identified as 38-year-old Jarrod Ramos. Police described the actions of Ramos as a  "targeted attack" on the publication. The disturbed man had previously filed a defamation lawsuit against The Capital Gazette newspaper after it published an article about him being convicted of cyberstalking titled "Jarrod wants to be your friend."
Actual print edition from when the Capital Gazette wrote about Jarrod Ramos harassing a woman on Facebook; Ramos is today's suspect in the mass shooting at the newspaper pic.twitter.com/4aZitMSI3B

— Matthew Keys (@MatthewKeysLive) June 29, 2018
The woman whom Ramos harassed reportedly told WBAL-TV reporter Jayne Miller that she had issued a stark warning about the man to a police official years ago, even stating, "he will be your next mass shooter."
'Please, God': NBC Anchor Turns to Faith After Shooting in Maryland Newsroom
As of Friday morning, Ramos has been charged with five counts of first-degree murder, CNN reported. According to multiple reports, Ramos had been engaging in increasingly vicious harassment of the publication on social media in recent months.
"He was prepared to shoot people. His intent was to cause harm," Acting Anne Arundel County Police Chief William Krampf said at a press conference.
The five victims have been identified as Rob Hiaasen, Gerald Fischman, Wendi Winters, Rebecca Smith and John McNamara – all of whom were employees at the paper.
A GoFundMe campaign has been set up to help the victims and Capital Gazette staff. During Thursday's shooting, an intern at the newspaper, Anthony Messenger, tweeted, "Active shooter 888 Bestgate please help us." Messenger survived the attack.
Various other staff tweeted about the shooting:
A single shooter shot multiple people at my office, some of whom are dead.

— Phil Davis (@PhilDavis_CG) June 28, 2018
"Gunman shot through the glass door to the office and opened fire on multiple employees. Can't say much more and don't want to declare anyone dead, but it's bad," Davis added.
There is nothing more terrifying than hearing multiple people get shot while you're under your desk and then hear the gunman reload

— Phil Davis (@PhilDavis_CG) June 28, 2018
SCANNER AUDIO: Anne Arundel County radio traffic during Capital Gazette shooting – approx. 2:50pm:

Officer 1: "All units, all units, limit your transmissions. Do we have any kind of intel on our shooter?"

Officer 2: "White male with a ponytail."

Courtesy: @Broadcastify pic.twitter.com/lUrwtRvz43

— Kevin Lewis (@ABC7Kevin) June 28, 2018
Staff at a Maryland newspaper have published a Friday edition of their paper, in a show of defiance against the shooter who attempted to tear their organization apart in a savage act of violence.
"We are putting out a damn paper tomorrow," tweeted reporter Chase Cook.
According to the BBC, a team of Gazette reporters worked out in the office parking garage to get Friday's paper to print — their office was cordoned off as a crime scene.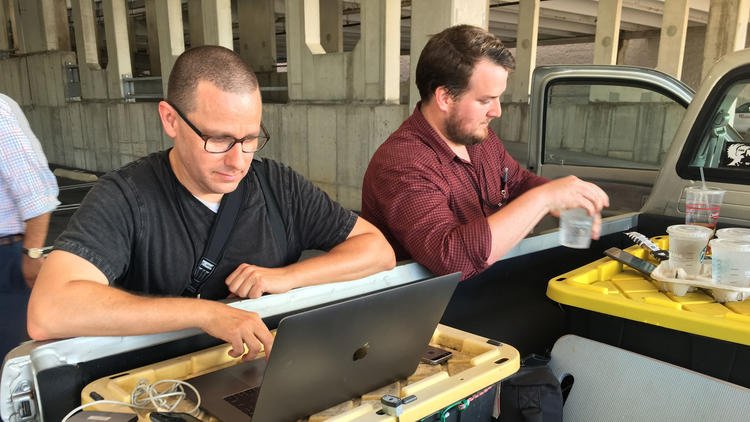 The opinion page of the publication was left blank out of respect for the victims:
Tomorrow this Capital page will return to its steady purpose of offering readers informed opinion about the world around them. But today, we are speechless. pic.twitter.com/5HzKN2IW7Q

— Capital Gazette (@capgaznews) June 29, 2018
Today's front page features images of the victims beneath a headline that simply reads: "5 shot dead at The Capital."
— Capital Gazette (@capgaznews) June 29, 2018
Please keep the men and women of The Capital Gazette in your prayers as they move forward following this tragic loss.