A man who was caught up in the Nairobi terror attack has been found safe and well after sending a series of frantic tweets declaring his love for God and his family. Ron Ng'eno was trapped inside the seven-story DusitD2 Hotel when Islamic militants burst into the complex, set off bombs and opened fire indiscriminately.
"If I die I love the Lord and believe I will go to heaven please tell my family I love then," he wrote. "I love you Caleb, Mark and Carol."
If I die I love the Lord and believe I will go to heaven please tell my family I love then I love you Caleb, Mark and Carol

— Ron Ng'eno (@ronald_ngeno) January 15, 2019
Later, after security forces claimed they had "eliminated" the threat, Ng'eno tweeted that he was safe.
"We tried to escape, but we soon realized the attackers were coming from outside," he told The New York Times. "That's when we decided to hide in a bathroom. Luckily, they didn't come looking for us."
Dear all thank you for your support. I am now out and at home with my family. Thanks to the brave @NPSOfficial_KE @kdfinfo for risking their lives to save others.

— Ron Ng'eno (@ronald_ngeno) January 16, 2019
How many are dead?
Officially released figures suggest that 14 people are confirmed dead. However, according to the Kenya Red Cross, that number could be as high 24. Among them, a British man and an American man.
The U.S. citizen has been named as Jason Spindler, who was the CEO of a strategy and investment company.
Jason was in Kenya attempting to "make a positive change in the third world in emerging markets," according to his mother, Sarah.
"We all miss him so much," his mom, told NBC News. "And it's so sad that such a bright young person is taken away by terrorism."
"Jason is Co-Founder of I-DEV, and has 15+ years of experience advising large and small corporations on growth, management and financial strategy," reads his bio on the company website.
Jason Spindler was one of those rare men who was loved by pretty much anyone be touched in Kenya and around the world. Today he was killed in the terrible al shabab attack in Nairobi. He chose a life of hope and inclusion. I am grateful to have known and learned from him. pic.twitter.com/B4YnxB6bic

— Chris Schroeder (@cmschroed) January 16, 2019
"We offer our sincerest condolences to the family and friends of this individual," a State Department official said in a statement. "Out of respect for the family of the deceased, we have no further comment."
How exactly did the attack unfold?
At about 3 p.m. local time, four heavily armed militants began throwing grenades at cars parked outside the hotel complex before storming the building and opening fire indiscriminately. There have been reports that the men had been spotted scouting out the compound over recent days.
⚡ DERNIERE MINUTE – #Kenya : Le premier bilan de l'attaque du 14 Riverside à #Nairobi est de cinq morts. 6 étages de l'hôtel #dusitD2 ont été sécurisés. La police recherche toujours les attaquants." #AttackInWestlands pic.twitter.com/l6Trlp6FaN

— FranceNews24 (@FranceNews24) January 15, 2019
Eyewitnesses have been describing the absolute horror of coming face-to-face with the murderous attackers.
"We were changing our shifts, and that is when I heard a loud blast and people were screaming," said cleaner Enoch Kibet, as reported by The Guardian. "I couldn't believe I was alive. The blast was so loud and shook the whole complex."
"I just started hearing gunshots, and then started seeing people running away raising their hands up and some were entering the bank to hide for their lives," another woman told Reuters.
How did it end?
At about 11 p.m., Interior Cabinet Secretary Fred Matiang'i declared that the entire complex had been cleared by the authorities and that the threat had been neutralized.
"The situation is under control and the country is safe," he said. "Terrorism will never defeat us."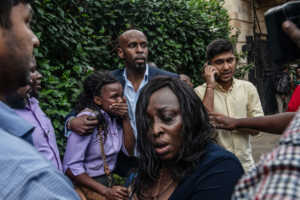 However, there was confusion over the status of the attack after people reported explosions and gunfire several hours after authorities confirmed the siege had ended.
More explosion and gunfire rocked the 14 Riverside area this morning more than 7 hours after @InteriorKE cabinet secretary Fred Matiang'i said they had cleared all buildings and were "mopping up the area and securing evidence." What's going on? #RiversideAttack

— Abdi Latif Dahir (@Lattif) January 16, 2019
In one tweeted picture, Kenyan soldiers were seen praying before heading in to rescue the stricken civilians.
Kenya Defence Forces praying today before they head to rescue their fellow Kenyans
♥#Dusit #Nairobi #Nairobiattack pic.twitter.com/aqPG5frAUF

— Flavian Taria (@FlavianTaria) January 15, 2019
Who is responsible for the attack?
Somali Islamic terror group al-Shabaab has claimed responsibility for the massacre. According to The Guardian, western and regional security officials have said that Kenyan intelligence services had received information that al-Shabaab was plotting terror attacks on high-profile targets around Christmas and New Year.
The site of the latest attack is located just a mile away from the Westgate shopping center, which, in 2013, was the scene of an al-Shabaab attack that claimed the lives of over 70 people.
CCTV footage reveals faces of militants behind #RiversideAttack. #KenyaAttack #WeShallOvercome pic.twitter.com/ouYugp5s9v

— Nairobi News (@Nairobi_News) January 16, 2019
According to the BBC, a barista at the Riverside complex was convinced that he recognized one of the attackers as a client.
"I knew one of them because he had a big scar on one of his hands," he said. "I saw them. They shot six of my friends, four didn't die but two succumbed."
In response to the attack, Kenyan President Uhuru Kenyatta has vowed to bring those behind the attack to justice.
"We will seek every person involved in planning, funding and executing this heinous act," he declared.
Do pray for all those caught up in this horrific and evil attack.