Nadia Bolz-Weber, a controversial left-leaning Lutheran minister from Denver, is a frequent critic of Christians to her right, and her latest concern is so-called "purity culture" in evangelical Christendom.
Bolz-Weber, distraught by the "purity" movement, a culture that flourished in the late 1990s and early 2000s, when teenage girls were given rings as symbols of their vow to remain celibate until marriage, asked women across the U.S. to mail her their purity rings.
ANNOUNCEMENT: I'm inviting women to mail in their purity rings for a massive art project. @SweetBirdStudio is collaborating with me to melt them into a sculpture of a vagina, click here to join in and get your certificate of impurity! https://t.co/tbaJJdbxeJ #shamelessbook

— Nadia Bolz-Weber (SHAMELESS af) (@Sarcasticluther) November 26, 2018
Such symbols, the House of All Sinners and Saints pastor said, shamed girls over their sexuality. In response, Bolz-Weber decided to have the rings melted down into a sculpture of female genitalia. So donors wouldn't walk away empty handed, the Lutheran pastor gave each benefactor a "certificate of impurity."
https://t.co/tbaJJdbxeJ pic.twitter.com/1uAQfcugum

— Nadia Bolz-Weber (SHAMELESS af) (@Sarcasticluther) November 26, 2018
"Every single thing and person that seemed so powerful as to feel inescapable, I name them, and then I just go 'footnote,'"  Bolz-Weber said during the 2019 Makers Conference earlier this month. "I mean, seriously — Pontius Pilate? He's a footnote. Your bully from middle school? Footnote. Your depression? Footnote. Your s***ty boss? Footnote. All those things are very real, and the harm that they have on us and the world is also real."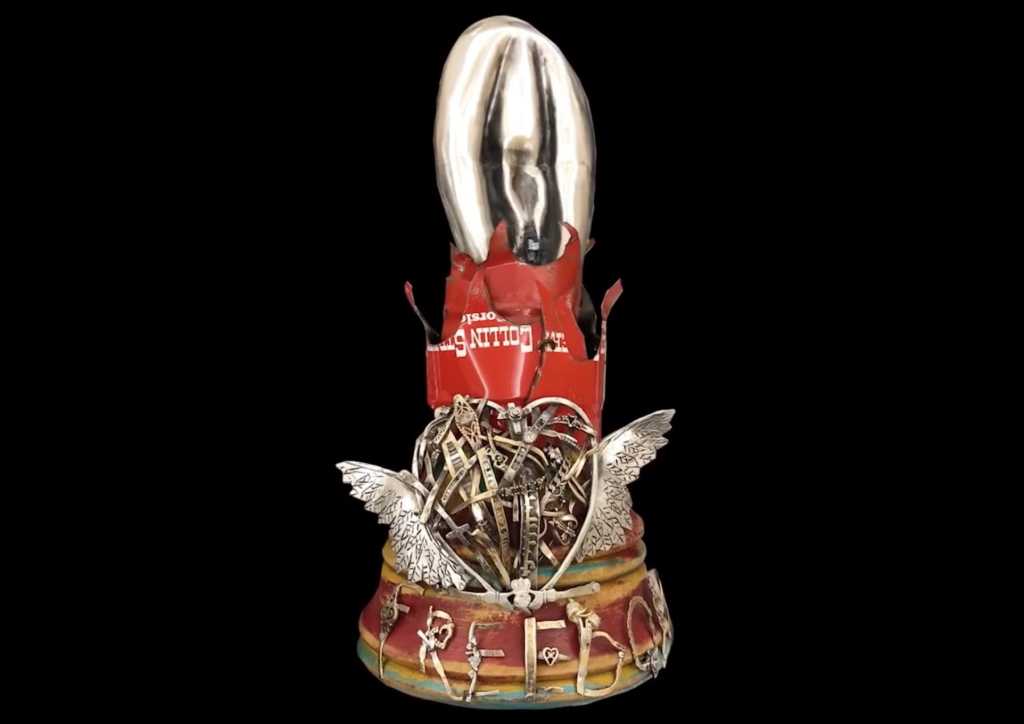 Before presenting the vagina sculpture to feminist icon Gloria Steinem, Bolz-Weber added, "To me, the whole point of having faith is that it allows us to believe in a bigger story than the one we tell ourselves."
"Those purity rings are a footnote," Bolz-Weber said as she unveiled the sculpture and walked across the stage to hand it to Steinem.
Bolz-Weber's sculpture idea was not without its detractors. On Twitter this week, one critic asked the liberal minister why "mocking other people's beliefs is something to make one gratified."
Two different women at my book event in Dallas last night held my hand and said "one of those rings was mine. Thank you for giving me a beautiful way to redeem something that hurt me." So…yeah. They mean more to me than your insults. Have great day! https://t.co/GlQNMkdyf2

— Nadia Bolz-Weber (SHAMELESS af) (@Sarcasticluther) February 19, 2019
"Do you 'preach' to be ingratiating of all beliefs yet feel inclined to waste valuable time and labor to create a 'statue' or whatever it is just for the shock value alone?" Shelby Brown asked. "Simplistic ignorance at its best."
For her part, Bolz-Weber just dismissed Brown's comments as "insults."
Neither the sculpture nor Bolz-Weber's decision to gift it to Steinem should come as a surprise. She first announced the idea during the 2018 Makers Conference, when she promised to give the sculpture to Steinem and vowed to "take down" the "church's teachings around sex."
"I thought I could give it to you, Gloria," Bolz-Weber said from the stage. "As a thank-you gift from us all."