A group of Canadian doctors has insisted that a 13-year-old does not need her parent's consent before being injected with hormones that will aid her gender transition.
The girl in question was attending a school district in Delta, British Columbia, when her father found out that administrators were treating his then-12-year-old as a boy. Unbeknown to the dad, Maxine had now become "Quinn" at the advice of her school counselor, with the district adamant that it was following official policy laid out in the BC Ministry of Education's Sexual Orientation and Gender Identity (SOGI) Policy.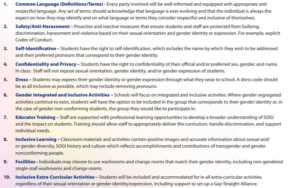 Under this policy, they said, Maxine's father had zero right to know anything about his own daughter's "preferred sex, gender, or name" while at school. At this, Maxine's dad was understandably concerned. He noted that his daughter had struggled to cope with her parents' 2013 divorce, and had since endured periods of depression. Maxine's dad thought it possible that this transgender phase was simply an additional coping mechanism that his daughter had employed to cope with her emotional trauma. Indeed, she had previously gone through a temporary lesbian phase.
What was the school's response to the dad's concerns?
Instead of taking the father's concerns seriously, the school instead decided to refer Maxine to Dr. Wallance Wong, a psychologist and LGBT activist. Upon consultation, Dr. Wong decided that Maxine should undergo immediate gender reassignment therapy, beginning with a series of hormone injections.
Understandably, Maxine's dad was extremely concerned by this and therefore refused to sign the consent papers for the administering of such extreme hormone treatment.
So, the hospital simply trampled over his parental rights, mailing him a stern letter which stated that the medical team would be starting transitional treatment in two weeks.
"Quinn's healthcare team has concluded that he possesses sufficient maturity and intelligence to be capable of consenting to his own medical care, notwithstanding the fact that he is only 14 years old," the letter read, according to The Federalist.
"Furthermore, the team agrees that the proposed course of treatment is in his best interests," it continued. "We appreciate that these conclusions differ from your own….We always strive to get parents to agree to support a proposed course of treatment, however, under these circumstances we are of the view that it is ultimately up to Quinn to give or withhold consent to his own medical care; neither you nor his mother can make this decision for him."
How did that dad respond to this?
Outraged, Maxine's father immediately filed a motion in Provincial Court to stop the hospital from administering the hormones. As a result of this legal filing, a judge was forced to temporarily prevent the doctors from injecting this vulnerable young girl.
"I have no problem with [Maxine] exploring the role of being male," he said in a recent interview, according to The Federalist, expressing grave concerns over the irreversible effects of intravenous testosterone treatment, as well as the whittling away of his parental rights.
"It's not, to me, a transgender issue," he said, noting the clear violation of his rights as a parent. "It just happens to be that it involves transgenderism."
Where does the case stand at present?
Last week, the British Columbia Supreme Court considered a motion that would prohibit the hospital from injecting Maxine, now 14, and allow more time for deliberation on the case. The official decision has not yet been released.
What are the dangers of hormone treatment?
Many experts have spoken publicly about the reckless dangers of hormone treatment, not least because they can cause emotional instability.
"Since there are no long-term studies regarding the use of puberty blockers and cross-sex hormones in young children and teens, this entire enterprise is, by definition, an experiment upon a minor — and a dangerous one at that, given the lifelong, permanent side effects," Michelle Cretella, president of the American College of Paediatricians, told The Christian Post in an interview last year.
"I have witnessed an upending of the medical consensus on the nature of gender identity. What doctors once treated as a mental illness, the medical community now largely affirms and even promotes as normal," she added.
Back in 2017, feminist author and conservative social critic Camille Paglia claimed that puberty-blocking treatments for children with gender dysphoria are "a criminal violation of human rights."