A pro-life campaigner was left utterly flabbergasted last week when two local council members turned their backs during his impassioned plea for the protection of the unborn. Pro-life advocate Shane Dodson was urging the local council in Norman, Oklahoma, to recognize Roe v. Wade as an unjust law when councilmembers Alexandra Scott and Kate Bierman swung their chairs around and faced the wall.
"We are a captive audience, and we don't have to listen to hate speech," Scott told KFOR-TV of her reasons for the shocking display of disrespect. "We turned our chairs to him because it actually had some sort of hateful speech towards women. It didn't actually become a big issue until our fellow council member decided to scold us."
Sereta Wilson, another of those who turned her back on Dodson in a separate session, took a screenshot of herself turning her back during Dodson's address, posting it to Facebook with the captioned: "#notacityissue #stayoutofmyuterus."
Council member Robert Castleberry, on the other hand, was extremely upset with his fellow councilmembers and organized a follow-up meeting with Dodson to apologize.
"Sir, I want to apologize to you, as several members, your public representatives, turned their back on you as you addressed us," Castleberry told Dodson. "We are elected to represent you, and I am embarrassed that anybody would turn their back. Whether you agree with somebody or disagree with somebody, that is not public discourse."
According to the outlet, both women were not happy that Castleberry felt he had to apologize for them.
"He should never feel obligated to apologize on my behalf, because I am not sorry," Scott said.
Dodson himself saw the gesture as "kind of an immature thing to do," but also noted that their actions serve "as a reminder of what I feel those women were doing figuratively, turning their backs on the most helpless among us."
Mayor Lynne Miller also denounced the councilmembers' actions, noting that  "[Constituents] have a right to expect a certain level of courtesy and decency in the way we treat everyone else."
"We have an obligation to our public to be courteous and to be respectful and to listen, and I don't think that's too much to ask," she added.
After coming under fire for her conduct in the council chamber, Sereta Wilson took to Facebook with a series of defiant posts.
With her disrespectful behavior on the council bench and bizarre reactions on social media, many have called for Sereta Wilson to resign her position.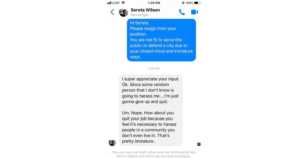 Wilson, however, apparently has no intention to heed that call.
"I am proud of myself for also turning my chair," she wrote on Facebook of the incident. "I will not apologize, I will continue to fight for my rights even while serving as an elected official."
"What was being said last night was disrespectful to me as a human," she added. "I will not stand for it, and I expect the chair of the meeting to ensure my safety and dignity."