A man who lost his wife in the horrific mass shooting in New Zealand on Friday says he has forgiven the man responsible for the heinous act. Farid Ahmed's wife, Husna, died after a crazed gunman entered Al Noor Mosque in Christchurch and gunned down dozens of unsuspecting prayer-goers.
"She was probably more open than me; she could reach anyone, she was magnetic," Farid Ahmed told Newshub.
His wife, Husna Ahmed, ran kids' classes at the Mosque. When the shooting broke out, Husna attempted to shield the women and children who were caught up in the attack.
"What she did when the shooting started, she organized the ladies and children to go out, she was leading them," Farid explained.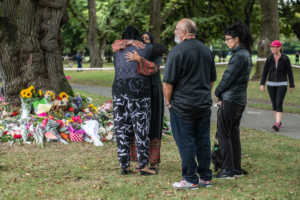 Fifty people were killed when three gunmen entered two different mosques in the New Zealand city of Christchurch and opened fire. However, despite the fact that Ahmed's beloved wife was among those massacred, he insists that he holds no ill feelings towards the killers.
"I lost my wife, but I don't hate the killer," Ahmed boldly declared, referring to the 28-year-old Australian man arrested and charged with murder after the rampage. "As a person, I love him. I cannot support what he did. But I think somewhere along in his life, maybe he was hurt. But he could not translate that hurt into a positive manner."
Bereaved husband forgives mosque gunman

"I lost my wife but I don't hate the killer."Farid Ahmed's wife Hosne died in the New Zealand mosque attacks. He says he "cannot support what [the killer] did" but says he's "forgiven him." bbc.in/2FgV04W

Posted by BBC News on Monday, March 18, 2019
Ahmed added that "people who carry out terrorist attacks, they want people to be afraid" and desire to "incite violence between one group and another," Ahmed explained. "Maybe he was hoping that if he targets some Muslims, the Muslims will retaliate."
However, Farid, who is a leader at the mosque, said that he will do everything in his power to break the cycle of hate and stop any retaliation from occurring.
"We Muslim leaders are saying 'that's not going to happen. We will not allow you to feel afraid or to hate other people,'" he said.
Then, Ahmed said something astonishing, noting that he does not hold anything against the rampaging, racist shooter.
"I don't have any grudge against him," he said. "I have forgiven him, and I am praying for him, that God will guide him."
Comments praising the man for his grace and courage during this devastating time have been pouring in on Facebook.
"Wow you are inspiring sir , we need more people in this world like you," one person wrote in response to his remarks. "The power of forgiveness is more powerful than hatred."
Another person chose to post a quote from the late Nelson Mandela:
"As I walked out the door toward the gate that would lead to my freedom, I knew if I didn't leave my bitterness and hatred behind, I'd still be in prison," said the famed South African political leader.
Forgiveness against all odds
This is not the first time that the power of forgiveness has been on display amid such cruel and excruciating loss and heartache. In his first service back preaching after his own daughter was massacred alongside 26 others at First Baptist Church in Sutherland Springs, Pastor Frank Pomeroy urged his congregation to forgive the man responsible for the atrocity.
'This is What God Can Do': Patricia Heaton Overcome With Emotion Talking to Rwandan Woman Who Forgave Man for Slaughtering Entire Family
"We have the power to choose, and, rather than choose darkness, like that young man did that day, I say we choose life," Pomeroy said just a week after the brutal killings. "We can't allow this act that happened last weekend to keep us from church. We can't use it as an excuse for why we can't or should not go to church. We can't allow that act to let us turn heinous and ugly, as the darkness would have us to be."
Pomeroy added that his 14-year-old daughter, Annabelle, was "dancing with Jesus today" along with the rest of the victims.