An enormous pro-life advert has been displayed in Times Square. A bustling tourist attraction, the iconic location attracts over 300,000 patrons every day. The advertisement, which stands some 50-feet tall, was produced by Students for Life of America.
What does it say?
The massive billboard features pro-life women expressing their opposition to leading abortion provider, Planned Parenthood, along with other well-known slogans often used by the pro-life community. The women are depicted holding signs that read "I Don't Trust Planned Parenthood," "I Reject Abortion Extremism" and "I Am The Pro-Life Generation."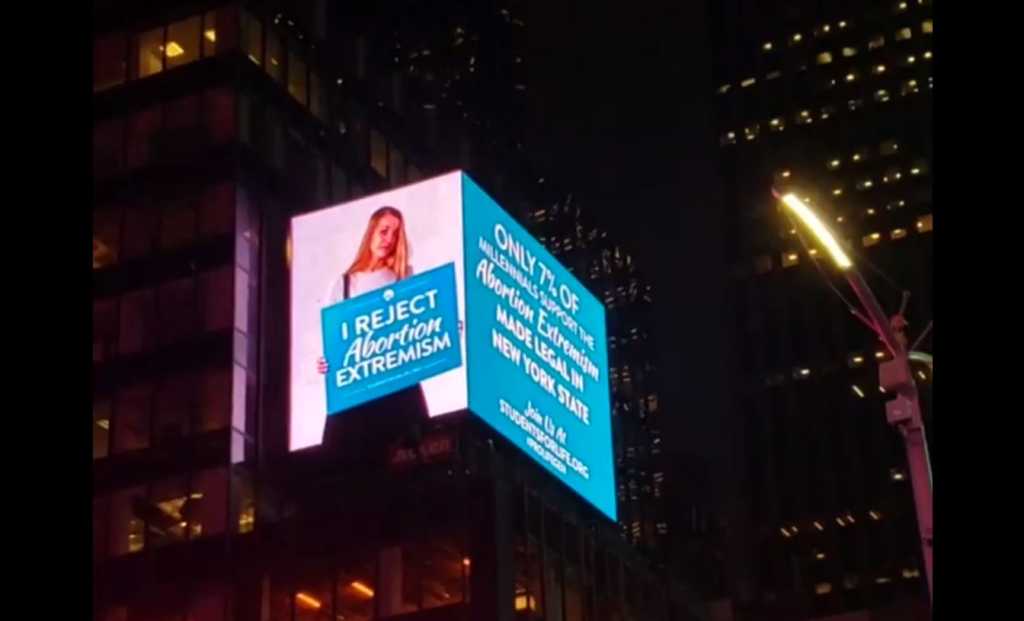 Why did Students for Life do this?
Given the enormous backlash to New York's recent passing of a bill that would widely legalize late-term abortion, it is no wonder that this location was a list-topper for the pro-life group.
"When I asked our supporters if they wanted to send a pro-life message in Times Square, the answer was a resounding YES," said SFLA President Kristan Hawkins, according to LifeNews.
However, the prominent display was not easily arranged. "We had to fight to have our message heard as twice companies pulled the plug on our custom-made ad after intensive negotiations," Hawkins added.
"But we don't give up on college campuses, even when facing threats of violence, and we didn't give up on sending a message to the vast majority of New Yorkers who reject infanticide and are horrified by the abortion extremism recently legalized in New York."
Hawkins noted that the ad, which started running on Wednesday, has a duration of 15 seconds and will "run a minimum of 720 times," catching eyes of "tens – if not hundreds – of thousands of people."
The pro-life lobby group is seeking to retain the advert for longer, and has started a donation campaign to try and raise the funds needed to keep it live. Check it out below: