A stunning image has emerged from the ashes of the fire-ravaged Notre Dame Cathedral in Paris. Standing tall and bathed in a late evening glow, the cross at the famed golden altar remained completely unscathed.
What is the latest?
As of Tuesday, firefighters have reported that they have been highly successful in isolating the fire so that it has not affected the main body of the twelfth-century church.
With the flames largely extinguished, relentless efforts continue to salvage priceless artifacts from the interior of the building.
Among the items saved was Notre Dame's organ, which is among the world's largest and most famous.
A precious replica of the crown of thorns worn by Christ on the cross was also preserved, along with gilded candlesticks, priceless artwork and several furnishings — they were all ferried out of the building via a "human chain," according to reports.
The cause of the blaze, which was tackled by some 500 firefighters, is still relatively unknown — though many have speculated it could have been linked to major renovations on the structure that were taking place at the time of the incident. The Paris prosecutor's office said it had opened an inquiry into "accidental destruction by fire," according to the BBC.
Support continues to pour in
In the wake of the inferno, thousands upon thousands of people have sent messages of support and millions have been pledged in financial support to rebuild the historic place of worship.
The United Nations' cultural agency, UNESCO, which is based in Paris, has also vowed to remain "at France's side" in its efforts to rebuild the iconic church. UNESCO declared the landmark a world heritage site back in 1991
Financial support has also been forthcoming. French fashion mogul Francois-Henri Pinault has reportedly pledged 100 million euros ($113 million) toward the effort to restore the church.
Messages of support and solidarity came from several world leaders, both political and spiritual. French President Emmanuel Macron tweeted, "we will rebuild" Notre Dame Cathedral "all together."
"This is part of our French destiny," he added. "I am committed to this: from tomorrow a national subscription will be launched, and far beyond our borders."
Archbishop of Canterbury Justin Welby called for prayer, and Pope Francis, via the Vatican, also expressed his solidarity.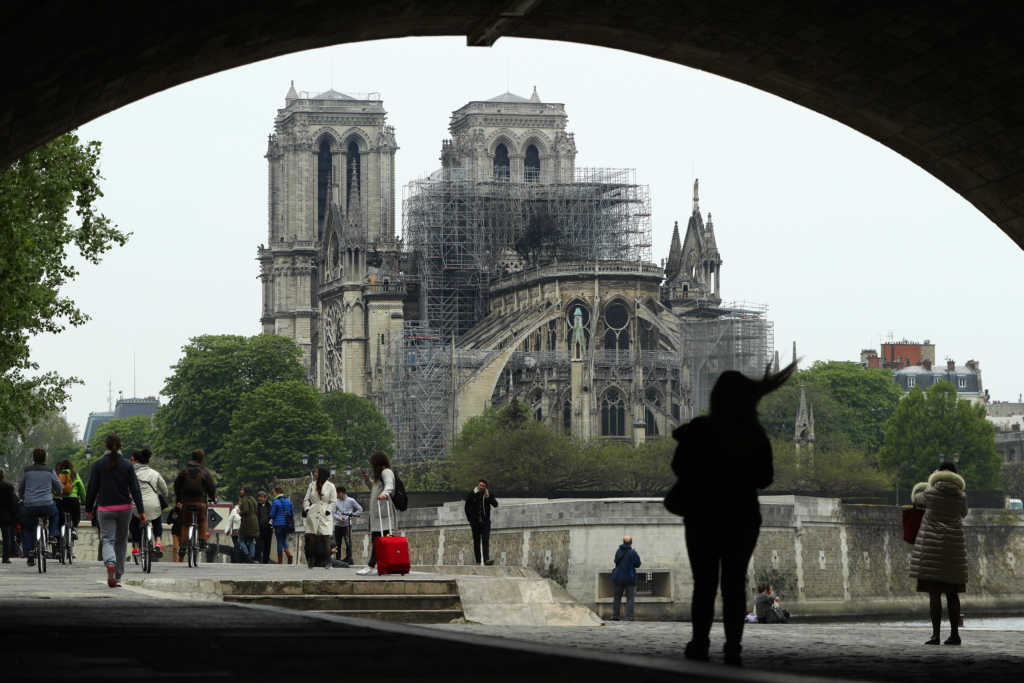 "The Holy See has heard with shock and sadness the news of the terrible fire that devastated the Cathedral of Notre Dame, symbol of Christianity in France and in the world," the Vatican noted in a statement. "We express our closeness to French Catholics and the people of Paris. We assure our prayers for the firemen and all those who are doing everything possible to deal with this dramatic situation."
Current and former presidents Trump, Obama and Clinton also issued words of support.
"Mourning the Notre Dame fire with the French and people around the world," Bill Clinton tweeted. "I first visited the cathedral 50 years ago this June. I was in awe then and every time I visited it after that."
Queen Elizabeth II also issued a statement of support, noting that she was "deeply saddened to see the images of the fire which has engulfed Notre Dame Cathedral" and offering her "sincere admiration to the emergency services."
"I extend my sincere admiration to the emergency services who have risked their lives to try to save this important national monument," she said, according to The Guardian. "My thoughts and prayers are with those who worship at the Cathedral and all of France at this difficult time."