Over the past couple of weeks, New Orleans Saints quarterback Drew Brees has faced intense scrutiny and pushback following his involvement with the 'Bring Your Bible to School Day' Event.
Brees became the target of left-leaning media outlets after he partnered with Focus on the Family, a group that values the traditional family structure, to create the encouraging video.
Although he received massive pushback from the media for his involvement, the quarterback is now gaining support from members of Congress, including Rep. Jim Banks (R-Ind) and Rep. Mark Meadows (R-N.C).
On Wednesday, Rep. Banks and Rep. Meadows along with 19 other members of Congress wrote and signed a letter in support of Brees writing: "Americans across the country support your promotion of Bring Your Bible to School Day."
"Drew Brees has backers in Congress," Banks told Fox News. "I hope our letter is an encouragement to him and other people of faith."
"Unfortunately, while you never mentioned LGBT groups, mean-spirited antagonists have attacked you for associating with an organization with ideology different than their own," the letter stated. "These attacks are short-sighted and frankly un-American."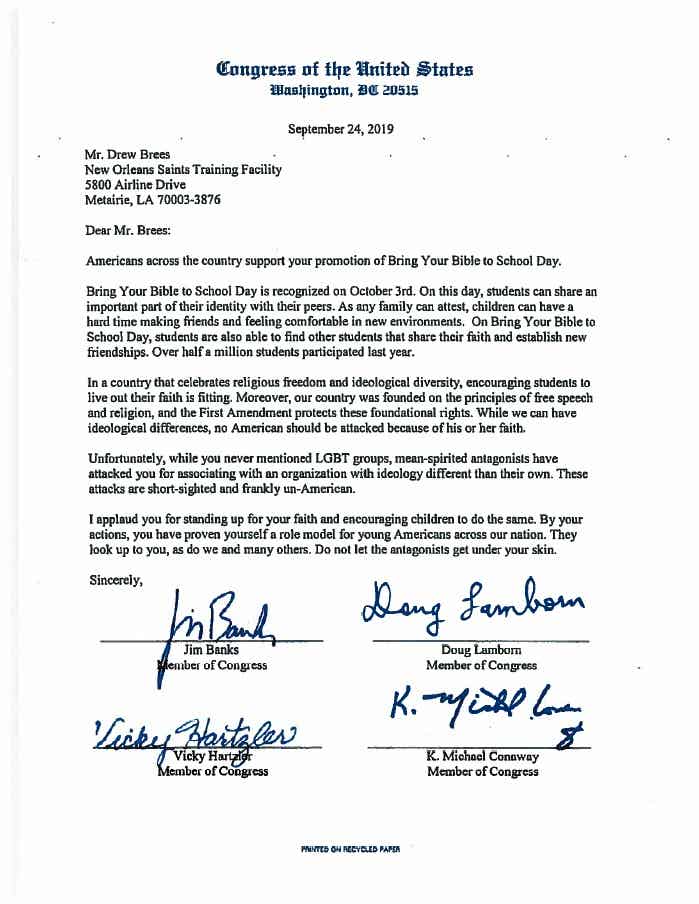 "I applaud you for standing up for your faith and encouraging children to do the same," Rep. Banks wrote in the letter. "By your actions, you have proven yourself a role model for young Americans across our nation. They look up to you, as do we and many others. Do not let the antagonists get under your skin."
Brees himself had responded to the criticism earlier this month, in a video via Twitter, as well as in a press conference.
"I live by two very simple Christian fundamentals," he said in a video. "Love the Lord with all your heart, mind and soul, and love your neighbor as yourself."
"I'm not sure why the negativity spread or why people tried to rope me into certain negativity," he continued. "I do not support any groups that discriminate or that have their own agendas that are trying to promote inequality. … That's not what I stand for."
The background
Earlier this month, Focus on the Family released a promotional video for 'Bring Your Bible to School Day' in which Brees encouraged students to participate.
"Hey guys," Brees says in the video, "one of my favorite verses in the Bible is 2 Corinthians 5:7, "For we live by faith, not by sight."
"So I want to encourage you to live out your faith on 'Bring your Bible to School Day' and share God's love with friends," Brees adds. "You're not alone."
The 22-second video quickly received intense pushback and Brees became the target of many left-leaning media outlets.
Newsweek published an article titled: "Drew Brees, New Orleans Saints Quarterback, Records Video Produced by Anti-Gay Group Focus on the Family."
Out Magazine wrote another titled, "NFL Quarterback Appears in Commercial for Anti-Gay Extremists," and Big Easy Magazine wrote, "Drew Brees Records Video for Anti-LGBT Religious Organization."
"Focus on the Family supports and promotes the practice of 'conversion therapy,' which uses a combination of shaming, emotionally manipulative and traumatic stimuli, and physically painful stimuli in order to 'cure' LGBTQ+ people of their sexual orientation," Jenn Bentley of Big Easy Magazine wrote.
Big Easy Magazine did not stop there, launching a smear campaign on Twitter, asking users to use the hashtag "SaintsDontHate," to bring attention to Brees involvement.
The outlets attacked Focus on the Family, labeling them a hate-group, due to their belief in traditional, biblical marriage.
"Many people with same-sex attractions choose not to identify as homosexual, lesbian, gay or bisexual. Instead, their primary identification comes from their faith in Jesus Christ," the Focus on the Family website details. "They identify as Christians, followers of Jesus and God's children. And they choose to live according to biblical truths and values, reserving sexual expression for marriage between a man and a woman."
Earlier this month, Focus on the Family President Jim Daly shared with the Christian Post how thankful he was for Brees involvement with the movement.
"We have deep respect for New Orleans Saints quarterback Drew Brees and appreciate him encouraging students to 'live out' [their] faith on 'Bring Your Bible to School Day' and share God's love with friends," Daly said.
Many well known Christians have partnered with Focus on the Family to promote "Bring Your Bible to School Day," including singer Colton Dixon, speaker Sadie Robertson, singer Tauren Wells, and the rock-band Newsboys.