JT Lewis, a 19-year-old man from Newtown, Connecticut, is running for state Senate after watching his little brother, Jesse, die in 2012 during the Sandy Hook school shooting after heroically saving the lives of several of his fellow students — actions he believes are worthy of the Presidential Medal of Freedom.
"I'm the brother of a gun violence victim but also running as a Republican," Lewis told Faithwire over the phone Wednesday. "That uniquely positions me — unlike, I don't think, anyone else who's ever been positioned — to bring people together. I have a foot in both camps, you could say."
In the immediate aftermath of the shooting, when he was just 12 years old, he and his family met with then-President Barack Obama, whom Lewis said broke down in tears learning about Jesse's heroism. The young candidate has also met with President Donald Trump and Vice President Mike Pence, men he recalled having equally as emotional reactions to his baby brother's story.
"To see two men on the complete opposite ends of the political spectrum have the same reaction — one that everyone has since we started telling this story almost seven years ago — inspired me," he said. "There are ways to bridge the political divide. … And that's by sharing this message that Jesse left."
Lewis said guns aren't something he grew up around. Nevertheless, he understands the right to own firearms is a valuable part of the U.S. Constitution "and giving up our rights doesn't seem very American, very smart." So it's important to find bipartisan solutions that protect the Second Amendment while also keeping weapons out of the hands of those who are violent or mentally unstable.
Despite confiscation proposals from Democratic presidential candidates like Beto O'Rourke, Lewis said such policies are just "not possible" due to the vast number of firearms in circulation in the country. As the brother of a gun violence victim, Lewis feels confident he can help find a realistic middle ground.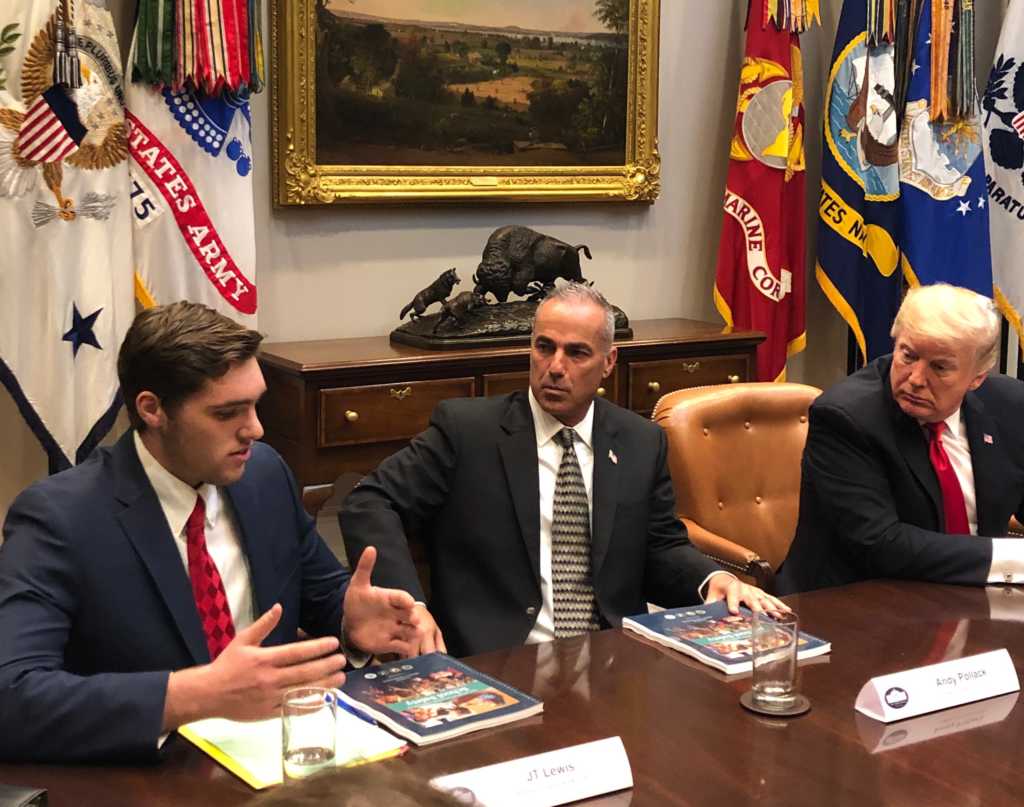 "We all want to [solve gun violence], we're just coming at it from different angles," Lewis said. "Someone needs to sit down and explain that to everyone and try to use the best parts of everyone's ideas, and I think that's something I can do."
Lewis' little brother plays a big role in his effort to find that common ground. So much so that, during his recent meeting with Pence, the 19-year-old political hopeful suggested Jesse receive the Presidential Medal of Freedom.
The vice president, whom Lewis described as "just amazing," was "very receptive" to the idea of awarding Jesse the Presidential Medal of Freedom and even mentioned the possibility to Trump.
"Hopefully that works out," Lewis said, "because I think that's a great way to honor Jesse and for the country to honor Jesse for his courage and heroic actions."
To date, Lewis' tweet about posthumously awarding his little brother the prestigious medal has received more than 10,800 retweets and over 21,800 likes.
"The tweet got two million impressions, the hashtag #HonorJesse was trending on Twitter, which I didn't even realize," Lewis said, "so a very powerful response."
Throughout all of this — from his brother's horrific murder in 2012 to running for state Senate today — Lewis said his Christian faith has played a "very huge" role in his life, describing himself as "a very strong believer."
For more information about Lewis or his campaign for state Senate, click here.