Some parents in the Willis ISD in Texas were upset after an event featuring a drag queen teaching kids how to apply makeup took place, catching many by surprise.
Igniting further controversy was a Willis ISD English teacher, who allegedly made some eye-opening statements about the role of parenting, posting on social media in defense of the drag queen event. "Parents should not have the final say" on matters of educating their children, Anthony Lane argued, before positing that parenting is the primary responsibility of the community.
According to local news reports, a cosmology teacher in the school invited a drag queen to visit the school and address the class. The man, who goes by the name Lynn Adonis-Deveaux, showed up at the school wearing jeans along with heels and makeup.
According to a statement from the school district
"The speaker did as asked, which was to talk to students about makeup application. The guest speaker did not discuss sexual orientation, lifestyle or anything else other than makeup application."
The Willis High School Cosmetology Twitter account posted a picture of the visit.
The post that's going viral, which purportedly comes from Lane, has many parents up in arms.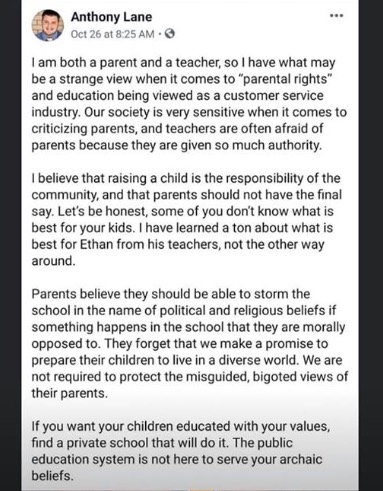 "I believe that raising a child is the responsibility of the community, and that parents should not have the final say," Lane wrote. "Let's be honest, some of you don't know what is best for your kids. I have learned a ton about what's best for Ethan from his teachers, not the other way around."
In the post, which has allegedly been deleted, Lane went on to say that "we are not required to protect the misguided, bigoted views of their parents."
As reported by local media, Lane defended the event, arguing for more support of the LGBT community, claiming he "regularly" hears "homophobic slurs" in the hallways. "I think as a district we need to make an initiative to teach our kids to be tolerant and respectful," Lane said.
At a November 11th school board of trustees meeting, the issue was hotly debated. According to local news reports from Community Impact:
Amidst applause, boos and shouts, Willis ISD residents debated the issue of a drag queen makeup class at the Nov. 11 board of trustees meeting.
The board heard public comments for more than 30 minutes, almost all focused on an Oct. 18 event when Houston-based drag queen Lynn Adonis-Deveaux spoke in front of a Willis High School cosmetology class. Following the event, Conroe ISD trustee Dale Inman took to social media to criticize the event, the school and the district.
The WISD trustees sent a statement afterwords to parents saying they had "examined our process on guest speakers and have made some adjustments in regard to communication to better serve the Willis ISD Community."
The next board meeting takes place on December 9th.