In Mister Rogers' Neighborhood, the native language was hope.
"For me, hope is essential to living," said Joanne Rogers, the wife of the iconic children's entertainer and educator Fred Rogers, who passed away in 2003 after a battle with stomach cancer and whose countercultural optimism inspired the newly released movie, "A Beautiful Day in the Neighborhood."
During one particular scene in the film, which stars Tom Hanks as Fred Rogers, cynical journalist Lloyd Vogel, portrayed by Matthew Rhys, asked Rogers if he considers himself a hero. Sitting on the edge of the set of the beloved children's show, which was reconstructed in the same WQED studio in Pittsburgh where Rogers originally recorded his show, Hanks (as Rogers) replied, "I don't think of myself as a hero. No, not at all."
"What about Mr. Rogers?" Vogel pressed, leaning in. "Is he a hero?"
After a brief pause, Rogers answered in his characteristically calm and deliberate manner. "I don't understand the question," he told the Esquire magazine writer.
Vogel's character is loosely based on the experiences of real-life journalist Tom Junod, whose own 1998 profile of Rogers informed the new film.
While the character in the movie departs from many of the details of Junod's personal life, the two men — one fictional, the other real — were burdened by the same cynicism and frustration. In the film, Vogel was hampered by a complicated relationship with his estranged father while he and his wife were struggling to find a rhythm as parents of a new baby. In reality, Junod and his wife were staring down the heartbreak of infertility.
In one interview, Junod said he was "mad at the universe" over his and his wife's inability to have their own, biological children. It was ultimately, though, Rogers' influence on Junod's life that led them to adopt their daughter, Nia, less than one year after the show host's death.
Junod's true story about Rogers reveals the Latrobe, Pennsylvania, native wasn't acting when he was on stage. To Rogers, it wasn't a performance. Instead, the stage was an extension of his own life, a tool to be used for his mission and ministry. After all, Rogers was an ordained Presbyterian minister with a charge "to work with families through the mass media." His language in the neighborhood — both when the cameras were rolling and when they were turned off — was hope.
It was that vernacular of hope and optimism that spurred Junod.
"You have to be optimistic to be an adoptive parent," he told Faithwire. "[T]here're so many unknowns, and generally, you've tried very hard by that time to have a child of your own and Fred — his optimism, his faith in God, his faith in family, and his faith in humanity in general, was unshakeable."
The fact Rogers' unflappable hope has resurged to the center of American culture, Junod added, is "kind of an amazing thing."
"It's a rougher world and people jump on each other for nothing. You make one mistake, and people are all over you. … Is anybody universally beloved right now?" Junod continued, noting Rogers is the one person who comes to mind.
And perhaps that's because Rogers' hope wasn't baseless — it rested on a firm foundation of faith, something Joanne Rogers told Faithwire "meant a lot to" her late husband.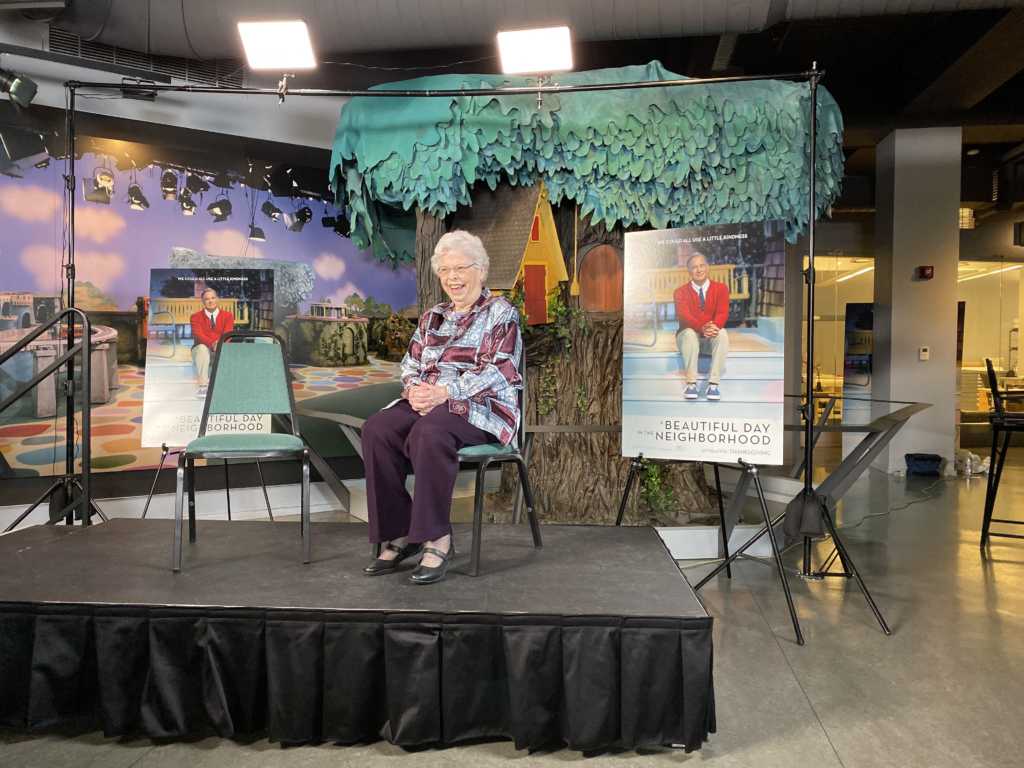 Rogers worked hard at what he believed. His character both on the stage and in his private life didn't come easy but was a result of the effort he put in "every single day" because of his deeply held convictions, according to Bill Isler, who served as Rogers' manager and is now CEO of Fred Rogers Productions. That commitment to his faith is something even to this day his 91-year-old wife said she's jealous of.
"He attended church every Sunday," said Joanne Rogers. "I used to tell him, 'I really envy you, your faith.'"
There's no doubt hope was the name of the language in Mister Rogers' Neighborhood, and faith was its foundation. It was Rogers' inviolable optimism and unassailable hope that inspired kindness and sparked life in Junod and countless others just like him.
Time and again, though, Joanne Rogers has said her husband wasn't perfect, despite the saintly glow that surrounds his larger than life persona. He was absolutely a good man, but to make him a saint would be to make his way of life "unattainable," she said, and that's just not the case.
"There are many Fred Rogers out there; I know there are," Joanne Rogers said confidently. "I hope they'll come forward and just be there for everybody — the hopeful people of the world. Let's all be hopeful!"