By now you've likely seen the gut-wrenching viral video of 9-year-old Quaden Bayles, whose exacerbated and emotional mom posted a lengthy video plea asking for parents and teachers alike to see what relentless bullying has done to her son, reducing him to tears of hopelessness and even words expressing a desire to harm or even kill himself.
If you haven't yet seen it, be warned. The video is EXTREMELY distressing and there are several expletives.
Before going an inch further, allow me to add my voice to the millions who have let Quaden know that he is loved. I am praying for him. Millions of others across the globe are praying for him as well. Specifically, I am praying that God lifts your spirit, gives you and your family the strength to carry on through this incredibly difficult time, and overwhelms you with the knowledge that you are beautiful because you are made in the image of God, no matter what the bullies say. You are special because God made you! And God doesn't make mistakes.
As with everything on the internet, people have opinions. Good, bad and often ugly. They don't think before spewing them out there, and I've already seen enough cringeworthy posts that come from people who I hope do not have children.
Anyone treating this issue with black and white bluntness would be wise to kindly shut up. I hate to be blunt but nothing gets my dad juices flowing like some armchair parents who think they know everything. Please, do some thinking before acting like you know what's best for this family and what they should or shouldn't have done.
Especially if you're not a parent. You can't possibly fathom the depths of emotion humans are capable of feeling until you see your own child suffer. There's a reason why bad guys in movies always go after children of families in order to get the good guy to do what they want — because they know we will do anything for our children.
I've seen all the critiques. There have been a lot, but they generally fit into a few common categories.
Some say the mom is acting terribly because she filmed Quaden in distress instead of comforting him in his time of need.
Some have weighed in with the "just pull your child out of school!" advice, as if they know the first thing about this family and their dynamic.
Others have questioned whether or not there is abuse at the home, given some of the language Quaden used in the video.
Still others are sounding the alarm that this could be some kind of scam.
Since these perfect parents and observers have weighed in with their advice, I'll go ahead and tackle these points one at a time.
Complaint #1: Mom Shouldn't Have Filmed
For most parents, when your kid has been injured or is having a meltdown, it is generally not advisable to pick up the camera and start filming. The instinct in this complaint is generally correct, but what they've failed to do is stop and think for a few seconds before hitting the keyboard and firing off that tweet, perhaps hoping it'd go viral. Before the hot take, it would be advisable to think for a few seconds. This is a mother who says this has been an ongoing problem. She is very clearly at wit's end. She expressed reluctance to take such a measure, apparently not wanting to do this but feeling she has to. She is desperate, back against the wall, trying to help her son because all of the other things she mentioned aren't working. This is a hail mary, a last-second heave, a cry in the wilderness.
Again, unless you've seen your own child suffer and know what it feels like, you should sit this one out. When my own daughter was in 4th grade I learned towards the end of the year that she had been sitting at lunch all alone for the entire year. It was a punch to the gut. A feeling rushes through you that is unexplainable. For me, it was the first time I felt the realization that I can't protect her at all times. I know that's irrational. I know I shouldn't do that even if I could. She has to become her own young woman, able to deal with adversity life throws her way. Thankfully, by God's grace, she handled it like a champ. But I'll never forget that feeling.
The feeling Quaden's mom experienced I can't even fathom. And I won't try to. And I certainly won't stop her from trying — as imperfect a solution it might be — to do what she can as a mother. And by the way, tens of millions of people have seen his plight and now are flooding them with support. So, it looks like it worked.
Complaint #2: Pull your child out of school
While this complaint actually resonates with me — our family of six homeschools — at the time this video came out no one knew all the details of this family's dynamic. Perhaps she's a single mom and isn't able to pull it off? Any number of reasons could explain why she wouldn't choose this path, and bluntly saying 'well just pull your kid out, dummy' is not a helpful discourse to engage in. It's insulting, first of all, because it assumes she hasn't even contemplated this choice. Given the dire state of the situation, it's almost a certainty she has contemplated that option.
That said, this (clearly biased observer) thinks homeschooling would be a great option for Quaden's family to consider. The problem of bullying is not going away anytime soon at public schools. Teachers are put in a nearly impossible position, especially at larger schools (at least here in America), to effectively stem things like bullying. At one point in the video, Quaden's mom Yarraka affirms this notion, saying "I feel like I'm failing as a parent. The education system has failed."
In America, progressives have instilled and promoted a near authoritarian grip on the idea that government schooling is the only and best way to educate our children. If you don't believe me, ask an ardent progressive about school choice sometime and see how that goes. The mere suggestion of giving parents an option of where to send their children is often met with visceral rebuke.
All of that said, immediately and bluntly gruffing out a "pull him out!" hot take is not helping.
Complaint #3: Concern for abuse at home
Yeah, this one doesn't need much explanation. Anyone suggesting this has no earthly idea what they are talking about. They don't live in that home. It is not anyone's place to take a five-minute video of a parent's lowest point and accuse them of child abuse. I am of the firm belief that every single parent on planet earth could be accused of a potentially abusive home if our absolute worst, most desperate moment was put on blast for the whole world to see.
Save your armchair investigations for your spare time.
Complaint #4: BEWARE this is a scam
Yes, there have been scam artists in the past. We all remember the woman who found the homeless man who gave her gas money. They raised nearly half-million dollars and touched the hearts of a nation.
But here's the thing, and there's no getting around this. We should be quick to help and slow to harden our hearts. That's what happens when we adopt a posture of constant skepticism. It slows our compassion and causes us to justify not doing anything.
If it turns out she's created some big scheme, (which is INCREDIBLY unlikely given the video evidence we have) and you give to this cause (most money is going towards a Disney trip and anti-bullying orgs) then you still have lost nothing. Your act was still credited as a compassionate, charitable one, and you can sleep peacefully at night knowing that fact. Any person engaging in such fraud will receive the fruits of their deception in due time. It's not our job to play investigator. If the Spirit moves you, follow.
Make the mistake of being too generous rather than too skeptical. You'll never feel regret for doing so. Ever.
God bless this family. God bless Quaden. God bless all the people who have spoken out in support. May He comfort this young man, his mother and everyone else near and dear to him.
And may we keep being generous souls who are quick to love — like these: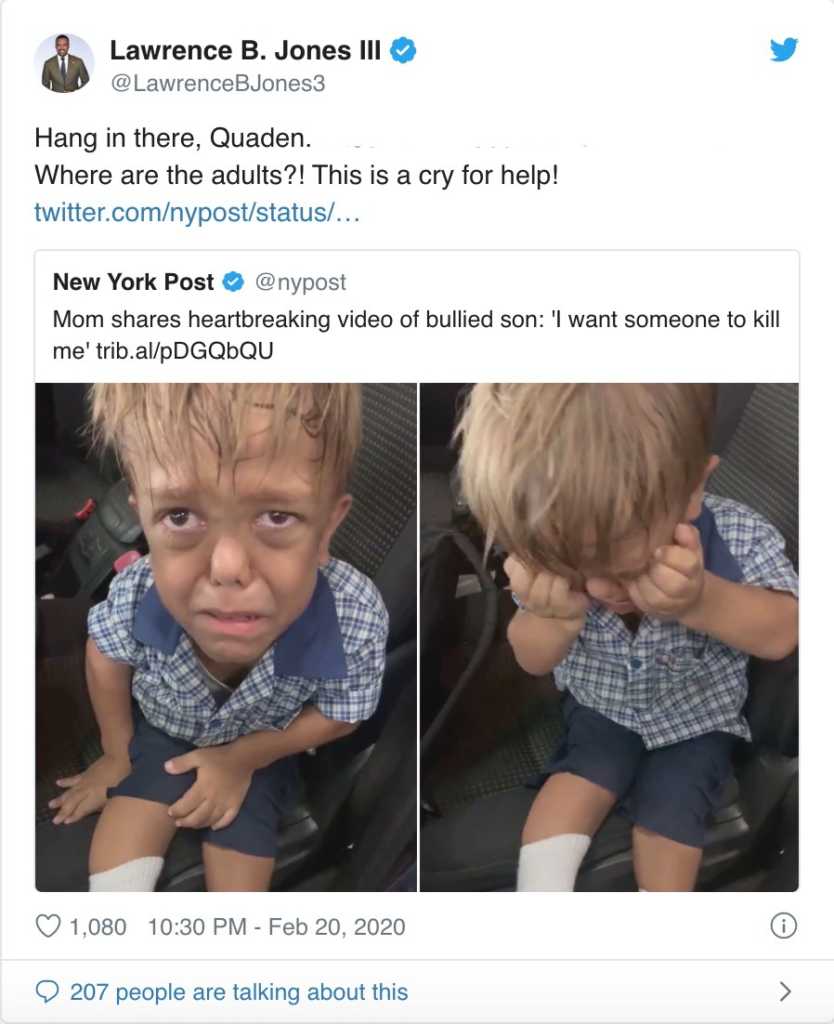 Billy Dib, an Australian professional boxer, even got a chance to FaceTime with Quaden and offered him "some one-on-one boxing lessons." The little boy's mom, he said, "loves the idea."
"Looking forward to teaching this little champ some deadly punches," he wrote.
He also received an invitation for free MMA training from ONE Championship CEO Chatri Sityodtong. In a video posted to Twitter, Sityodtong said Quaden's mother "has graciously accepted my invitation to come to Singapore for an all-expenses-paid vacation so Quaden can learn martial arts at EVOLVE."
"Our instructors will be sure to bully-proof Quaden," he added.
If you would like to donate to a GoFundMe account set up for Quaden, you can do so by clicking here.