Prominent rapper Cardi B is joining the fight against our rampant porn culture, decrying the "nasty and weird" industry for targeting children and glamorizing incestual and abusive scenarios.
Of course, we need to make it clear from the get-go, Cardi B — whose real name is Belcalis Marlenis Almánzar — is far from a moral champion. She often posts racy photos of herself and has admitted to enjoying watching pornography.
She has, though, found common ground with those who are opposed to pornography totally: the exploitation of children must stop.
Cardi B tweeted that she became aware of an explicit video that used the children's Disney character Elsa from "Frozen." She tweeted that such content "shouldn't be allowed" on the internet.
She then decried videos indulging in incestuous and abusive fantasies.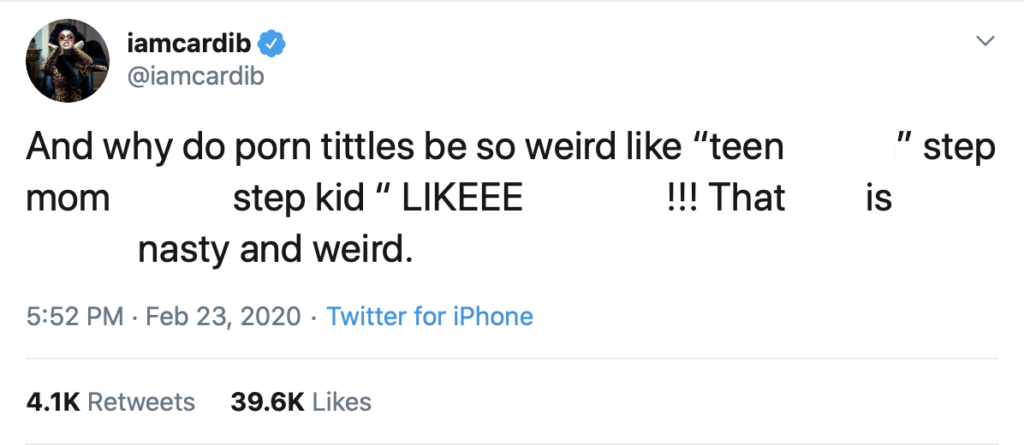 While Cardi B isn't exactly the best torch bearer on this issue and it'd be great if she eventually came out against the entire porn industry, she is right to condemn the targeting of children by the porn industry. This kind of content — which is all over the internet — needs to come down.
Over the last few weeks, there has been a growing push to see one of the world's largest pornographic websites, Pornhub, shut down. It has already been proven the site is responsible for hosting illegal content of women and girls who have been coerced, lured, and assaulted.
The parent company behind the smut site, MindGeek, is profiting off of "crime scenes," according to Laila Mickelwait, director of abolition for Exodus Cry, an advocacy organization focused on ending sexual exploitation and trafficking.
There is no end in sight to the issue, either, given there is no way for Pornhub to verify consent and, as it stands right now, content creators and uploaders are not required to legally confirm the ages of those who are in the videos.
"The onus of responsibility is not just on the traffickers and those who are raping the girls; it's on the website that is not only hosting these videos but profiting off of them," Mickelwait recently told Faithwire. "And that's what makes them a mega-trafficker."
Unfortunately, Cardi B isn't rejecting pornography in its entirety, but she is condemning the illegal content that is plaguing Pornhub, and she shouldn't stand alone. We need more people like Cardi B to stand up, because this issue will continue to spread until more voices call it out.
And hopefully, God will awaken more people to the fact that they need to stand against all pornography, not just some.