Things got real yesterday when the NCAA banned fans from it's annual March Madness basketball tournament and the NBA followed suit by suspending all play after a player tested positive for COVID-19.
Many average, everyday families are now seriously grappling with how they can not only keep themselves healthy but prevent further spread of the Coronavirus.
According to Dr. Scott Gottlieb, Americans should brace for "two hard months" of cancellations, "social separation" and a willingness to "sacrifice some of the trappings of normal life" in order to reduce the "severity of what's ahead."
Gottlieb says that shutting down NBA games is "not enough" and that we should be going out of our way to avoid "small gatherings, parties" both large and small for the next month or possibly two.
With each major cancellation, it is becoming increasingly clear that families should have a plan in place for the near future and until further notice.
We're in the midst of an intense election season, so yielding reliable information out of the sea of hot take commentaries will be more difficult than usual. Here is some information that will hopefully help you make an educated decision for how your family handles and plans to navigate this pandemic.
Here is the latest situation report from the World Health Organization. Here you can track the latest cases reported, where they are coming from, what the mortality rates are and more.
In the latest WHO report, we see that new cases in China continue to slow (assuming China is providing accurate information to the WHO) while reported cases are increasing readily around the globe.
Here's a concise chart from the Associated Press that shows where the impact is currently hitting most: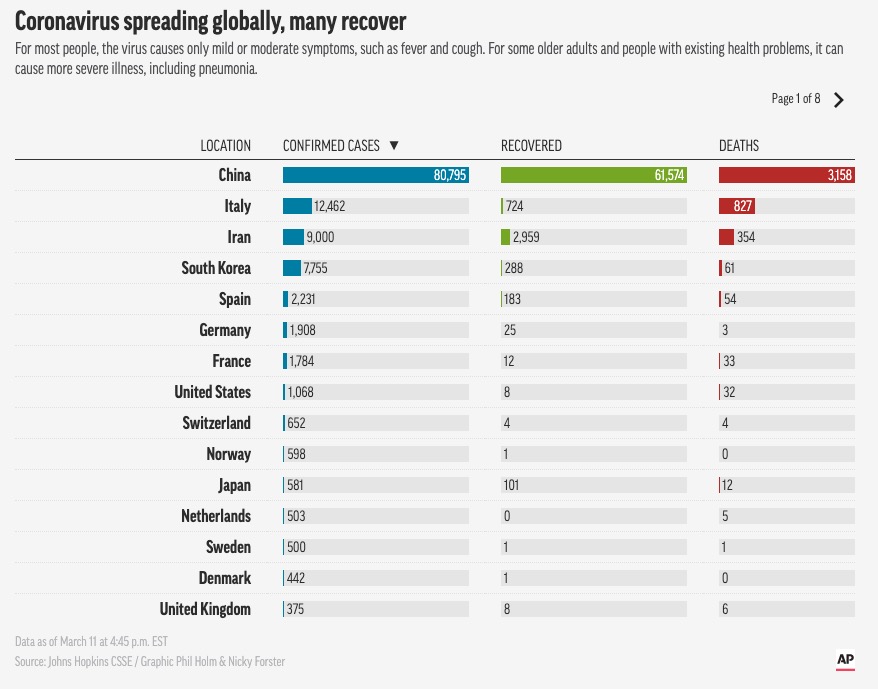 We can also expect the number in the United States to rise as testing here has been minimal compared to South Korea and Italy.
In the early going, the U.S. lagged in testing compared to other countries such as South Korea. On March 8th, the U.S. had only tested 1,707 people, a rate of 5 per million, according to the CDC. South Korea, by contrast, had tested 187,236 people, a rate of 3,692 per million: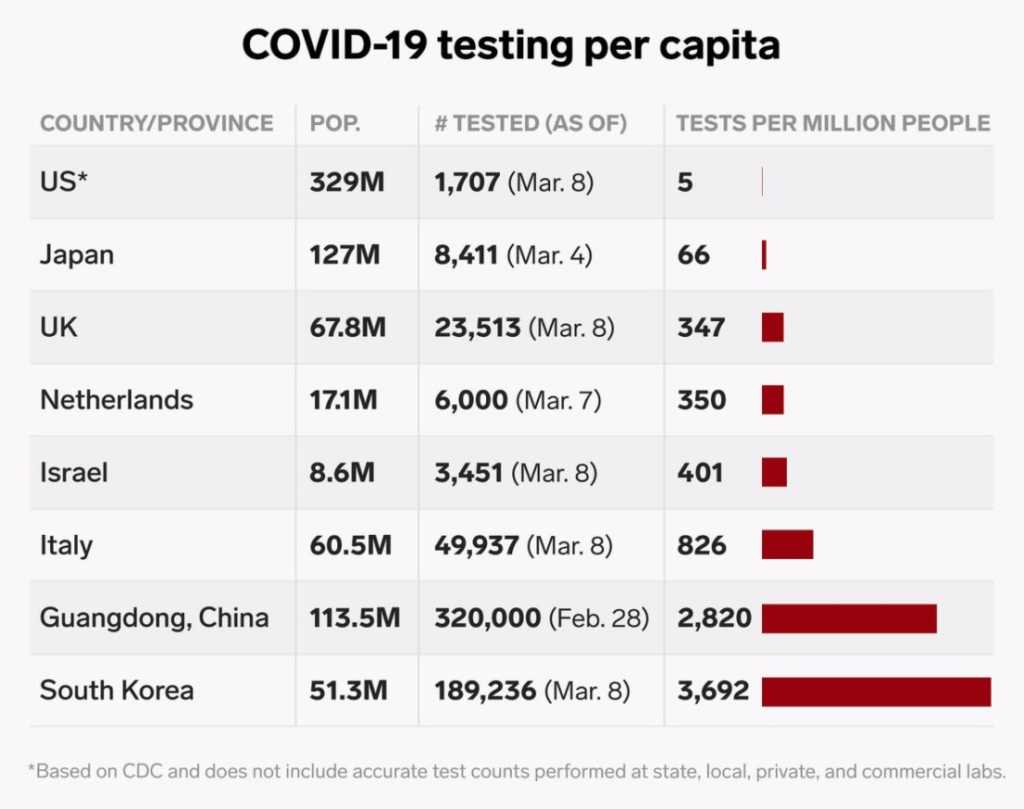 There were a variety of factors contributing to that outcome, including a glitch in the first round of testing that led to inconclusive results.
As testing begins to expand and become more common in America, expect to see more cases. With more cases, expect to see increased vigilance and prevention measures like the ones we saw yesterday from the NCAA, the NBA and more.
Today the United States Capitol shut down until April 1st. This is the first time the Capitol has been shut down for health reasons since 1918.
Schools are contemplating what to do with their students while extending spring break and announcing remote learning as an alternative to classroom activities.
According to Education Week, over 1,000 schools have already made the decision impacting over 1 million students:
As of March 11, 2020, 4:32 p.m. ET, 1,561 schools have been closed or are scheduled to close, affecting 1,006,197 students. Schools are closing for many reasons related to coronavirus, including exposures, cleaning, or planning for extended closures.
Vaccine progress: we've reported on a vaccine that Israeli scientists are working on. Even if they succeed, which they think will happen in a few weeks, the vaccine won't be available for months, perhaps even over a year. Here's why.
As Faithwire has continually reported since news of the Coronavirus broke, it is important to take proper precautions to help prevent the spread of this virus. It's also important to trust God and His sovereignty above all things, that we have not been given a spirit of fear, but of power, love, and self-control.
*Editor's note: the early U.S. coronavirus testing statistics referenced included in this article have been updated.