For those with Amazon Prime, the popular delivery service has been a lifesaver during the coronavirus outbreak and subsequent quarantines.
Over the weekend, however, Amazon warned its customers to expect challenges in meeting all delivery demands in the coming days and weeks. In a blog post Saturday, Amazon wrote:
As COVID-19 has spread, we've recently seen an increase in people shopping online. In the short term, this is having an impact on how we serve our customers. In particular, you will notice that we are currently out of stock on some popular brands and items, especially in household staples categories. You will also notice that some of our delivery promises are longer than usual. We are working around the clock with our selling partners to ensure availability on all of our products, and bring on additional capacity to deliver all of your orders. 
Let's take one of the more viral items today: toilet paper. A quick search shows most options being out of stock or with extremely long delivery dates.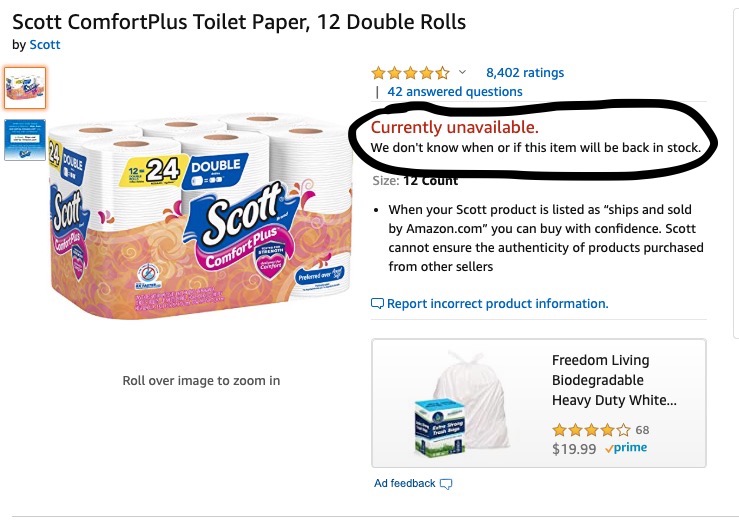 Another option was listed not in stock until April 21st, though you could place an order (unlike the other out of stock option).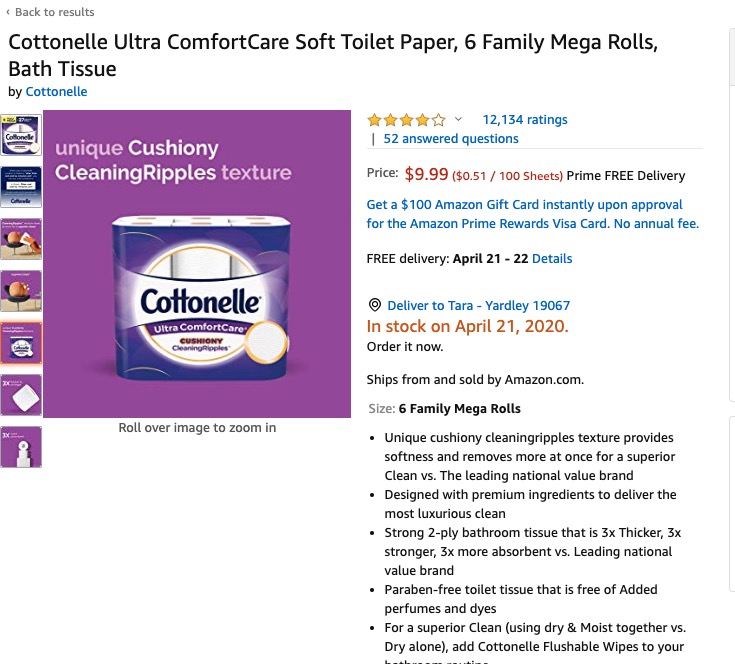 Amazon also discussed how they are combating "artificially" raising prices online by unscrupulous vendors.
We're also working to ensure that no one artificially raises prices on basic need products during this pandemic and have blocked or removed tens of thousands of items, in line with our long-standing policy. We actively monitor our store and remove offers that violate our policy.
Matt Colvin thought he had a brilliant idea. He decided to buy up 17,700 bottles of hand sanitizer and sell them at high prices, predicting the demand. He and his brother went on a road trip, buying up as many bottles of sanitizer they could find. Returning home, despite the increased panic around the nation and the CDC's recommendations that people wash their hands with sanitizers and soap in order to help stop the spread, they still posted all the bottles online at high prices, between $8 and $70 a bottle before Amazon caught on and pulled the plug.
The bottles normally retail for only $1 each.
The "pandemic profiteers" as they've been dubbed ended up donating the rest of 17,000 bottles of sanitizer they were essentially left with no place to sell.
Amazon further explained they are doing everything they can to continue to serve customers during this trying time, and they have been a blessing to many already who have sought to avoid potentially spreading COVID-19 by limiting contact with others.
Read the full blog HERE.