A couple leaving a Texas abortion clinic got out of their SUV and threatened to shoot a group of Christians who were preaching the Gospel to people visiting the clinic.
Faithwire spoke with Pastor Jon Speed shortly after the incident took place:
What Happened?
A couple leaving a Texas abortion clinic became agitated and threatened Christian protesters after being turned away from the clinic because of the emergency executive order signed by Governor Greg Abbott banning all non-essential medical procedures.
Faithwire has reviewed video of the incident and has decided to keep the identities of those involved hidden for safety reasons. The video was provided to Faithwire by Pastor Jon Speed, a regular participant in protests and preaching at abortion clinics in different parts of the country, who said the Christians at the clinic were part of his team.
The unidentified woman in the passenger seat of the SUV appears at one point in the video to get a weapon out of her purse and draw it on the Christians protesting and preaching at the clinic.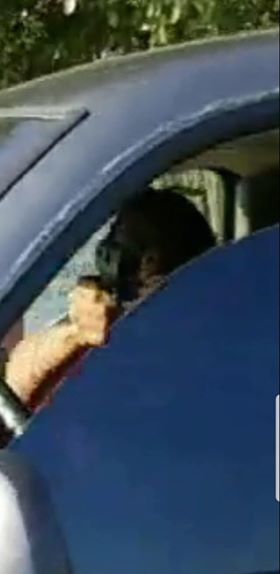 Prior to that tense moment, the man driving the vehicle backed up and got out, hurling several verbal threats at the Christians.
"Do you have permission to be recording?" the passenger asks. "Yep. Because it's on public property," the protester responded. The driver becomes aggressive, opening his door and approaching the protesters.
"I'll get out of this (expletive) and beat your (expletive)! Who the (expletive) you think you is, huh?" he said before pausing for a moment, never breaking his glare. "I'll pop all you (expletives)!"
"You need to place your hope in Jesus Christ, sir," the Christian responded.
This only agitated the man further. He identified his gang affiliation before saying, "I'll shoot your whole a#%, (expletive)!"
A security guard on site ushered the man back into his vehicle, and he then drove off, cursing the entire way out of the parking lot. On the way out, the female passenger appeared to aim the gun at one of the Christians.
The image above is a screenshot of that moment.
Pastor Speed contacted authorities about the incident, but due to the dangers of the situation, they are unsure if charges will be pursued.
The confrontation comes as the legal battle continues between Planned Parenthood, abortion clinics, and the state of Texas continue. A federal court issued a temporary hold on the state's emergency abortion ban, but an appeals court overturned that ruling yesterday.
Pastor Speed is back out at the abortion clinic today, telling Faithwire in a message that the parking lots are once again full, despite the ruling from the appeals court yesterday.
We will update this story as more information becomes available.