One North Carolina pastor, who has preached at revivals for more than 70 years, says God told him to pray for a spiritual awakening in America. 
Rev. Fred Lunsford, a World War II veteran, became ill two years ago and asked God to end his suffering. The 95-year-old said God revealed His purpose and plan while he prayed.
"Two years ago I thought I was going to die at the age of 93. I was very sick and asked the Lord to let me die," Lunsford said. "I wanted to go to heaven, but God said, 'Not yet!'"
He asked God, "Why are you leaving me here?" He said God answered him by saying He was "leaving him here to pray for a spiritual awakening!"
Since that day two years ago, Rev. Lunsford has not stopped praying for a spiritual awakening. In his personal prayer garden located in the mountains of Marble, NC, he has prayed for a spiritual revival.
"He (God) extended my years for a reason, and He wanted me to pray for spiritual awakening and to get as many people praying as I could," Lunsford said. "God spoke into my heart, and I yielded to it. It's not me; it's the Lord."
Rev. Greg Mathis, a pastor at Mud Creek Baptist Church in Hendersonville, North Carolina prayed with Lunsford this past January in the prayer garden.
"As we prayed that day, I felt God in a way that I hadn't experienced in a long time," Mathis said. "Heaven came down and the area in which we were praying could barely contain us. Rev. Lunsford closed our time by uttering these words, 'Thank you, Lord, the spiritual awakening has begun!' He said those words came from God.'"
Lunsford told Rev. Mathis that God urged him to invite more preachers to come and pray in the prayer garden.
"Let's get 100 preachers over here on this mountain praying for a spiritual awakening!" Lunsford said. "God will prompt their hearts if He wants them to come!"
Rev. Lunsford's original plan to have hundreds of pastors gather together and pray was hindered due to COVID-19, but God revealed another part of His plan.
Mathis and his team at Mud Creek Baptist Church organized an online spiritual revival on May 5 called "Praying on the Mountain."
"It's made me feel that God truly wants to do something," Mathis said. "I think God is giving a spiritual awakening through this and many other things, many other prayers."
"I now realize that it never was about us gathering physically to pray but joining our hearts and souls to collectively pray together for a spiritual awakening," Lunsford said.
Watch the National Day of Prayer LIVE, 8-10 pm EDT Thursday, May 7 on the CBN News Channel, CBN News App and YouTube.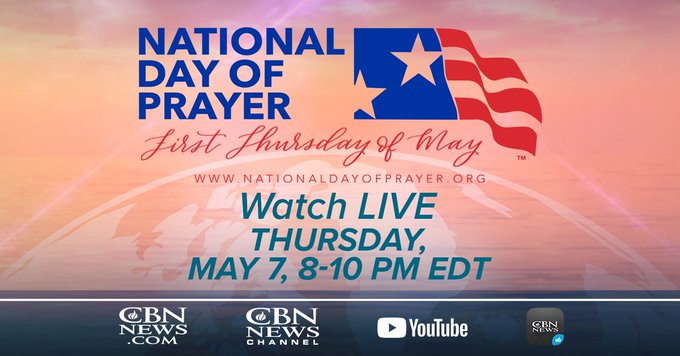 "It's been amazing how it's all happened, what's taken place. It's beyond my comprehension. I just can't understand it. It's all because of His grace. I know this is of God, and on May the 5th something big is going to happen," he added.
To register for "Praying on the Mountain," click here.
Mud Creek Baptist Church is releasing a documentary this month on Rev. Fred Lunsford's life and mission. Watch a preview of the documentary here.