If you've tuned in to any news outlet in the last couple of months, you have been inundated with reports about COVID-19. Most of these stories tend to be depressing or alarming, focusing on death counts, lack of treatment and testing supplies, and new threats that the virus is posing.
We all need a little hope right now. Through the help of church-based ministries around the world it's easier than ever to share the Gospel. And Christian families are showing up and loving the world's most vulnerable in big ways through this pandemic!
We've compiled some of the most beautiful stories that have surfaced in the midst of this pandemic.
Food Packages Bring Hope and Full Bellies in Nicaragua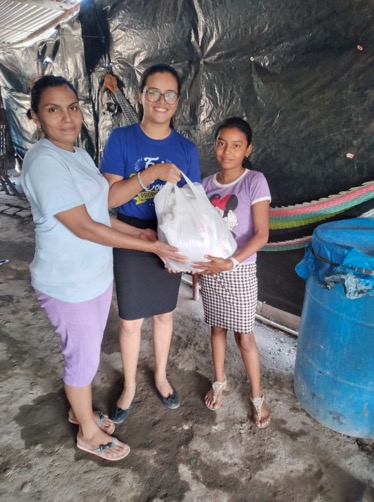 In Nicaragua, quarantine measures have increased the strain felt by families who already earn very little and struggle to put food on the table. But staff from a local church-based ministry are showing the love of Jesus by delivering food and offering hygiene education and spiritual support to the families of La Paz.
"Many of our children's parents don't have a steady job, they work day to day. And finding work has become very hard lately. Others live with their grandparents, several of them too old to work; others do what they can by washing clothes. Receiving the food package is important because it helps relieve a lot of the pressure and anxiety they're feeling," explained Coordinator Adilia Espinoza.
Staff members are also emphasizing the importance of frequent hand-washing and social distancing to ensure that families stay healthy during quarantine.
María Raquel Reyes, the ministry's director, states, "(W)henever we talk to children and their parents, we explain to them how to wash their hands, how often they need to do it, and give them a run-through of the importance of avoiding crowded places as well."
One of the grateful recipients of the food packages is Hillary Valdez. Her mom, Jessica, says, "I'm really grateful for the job they're doing. I feel the love they have not only for the children but their families as well," she said. "I thank the Lord for giving them such a loving and helpful heart. I thank them for their hard work and for all the support they've given us during this time."
Sharing Hope, Not Fear in Ethiopia
Imagine suffering with the agony of a tooth infection, but being too afraid of contracting COVID-19 to venture out to see a doctor. For 16-year-old Sadam, venturing outside meant exposing himself and his family to the deadly disease, so he kept his pain to himself.
Families in Ethiopia were falling victim to myths and fear tactics that had serious physical, mental, and spiritual consequences for those who have no reliable source of information. A local ministry started reaching out to families via weekly phone calls to check on their well-being and ensure that accurate information was being shared.
Sadam's mother, Gobene, confided, "I was shocked to receive a phone call from the (ministry) … because the phone call meant that my prayer was heard. I didn't know what to do with my son. He was in pain and I couldn't convince him to take him to the hospital. All of us were scared."
Volunteers offer counseling, prayers, and a consistent relationship that has alleviated much of the panic, anxiety and depression that families and children were experiencing. Many were able to identify medical issues, like Sadam's, that needed immediate attention.
Sadam was taken to the doctor by a volunteer to receive treatment for his tooth. He is now free of the pain that fear that tormented him. His mother said, "I can see the joy that faded from my son is coming back. He has gone back to being the caring and witty boy that he was. It is not just him that wait for the calls, but the whole family, because they put everything in perspective for us."
Young Mom in Uganda Teaches Community About Handwashing
When times get tough, some people hunker down and focus on the needs of their own families. Then there are people who stand up in faith and use their energy to focus on solutions that will benefit themselves and others.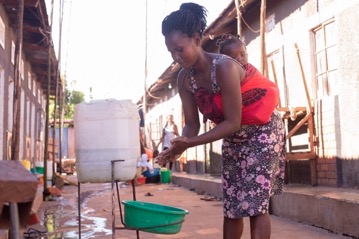 Leah is one of the latter people. As a mother of two young children, Leah was worried when she started hearing reports about COVID-19. Then Uganda's president Yoweri Museveni announced quarantine
measures that have left her unable to provide for her family by selling shoes.
Leah's family of four lives in a cramped compound with fourteen other families, and most chores have to be done outdoors, so it is difficult to maintain social distance. Keeping her children inside their two square meter apartment is impossible. What to do?
Instead of being consumed with worry and fear, Leah remembered that the staff of a local church-based ministry had stressed to her the importance of handwashing. After some discussion with her landlady, Leah was able to install a handwashing station at the entrance of their compound.
"Now everyone coming from outside must wash their hands before they can enter the compound. The (ministry) taught us that washing hands helps prevent COVID-19 and gave us soap," said Leah.
This is one mom who won't let fear get in her way.
Compassion International is one of the church-based ministries helping make stories like these possible. Through the support of monthly donors, Compassion International works in 25 different countries with the world's most vulnerable children, providing them with necessary aid to survive and escape poverty. Over 2 million children are currently registered in their development programs, and each of these children receive medical care, educational assistance, and meals through the local church.
These are a few stories that show that just because most of the world is under lockdown, it doesn't mean that God isn't at work. Thanks to organizations like Compassion International, God is empowering His people to share His love more than ever.