Grab some tissues before taking a close look at this photo.
Pastor Louie Giglio expressed his gratitude for being given a chance to say goodbye to his longtime friend and Christian apologist Ravi Zacharias. There are many powerful aspects to this photo, beginning with the smile.
Ravi lay on his death bed, knowing he's mere hours from certain death. Despite this inevitable outcome, he wears a beautiful smile in this picture as he greets his friend. This is the face of a man who knows where he is going, into the presence and loving arms of his Savior.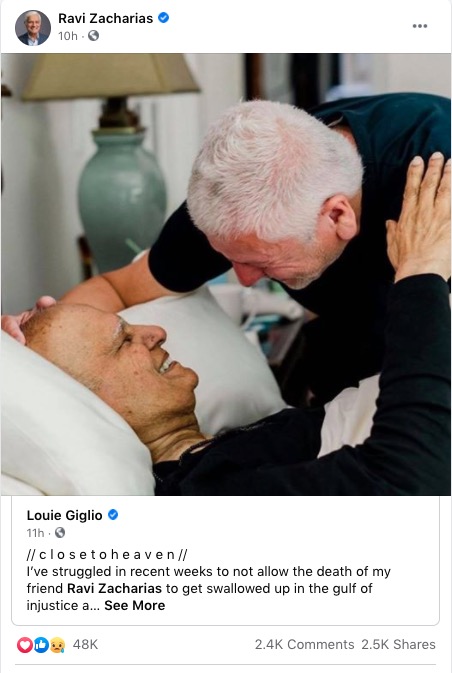 It was also powerful to see two friends sharing a bittersweet goodbye. Sad and painful, yet knowing this good and faithful servant is at peace with where he's heading.
The caption to the photo read:
// c l o s e t o h e a v e n //I've struggled in recent weeks to not allow the death of my friend Ravi Zacharias to get swallowed up in the gulf of injustice and outrage that rightly defines our nation in these days. We had this beautiful moment of laughter—and a lot of tears—as we said goodbye days before he was catapulted into Heaven from this very spot of earth.I and our team were so eager to serve RZIM in assisting with the memorial service I have barely had time to grieve. But #thankyouravi for showing me such humility and compassion and love for all people. My deepest gratitude to the Zacharias family for the gift of saying an earthly goodbye to my friend and for the permission to share this treasured moment.
Continued prayers for the Zacharias family and all who were touched by his ministry in some way.