Rapper 50 Cent, who supported former President George W. Bush, is stepping out again, this time to endorse President Donald Trump's re-election campaign.
The entertainer, whose real name is Curtis Jackson, announced his decision to vote for Trump after seeing a report on Democratic presidential nominee Joe Biden's tax plan, which showed soaring tax rates in California, New Jersey, New York, and New York City for Americans earning more than $400,000 a year.
Jackson tepidly offered his support to the president, suggesting Trump "doesn't like black people" but is nevertheless better than Biden.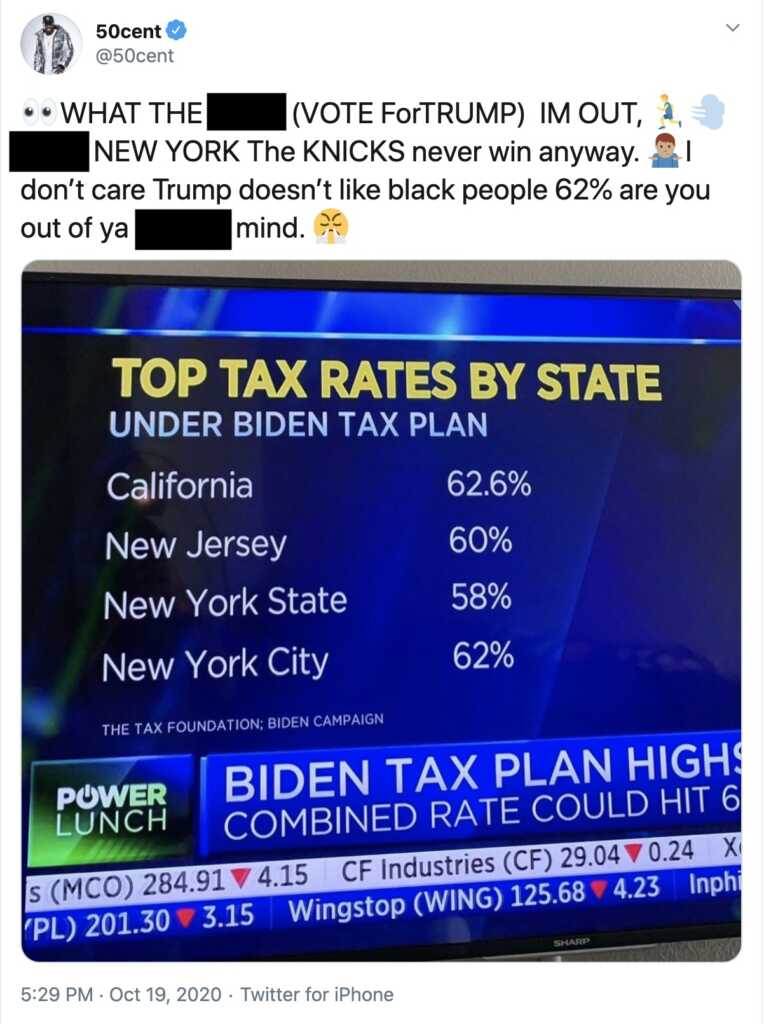 It's worth noting Trump has signed into law bipartisan criminal justice reform that disproportionately impacts minority communities. His administration has also ensured funding to historically black colleges and universities as well as forgiven a $300 million debt from four HBCUs that sought federal relief loans after hurricanes Katrina and Rita. And in early October, the president unveiled what he is calling "a contract with black Americans." Rapper Ice Cube advised the White House on the plan, which is designed to increase jobs and financial opportunities for black communities. Trump also said he is pushing for the Ku Klux Klan to be designated a domestic terrorist group and supports making Juneteenth — the day commemorating the effective end to slavery in the U.S. — a federally recognized holiday.
In July, Jackson praised Trump's "unapologetic" style, telling Billboard he is incorporating the same mentality into his own life.
The rapper doubled down on his Trump endorsement Tuesday, tweeting, "I don't want to be 20 Cent," poking fun at Biden's proposed tax rates.
Jackson's decision to publicize his support for Trump came just a couple days after "Cheers" and "Star Trek" star Kirstie Alley announced she, too, is voting for the president's re-election.
"He gets things done quickly and he will turn the economy around quickly," she wrote. "There you have it, folks, there you have it."