Conservatives fed up with online censorship were further incensed at Twitter's response to backlash over the blocking of a Hunter Biden bombshell, as the social media giant doubled down on their decision to block the now infamous New York Post story.
Twitter responded to the backlash by citing two left-wing publications as justification for their draconian actions. The statement can still be found when searching for Hunter Biden on Twitter: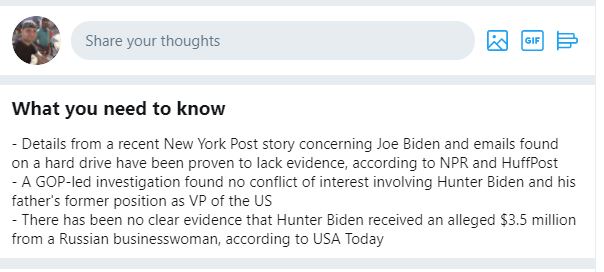 When searching the topics section, this message appears at the top of the feed (screenshot above). "Details from a recent New York Post story concerning Joe Biden and emails found on a hard drive have been proven to lack evidence, according to NPR and Huffpost" the summary read.
There are several problems with this claim. First and foremost, the accusations levied in the New York Post story was not "proven" to lack evidence. There was an accusation levied which required further examination, yes, but it is not true that it was "proven" to lack evidence. If this were the standard, NPR and others wouldn't have been breathlessly reporting on a supposed Trump/Russia 'scandal' for the past 3 years.
So, what did NPR actually say?
NPR argued that the story should be dismissed on the flimsy basis of having red flags.
"Yet this was a story marked more by red flags than investigative rigor. To start, the emails have not been verified as authentic. They were said to have been extracted from a computer assumed — but not proven — to have belonged to the younger Biden. They were said to have been given to the Post by Trump's personal lawyer Rudy Giuliani, who is known for making discredited claims about the Bidens."
While it is true that any "bombshell" days before a major election should be treated with a healthy dose of skepticism, it is also true that simply because there are red flags it should be dismissed altogether.
Hours after the original story was published in the post and NPR dismissed it, those emails actually were verified. "I am the recipient of the email published seven days ago by the New York Post which showed a copy to Hunter Biden and Rob Walker," wrote Tony Bobulinski, as reported by John Roberts.
Many are concerned that we're seeing a vicious circle of justification. Social media giants squashed the story, media outlets then dismissed it, then both the Biden campaign and the social media giants cited the media as proof the story wasn't worthy of coverage.
In all of those justifications, the actual facts of the case were not given a healthy look. Joe Biden himself, it should be noted, has not fully denied the claims – pointing to Twitter's blocking of the story as evidence it isn't true.
That is also a red flag — one that should stir interest, but hasn't.
Incredibly, without any self-awareness, many in the media who pushed a flimsy Russian scandal for several years using 'unnamed sources" and "unproven" information over and over again, suddenly took issue with the approach. This thread from Drew Holden lists several (embarrassing) examples:
The thread includes NPR's failure to engage in any journalistic activity by dismissing the story as a "waste of time" in an eye-opening tweet, especially considering it's coming from a taxpayer funded, supposedly non-biased media outlet.
While outlets were quick to say there wasn't "evidence" to support the Post story, many were quick to adopt the talking point that the story was part of a Russian disinformation campaign. Holden, once again, has a large sampling:
Any honest observer would have to question how the media could simultaneously push an unsubstantiated conspiracy theory about Russian disinformation while at the same time dismissing the accusations as unsubstantiated and lacking credible information.
Once upon a time, the media asked tough questions and let the chips fall where they may. Today, sadly, it seems many have fallen into the trap of political activism.