In the wake of a military coup in Burma, hundreds of villagers are under attack from the Burma Army and other protesters rallying in major cities have faced violent resistance from military forces.
According to the AP, military forces "pointed guns toward anti-coup protesters and attacked them with sticks on Monday, seeking to quell the large-scale demonstrations calling for the military junta that seized power earlier this month to reinstate the elected government."
Truckloads of troops were brought in to square off against protesters, and "immediately started firing slingshots toward the protesters," the report noted.
According to Dave Eubank, founder of the Free Burma Rangers, the situation on the ground is dire.
In a tweet published Monday, Eubank's FBR organization reported that "212 Karen villagers are now fleeing new Burma Army attacks, today, 15 February 2021. These attacks occurred at Tha Kaw Toh Baw Village, Luthaw Township, Papun District, in northern Karen State, Burma."
More details were provided on their website:
212 Karen villagers are now fleeing new Burma Army attacks, today, 15 February 2021. These attacks occurred at Tha Kaw Toh Baw Village, Luthaw Township, Papun District, in northern Karen State, Burma. The Burma Army began shelling the village on the night of 14 February and continued into 15 February. All the villagers have now fled and we have a Free Burma Ranger relief team with them now.

Thank you for praying for this latest group of families under attack. There are now over 5,300 Karen people displaced in northern Karen State as the Burma Army advances. The Burma Army is trying to crush all dissent in the cities and control all in the mountains where we are.
FBR posted images of the fleeing villagers: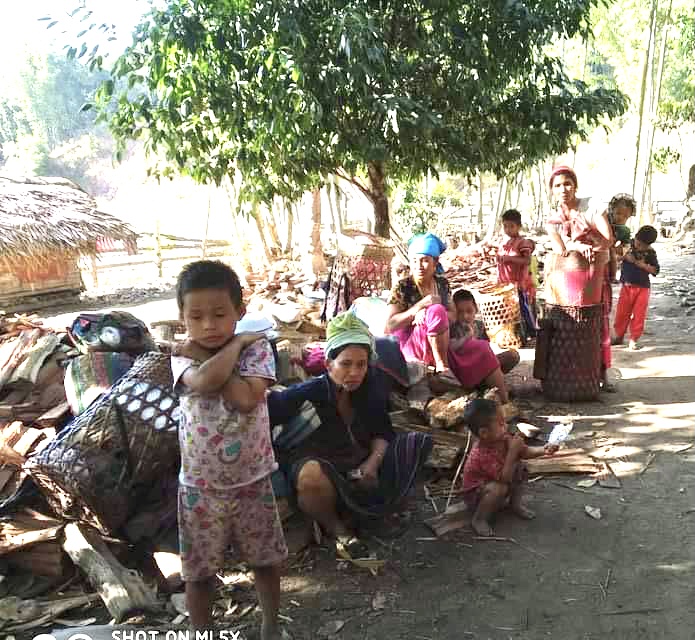 Over the weekend, FBR reported that villagers had staged a protest in response to the military coup. From FBR:
Over 1,800 Karen villagers gathered together to protest against the coup and military attacks and occupation. The attacks have displaced over 5,000 people in this area of Karen State. The people also stand in solidarity with and send their love to the people of Burma, Burman, and all ethnic groups, standing together against the dictatorship for freedom, justice, and reconciliation for everyone.

Thank you for praying for the people of Burma wherever they are. Below are some pictures and a video clip of the protests.
Here's video of the villagers gathering in protest, standing against repeated and ongoing military attacks from the Burma Army.
Facebook said in a recent post they were moving to limit the amount of reach and exposure from accounts associated with the Burma Army:
Facebook is treating the situation in Myanmar as an emergency. Our Integrity Operations Center has been running around the clock since the coup began. It brings together subject matter experts from across the company, including Myanmar nationals with native language skills, so we can monitor and respond to any threats in real time.

Beyond that, we've put several measures in place to support our community in Myanmar during this time.

Key among these is the decision to significantly reduce the distribution of all content on Facebook Pages and profiles run by the Myanmar Military ("Tatmadaw") that have continued to spread misinformation. In line with our global policies on repeat offenders of misinformation, we will also no longer be recommending them to people. Among other military-run accounts, these measures apply to the Tatmadaw Information Team's Facebook Page and to Tatmadaw spokesperson Brigadier-General Zaw Min Tun's Facebook account. This same action will be applied to any additional pages that the military controls that repeatedly violate our misinformation policies.

We have also indefinitely suspended the ability for Myanmar government agencies to send content removal requests to Facebook through our normal channels reserved for authorities around the world.

Simultaneously, we are protecting content, including political speech, that allows the people of Myanmar to express themselves and to show the world what is transpiring inside their country.
Continue praying for the people of Burma, who have suffered a long standing series of violent attacks and systemic ethnic cleansing.