LeBron James sparked controversy yesterday after a shocking tweet featuring a picture of the officer who saved the life of a black teenaged girl with the caption "You're next!" followed by "ACCOUNTABILITY" in all caps.
He quickly deleted the tweet, but it's no surprise plenty of internet users snapped a screenshot before he tried to get rid of the evidence. Here's what it looked like: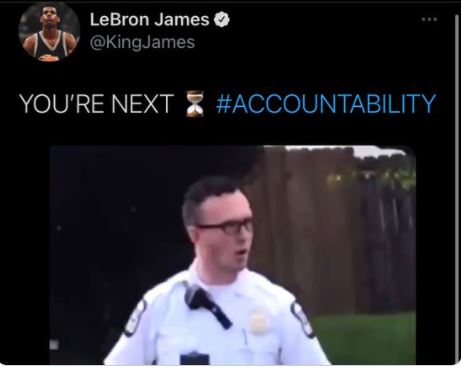 Clearly, LeBron is insinuating that this officer, whose actions saved the life of a young woman in the process of getting stabbed, should be found guilty of murder like Derek Chauvin did this week.
Not all cases are the same, however, and in the case of Ma'Khia Bryant the video appears to show her wielding a knife and attempting to violently stab the other woman, who she had pinned up against a car.
The tweet caused him to receive considerable pushback on social media.
After deleting the tweet, he tried to follow up and explain his motivation.
Neighbors who witnessed the incident are backing up the officer's actions.
Ira Graham III, according to the New York Post that the "video doesn't lie" and the officer acted in a reasonable fashion.
"I saw a bunch of cop cars coming down the street. I believe in truth and facts. Video doesn't lie," he said. "She was in full attack mode."
Donovan Brinson, who also lives nearby the scene, said he reviewed his security footage which caught everything on camera and came away with a similar conclusion, telling the media that if the officer had not acted, more people could've been killed.