This week, a public high school in Wisconsin held separate Zoom meetings on "police brutality" for "white parents" and "parents of color."
The Thursday call for parents of students at West High School in Madison was held to discuss issues such as the verdict in the trial of Derek Chauvin, the former Minneapolis police officer involved in the death of George Floyd last spring as well as "the murder of another young black female," presumably referring to the Columbus, Ohio, police officer who fatally shot 16-year-old Ma'Khia Bryant as she was attempting to stab another teenage girl.
A Google document containing links to the meeting could be found Friday on the school's website, under the "for families" tab.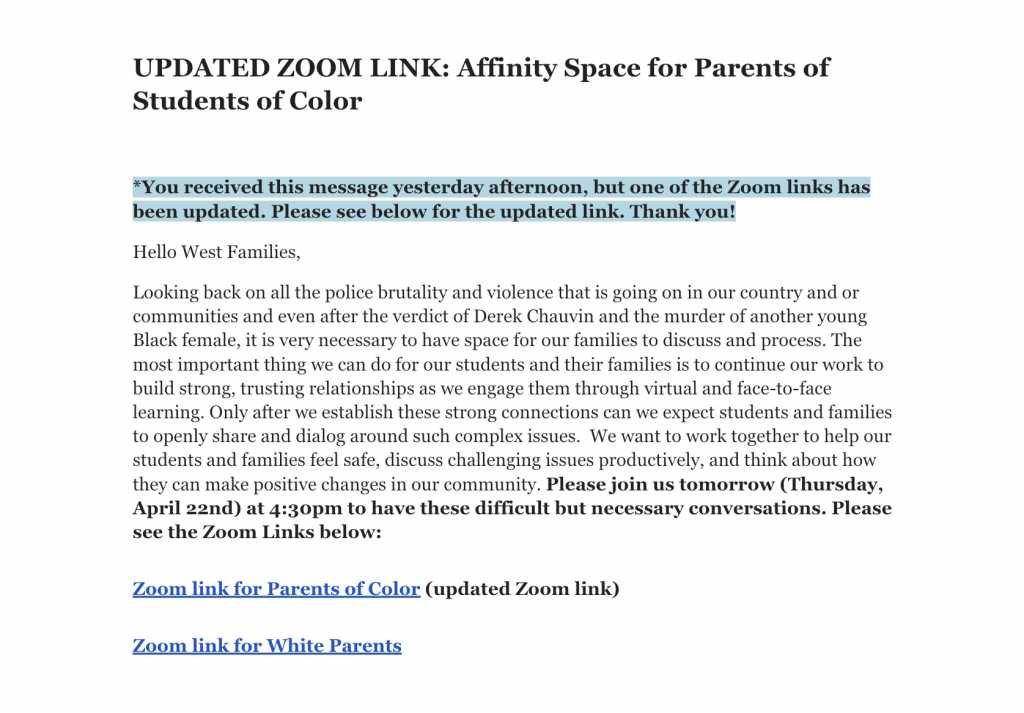 The meeting in question, listed on the school calendar for Thursday, was titled "UPDATED ZOOM LINK: Affinity Space for Parents of Students of Color." In parentheses, it stated the meeting was geared "to parents of students of color only."
In the Google document attached to the link (shown above), an updated Zoom link was listed with a separate link "for white parents."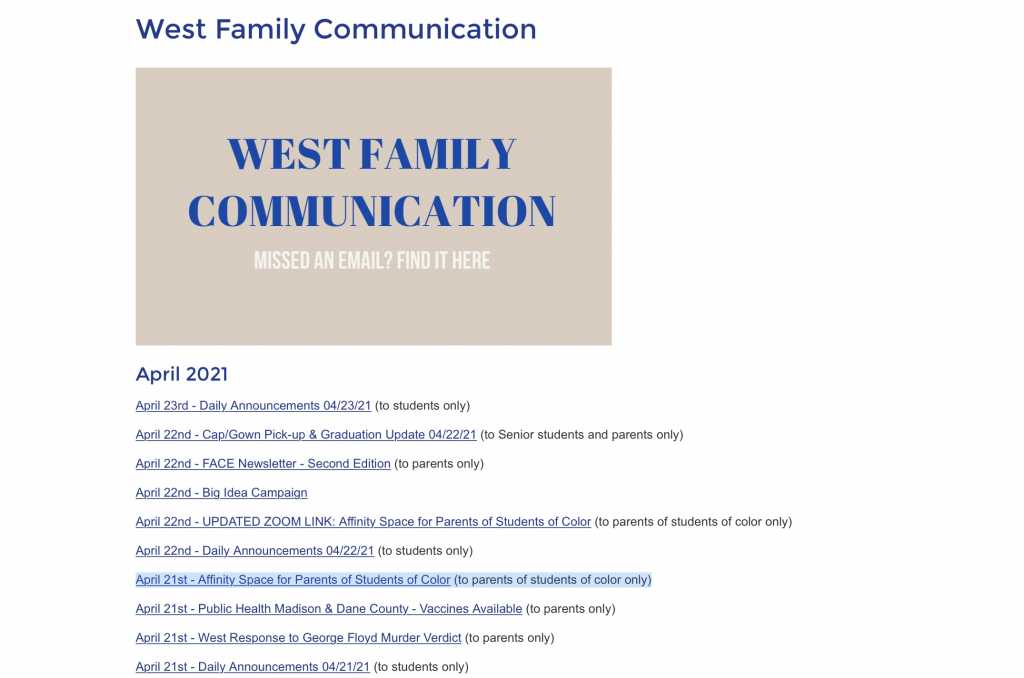 The meeting's description, addressed to families of students at West, said the event would center "on all the police brutality and violence that is going on in our country and our communities."
It went on to say "it is very necessary to have space for our families to discuss and process" current events. The description continued:
The most important thing we can do for our students and their families is to continue our work to build strong, trusting relationships as we engage them through virtual and face-to-face learning. Only after we establish these strong connections can we expect students and families to openly share and dialog around such complex issues. We want to work together to help our students and families feel safe, discuss challenging issues productively, and think about how they can make positive changes in our community.
Separate Zoom links for parents — depending on the color of their skin — were listed below the meeting's description.
The school released a statement Wednesday celebrating the verdict in the Chauvin trial, describing the jury's decision to find the officer guilty on all counts as a "monumental" moment that "represents a shift in how our judicial system responds to acts of violence by police towards people of color."
"We know we can only truly become the antiracist school we aspire to be when we are in partnership with you, our families," wrote Principal Karen Boran. "At West, we are grounded in our equity vision for all students: West is committed to being an intentionally antiracist school community, and we will be inclusive and student centered, uplifting and valuing the diverse identities of all students and families."
Faithwire reached out to the school for a comment on the Zoom event. If a representative for West responds, this story will be updated.
***As the number of voices facing big-tech censorship continues to grow, please sign up for Faithwire's daily newsletter and download the CBN News app, developed by our parent company, to stay up-to-date with the latest news from a distinctly Christian perspective.***