Americans might need to stockpile gas and Chick-fil-A sauce.
You don't actually need to hoard a bunch of fuel (the east coast pipeline should be up and running again by the end of the week), but you might want to collect Chick-fil-A dipping sauces if you can.
The Atlanta-based restaurant chain announced Wednesday some of its 2,600 locations are limiting the number of sauces customers can receive.
***As the number of voices facing big-tech censorship continues to grow, please sign up for Faithwire's daily newsletter and download the CBN News app, developed by our parent company, to stay up-to-date with the latest news from a distinctly Christian perspective.***
Employees have been told they can only give out one sauce packet per entree ordered with a maximum of two sauces per meal, according to a Chick-fil-A email obtained by WTRF-TV.
"Due to industrywide supply chain shortages, some items, like sauces, may be unavailable," read a statement on the landing page of the restaurant's app, where it appeared some menu items were unavailable.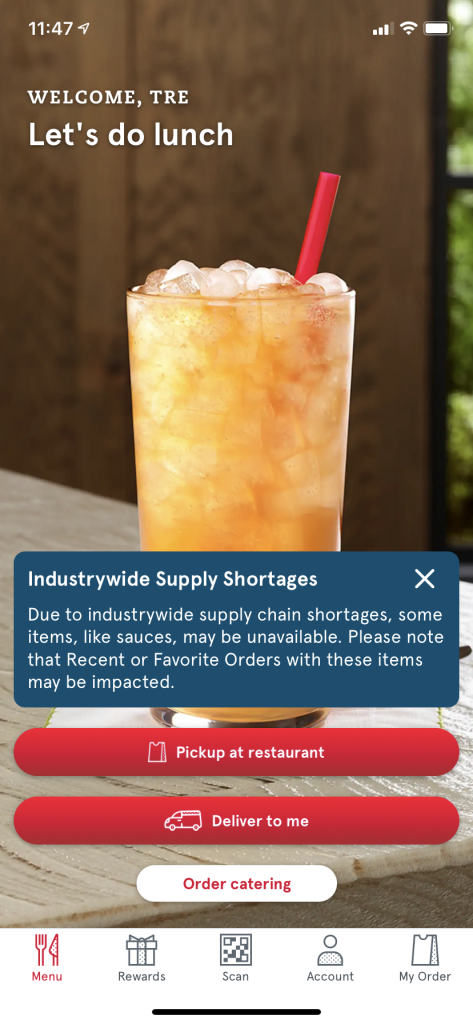 While the email was sent out only by one location, a representative for the quick-service chain confirmed to The Tennessean the company is facing supply chain issues.
The good news is fans of Chick-fil-A's sauces can still purchase eight-ounce bottles from big box stores like Target, Walmart, Publix, and Kroger. The dipping sauces — Chick-fil-A, Barbeque, Polynesian, Garden Herb Ranch, and Honey Mustard — are also available for purchase on the app.
***As the number of voices facing big-tech censorship continues to grow, please sign up for Faithwire's daily newsletter and download the CBN News app, developed by our parent company, to stay up-to-date with the latest news from a distinctly Christian perspective.***