Babylon Bee founder Adam Ford said Monday that Twitter locked the official account for his comedic news site Not the Bee and demanded he delete a tweet in order to regain access.
The offending tweet in question contained a headline that read, "Twitter suspended a sitting congressman for calling transgender HHS official Rachel Levine — who is a biological male — a 'man'" as well as a link to the corresponding story.
The affiliated article in the tweet is about Twitter's recent decision to suspend Rep. Jim Banks for "misgendering" Assistant Secretary of Health Rachel Levine, who is transgender.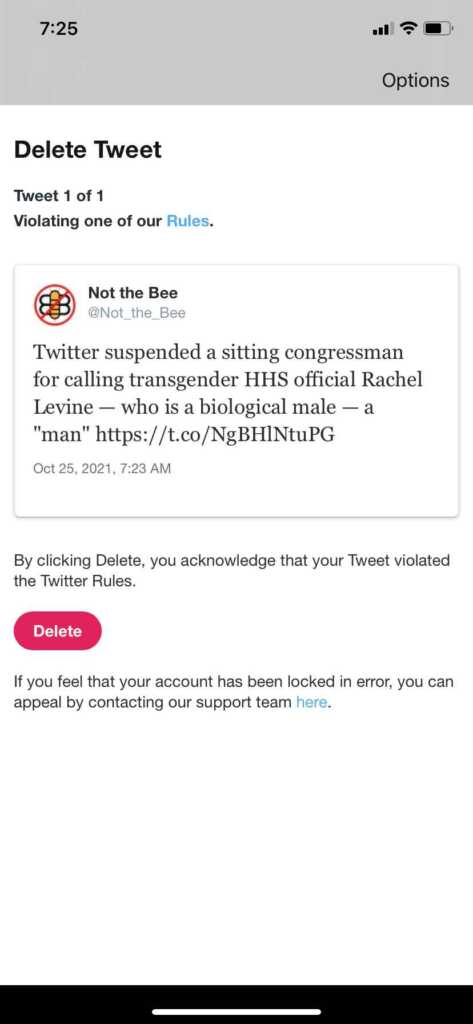 Twitter's punishment of the Not the Bee account left Ford flummoxed.
"I had to delete the tweet to regain access to our Twitter account," he told Faithwire in an email. "I don't see how this tweet violates any rules."
Ford first made his account issue public on Monday night. He shared a screenshot from Twitter that read, "Your account has been locked." The text continued, "We have determined that you have violated the Twitter rules, so you'll need to wait some time before using Twitter again."
The Not the Bee founder initially confirmed in an email to Faithwire that Twitter at first didn't explain which rules had been violated. He quipped, "We must have said something true," but said he planned to get to the bottom of it.
Now that he knows the reason, he wants further clarification.
"I will be pursuing this and looking for an explanation from Twitter," Ford said.
While The Babylon Bee is a satire site that creates faux stories based on the headlines of the day, Not the Bee covers real-life stories that "should be satire, but aren't," according to the site's description.
Ford said he has been through this same ordeal with The Babylon Bee in the past. Twitter briefly suspended the Bee's account last year before reinstating it, apologized and claimed it had been caught in a "spam" filter.
LISTEN TO TODAY'S PODCAST AND SUBSCRIBE:
Email service Mailchimp also made headlines earlier this year for temporarily suspending The Babylon Bee's account, purportedly also claiming the restriction was an error.
"[It's] funny how those mistakes always go one way," Babylon Bee CEO Seth Dillon said at the time, capturing the anti-conservative bias many believe to be at the center of these restrictions.
Faithwire will continue to follow this story as it develops.
***As the number of voices facing big-tech censorship continues to grow, please sign up for Faithwire's daily newsletter and download the CBN News app, developed by our parent company, to stay up-to-date with the latest news from a distinctly Christian perspective.***