The life of a pastor is often far more complex and multifaceted than what is seen by congregants on any given Sunday morning.
Preachers are routinely called upon to be counselors, peacekeepers, bookkeepers, change-makers, inspirers – the list goes on. The head of each church has a plethora of roles and responsibilities and those collective and constantly streaming duties can sometimes be overwhelming.
This reality is exemplified in a new survey report from Lifeway Research which found that 63 percent of pastors feel their role is "frequently overwhelming," a jump from the 54 percent who said the same in 2015.
Meanwhile, 71 percent of pastors expressed the belief that they are essentially on-call 24 hours a day. Despite being a majority perspective, this finding is actually down from the 84 percent who said the same in 2015.
It's certainly positive to see the decrease in pastoral feelings of being "on-call," though there are other measures that demand attention, particularly when it comes to feelings surrounding the more daunting elements of the job.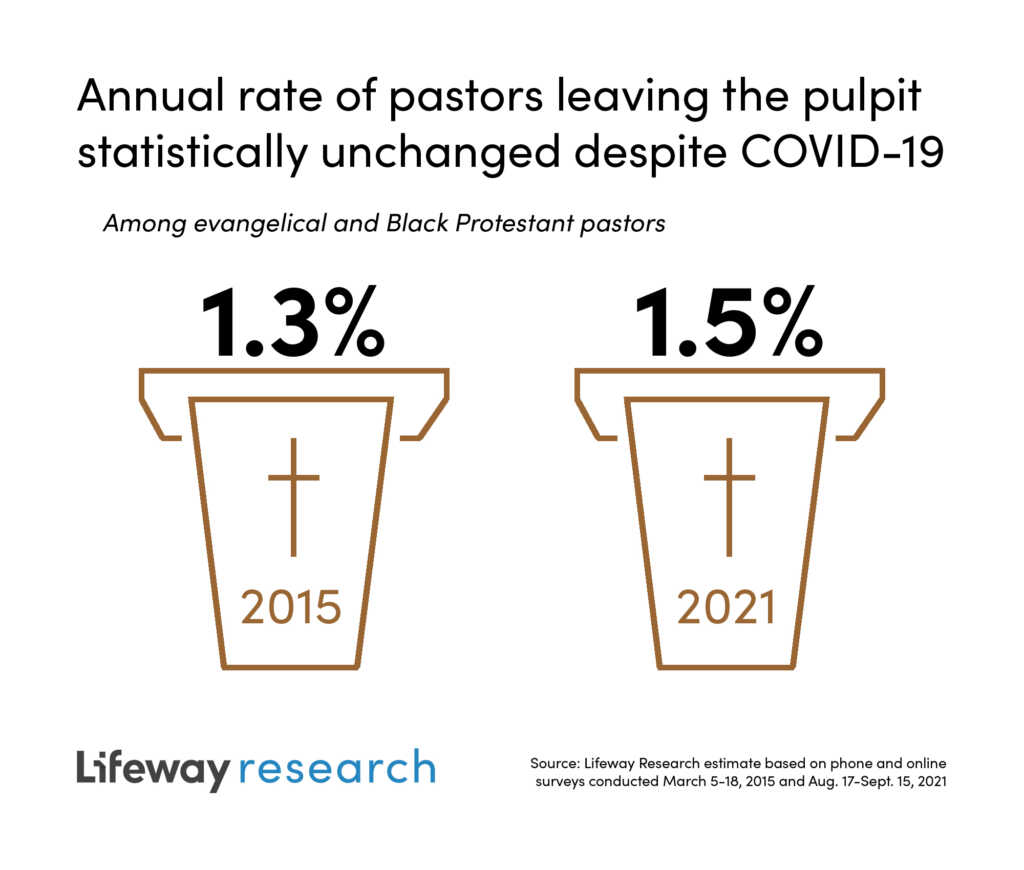 Half of U.S. preachers (50 percent) feel the demands of the position are often more than they can handle. In addition to the aforementioned findings, 38 percent of pastors said they feel isolated and 23 percent said there are sometimes unrealistic expectations from the church.
These statistics shed important light on the roles, responsibilities and emotions of those individuals who are leading Christian flocks and also remind congregants that preachers are humans who need churchgoers' support and help.
There are areas in which congregations — being more aware of behaviors and pitfalls — can step in to remediate the stresses that breed these emotions; these statistics offer a ripe opportunity to ponder these issues.
Concerns aside, one of the positive findings in the survey centers on the COVID-19 pandemic.
Despite some warnings that preachers would potentially flee their pulpits amid increased pressures, Lifeway reports that the rate of pastors vacating their positions remains "statistically unchanged" in 2021 (1.5 percent) when compared to 2015 (1.3 percent).
"Many have speculated that pastors have been opting out of the pastorate as a result," Scott McConnell, executive director of Lifeway Research, said of the findings. "That is not the case. They are remaining faithful to the calling at levels similar to those seen before the pandemic."
Lifeway surveyed 1,576 evangelical and Black Protestant pastors for this study from August 17 through September 15, 2021, through a mixture of phone and Internet interviews.
Read the rest of the results for pastoral perspectives on family life, financial security, church conflict and other related issues.
***As the number of voices facing big-tech censorship continues to grow, please sign up for Faithwire's daily newsletter and download the CBN News app, developed by our parent company, to stay up-to-date with the latest news from a distinctly Christian perspective.***