The percentage of Americans identifying as gay, lesbian, bisexual, transgender, or some other category outside of heterosexual has swelled to "a new high," according to Gallup.
The research firm found 7.1% of Americans self-identify as falling into one of these categories, a notable increase from the 5.6% who said the same in 2020.
Listen to the latest episode of the Faithwire podcast 👇
But perhaps the biggest takeaway is that the 2021 proportion is double the 3.5% who called themselves part of the LGBTQ community in 2012.
Digging a bit deeper into the 7.1%: the largest cohort among LGBTQ Americans is those who call themselves bisexual (57%), with 21% calling themselves gay, 14% lesbian, 10% transgender, and 4% for all other identities.
Meanwhile, 86.3% said they are straight or heterosexual, with just under 7% giving no response. The data in the Gallup polling came from a totality of 12,000 interviews conducted throughout 2021.
It appears the statistic is being driven up by young Americans, as 21% of adult Generation Zers (those born between 1997 and 2003) count themselves among the LGBTQ population, as Gallup noted.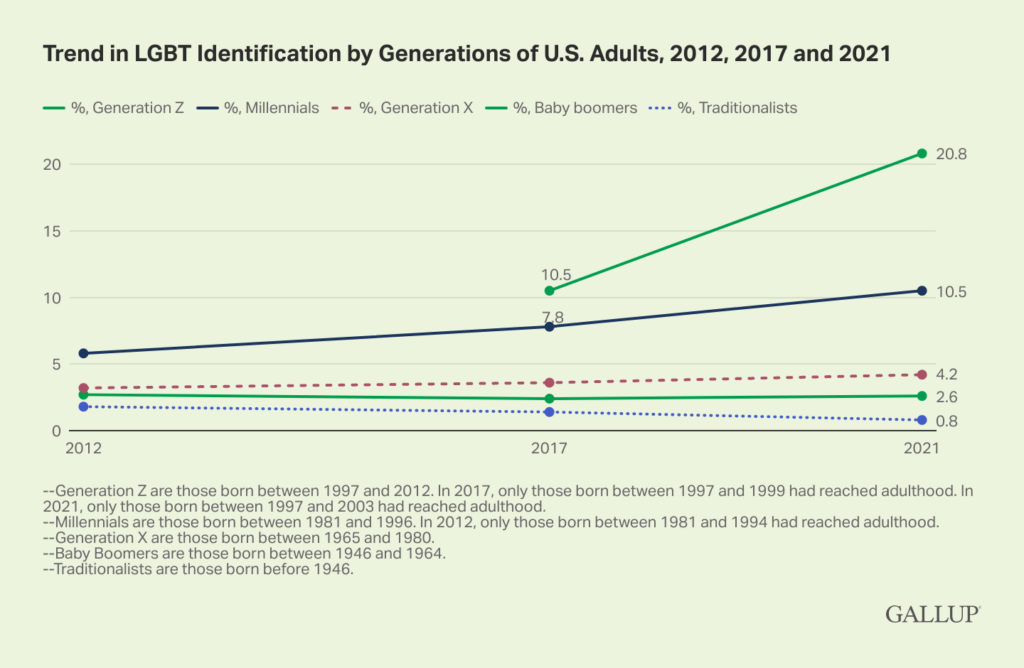 For context, just 10.5% of Millennials (those born 1981-1996) and 4.2% of Generation X (born 1965-1980) identify as LGBTQ. Thus, generation replacement seems to be impacting the overall proportion.
"Gen Z adults made up 7% of Gallup's 2017 national sample, but in 2021 accounted for 12% as more from that generation reached age 18 over the past four years," Gallup reported. "In contrast, the proportion of those born before 1946 has fallen from 11% in 2017 to 8%."
The polling firm concluded the growth of LGBTQ identification has intensified over the last year faster than in previous years. As Gen Z reaches adulthood, the proportion is predicted to grow.
"Given the large disparities in LGBT identification between younger and older generations of Americans, the proportion of all Americans who identify as LGBT can be expected to grow in the future as younger generations will constitute a larger share of the total U.S. adult population," Gallup noted.
Read the results here.
The findings come as GLAAD, an LGBTQ media advocacy organization, noted that more gay, lesbian, and transgender than ever before are present on TV and in movie content.
***As the number of voices facing big-tech censorship continues to grow, please sign up for Faithwire's daily newsletter and download the CBN News app, developed by our parent company, to stay up-to-date with the latest news from a distinctly Christian perspective.***