What does the future of Christianity look like in America? It will be quite different if any of the latest projections from the Pew Research Center come to fruition.
Listen to the latest episode of CBN's Quick Start podcast 👇
Pew found a stunning decrease in Christianity and a notable rise in the "nones" (atheists, agnostics, or those who embrace "nothing in particular"). Before we dive into the specific numbers, consider that assembling future faith projections is complex work and is not necessarily predictive or prescriptive.
Recent trends of people leaving faith behind helped guide Pew toward potential scenarios about what the religious landscape in America could look like in 2070. These possible outcomes are at the heart of the recently released Pew report, "Modeling the Future of Religion in America."
As we explore the findings, let's first start with current religious demographics. In 2007, 78% of Americans called themselves Christians, but that proportion was down to 70% in 2014, and stood around 64% in 2020, with a growth in the so-called "nones" expanding during this same timeframe.
According to Pew's potential projections, Christianity as a percentage of the population could significantly dwindle even further over the next 50 years.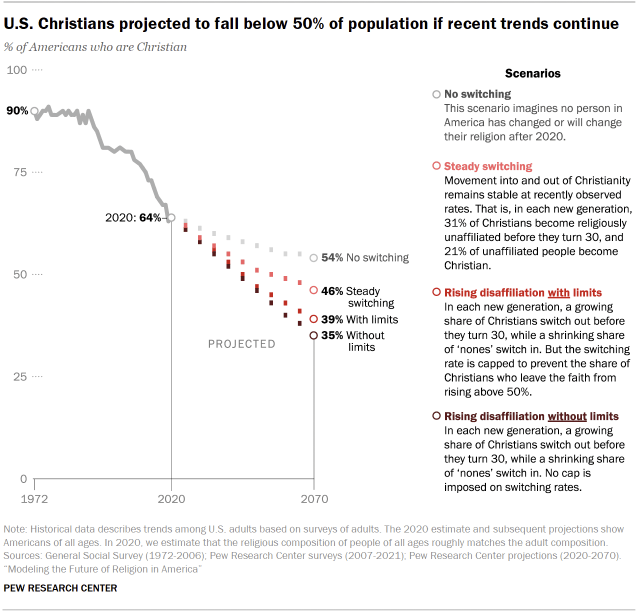 "Depending on whether religious switching continues at recent rates, speeds up, or stops entirely, the Center's projections show Christians of all ages shrinking from 64% to between a little more than half (54%) and just above one-third of all Americans (35%) by 2070," the research organization said in a statement. "Over that same period, 'nones' would rise from the current 30% to somewhere between 34% and 52% of the U.S. population."
Pew cautioned these models are based on a plethora of questions and are "not the only possibilities," though they are based on recent trends observed by both Pew and the General Social Survey.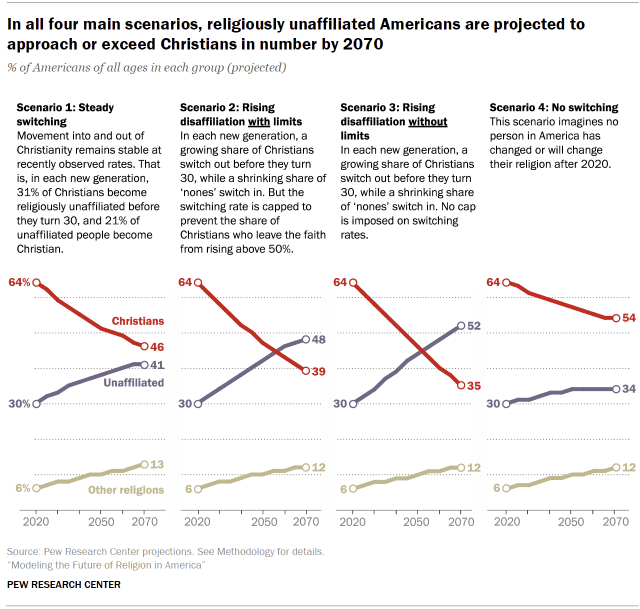 The projections are predicated upon religious identity switches, religious differences by sex and age, birth rates, and migration patterns. And regardless of the range presented in the reports, Pew noted two sobering facts for the church today.
First, Christians will shrink as a proportion of the population under every model. And, as Pew noted, "at the same time, the religiously unaffiliated are projected to grow under all four scenarios."
From a theological perspective, this has monumental consequences for individuals and the Gospel's salvation message. But from a societal and political standing, there's also much to consider.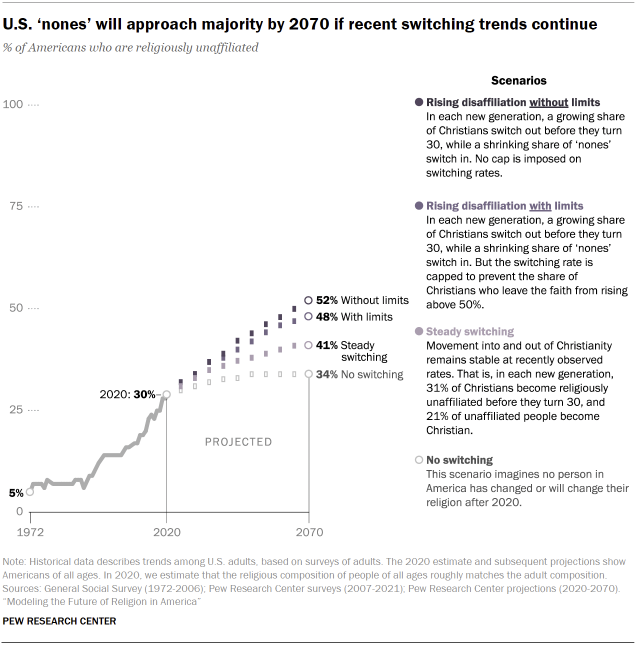 How will society change as a result of these new compositions? Will religious liberty still stand if people are fleeing organized faith systems? These are just two of the questions that emerge. It's hard to deny culture will dramatically shift and change with fewer Christians among the populace.
"The decline of Christianity and the rise of the 'nones' may have complex causes and far-reaching consequences for politics, family life, and civil society," Pew noted.
As Faithwire has extensively reported, surveys continue to spark concern about the state of faith in America. Polls and studies have also found some shocking results within the church.
Dr. Bill White, pastor of Christ Journey Church in Miami, Florida, and author of the book "Mature-ish: Your Mission From God, Should You Choose to Accept It," told Faithwire a recent survey he commissioned found 88% of Christians haven't advanced past the "toddler stage" of spiritual development.
Plus, a survey released earlier this year by researcher and pollster George Barna of the Cultural Research Center at Arizona Christian University found just 37% of U.S.-based pastors hold to a biblical worldview. Another survey from Barna found just 2% of parents of preteens today hold a biblical worldview.
Evangelist Franklin Graham has been among those speaking out after Barna recently released additional data showing one-third of senior pastors purportedly believe "good people" can earn their way to heaven.
"I don't know which 1,000 pastors this group surveyed, but the results are concerning," Graham tweeted Monday. "39% of 'evangelical' pastors they asked said there is no absolute moral truth [and] that 'each individual must determine their own truth.'"
He added, "What a lie."
Continue to pray for America, for our leaders, and for people desperately in need of truth.
***As the number of voices facing big-tech censorship continues to grow, please sign up for Faithwire's daily newsletter and download the CBN News app, developed by our parent company, to stay up-to-date with the latest news from a distinctly Christian perspective.***