There's perhaps no organization more synonymous with the abortion wars than Planned Parenthood, the health clinic chain consistently at the center of one of America's most flammable issues.
Listen to the latest episode of CBN's Quick Start podcast 👇
As the nation continues to debate and contemplate the implications of the U.S. Supreme Court's overturning of Roe v. Wade, the 1973 case legalizing abortion access across America, Planned Parenthood's role in that ever-raging battle remains a controversial one.
With many Democratic politicians consistently rushing to Planned Parenthood's defense — and with the organization serving not only as an ally for progressive politicians but also an informational hub for women seeking information about pregnancy — Planned Parenthood's moves matter.
This is especially true when it comes to the ways in which the organization communicates with women about some of the more difficult and contentious elements of pregnancy and the abortion debate.
Two of the biggest issues to emerge in the post-Roe era are ectopic pregnancies and fetal heartbeats.
The former has been held up as an area of purported danger in the wake of abortion bans, with the latter getting attention as various states implement so-called "heartbeat bills," pieces of legislation that generally restrict abortion when a fetal heartbeat is detectable.
Considering the importance of both issues to the debate, two changes made to Planned Parenthood's website of late should spark questions.
The Sudden Change on Ectopic Pregnancy
Ectopic pregnancies are dangerous for women. These are scenarios in which a fertilized egg attaches outside of the typical uterine lining. According to the Mayo Clinic, it is most apt to happen in a fallopian tube. Ectopic pregnancies are not considered viable and can cause medical issues if left untreated.
"A fertilized egg can't develop normally outside the uterus. To prevent life-threatening complications, the ectopic tissue needs to be removed," the Mayo Clinic explains. "Depending on your symptoms and when the ectopic pregnancy is discovered, this may be done using medication, laparoscopic surgery or abdominal surgery."
This is not considered an abortion; in fact, the Mayo Clinic never even uses the word when explaining how to assist a woman in such a predicament. Until recently, Planned Parenthood also went out of its way to differentiate ectopic pregnancies from abortions.
"Can a doctor re-implant my ectopic pregnancy in my uterus? And is treating an ectopic pregnancy the same thing as having an abortion?" a question reads on the Planned Parenthood website.
In response, Planned Parenthood said ectopic pregnancies cannot become fetuses and that such pregnancies "won't survive." The organization also explained the abortion differential.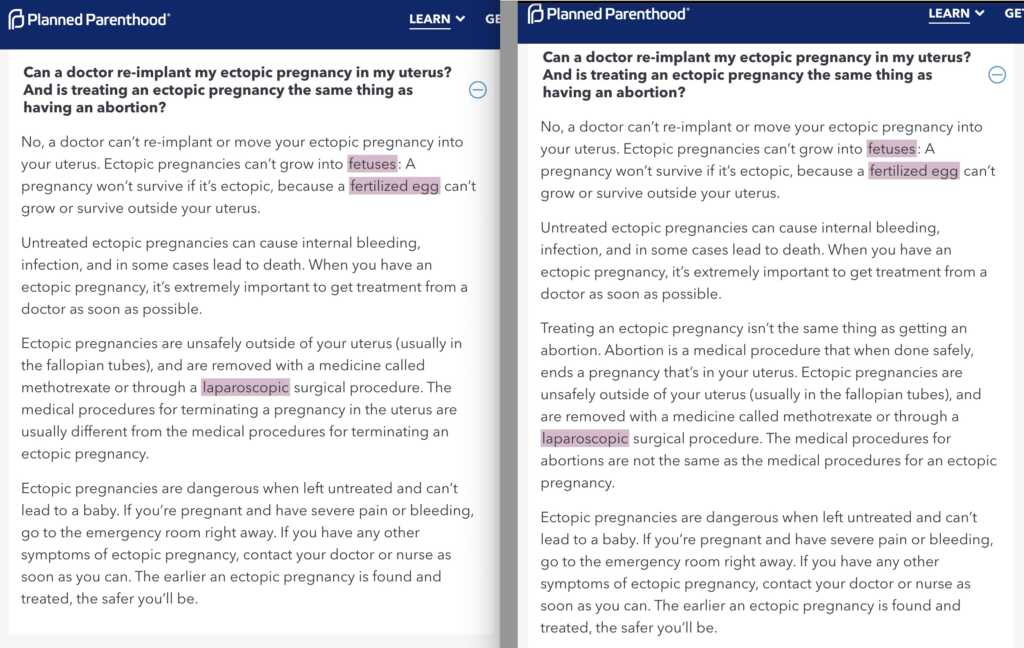 "Treating an ectopic pregnancy isn't the same thing as getting an abortion. Abortion is a medical procedure that when done safely, ends a pregnancy that's in your uterus," the description read. "Ectopic pregnancies are unsafely outside of your uterus (usually in the fallopian tubes), and are removed with a medicine called methotrexate or through a laparoscopic surgical procedure."
Planned Parenthood continued, "The medical procedures for abortions are not the same as the medical procedures for an ectopic pregnancy."
But that language, seen on the Planned Parenthood website as early as this summer, is no longer present. In fact, the current language no longer overtly addresses the abortion portion of the question.
There is merely a line now that reads, "The medical procedures for terminating a pregnancy in the uterus are usually different from the medical procedures for terminating an ectopic pregnancy."
That's a remarkable change in language — one that purportedly came amid intense debate following the overturning of Roe. According to The Hill, Planned Parenthood made the change to its website in July.
At the time, the organization said the language was amended to prevent pro-lifers from "twisting" information.
"Planned Parenthood believes that everyone should have access to medically accurate information to help them make informed decisions about their health care and their lives — without judgment," Adrienne Verrilli, vice president of communications and culture at Planned Parenthood Federation of America, said in a statement. "That is why we regularly update the health information on our website."
She continued, "Anti-abortion politicians, on the other hand, routinely misrepresent language around ectopic pregnancy to serve their own agenda. Our web page on ectopic pregnancy was updated to retain factual information about ectopic pregnancy, while also ensuring that the information could not be twisted or misrepresented by anti-abortion politicians."
Verrilli, who affirmed ectopic pregnancy is different from abortion, said some doctors and patients "fear potential civil and criminal penalties around the treatment of pregnancy outcome."
But based on the original definition on Planned Parenthood's website, it would seem doctors and patients would — and should — have no issue getting such care.
Here's why this matters: The ectopic pregnancy argument has been used by some liberals and pro-choice politicians to take aim at the Supreme Court's overturning of Roe. This makes the exclusions and changes much more curious.
Were the previous definitions not "medically accurate information?" And, if they were, why the sudden change?
Poor guy. He left before his soufflé because he decided half the country should risk death if they have an ectopic pregnancy within the wrong state lines. It's all very unfair to him.

The least they could do is let him eat cake 🍰 https://t.co/5Y3b1TIW1N

— Alexandria Ocasio-Cortez (@AOC) July 8, 2022
Politicians like Rep. Alexandria Ocasio-Cortez (D-N.Y.) have blurred the lines in an effort to defend Roe, causing deeper queries to emerge.
"Poor guy," she sarcastically tweeted earlier this year, speaking about Supreme Court Justice Brett Kavanaugh. "He left before his soufflé because he decided half the country should risk death if they have an ectopic pregnancy within the wrong state lines. It's all very unfair to him."
This comes as medical doctors and other experts push back on such claims about ectopic pregnancies, arguing that the procedures are not the same and that the lines shouldn't be muddied.
The Evolution on Unborn Heartbeats
Likewise, another strange evolution unfolded in the wake of the Supreme Court's Dobbs decision, which overturned Roe and sent the abortion issue back to the states.
Planned Parenthood seemingly amended how it speaks about unborn babies' heartbeats.
Before the overturning of Roe, Planned Parenthood proclaimed that, during weeks five and six of pregnancy, "a very basic beating heart and circulatory system develop."
But that language is no longer the same. The current Planned Parenthood site, under the same section, now has different wording about cardiac formation.

"A part of the embryo starts to show cardiac activity," the new language reads. "It sounds like a heartbeat on an ultrasound, but it's not a fully-formed heart — it's the earliest stage of the heart developing."
The newfound lingo comes amid claims from pro-choice activists and liberal politicians that the heartbeats heard on sonograms are manufactured noises or, at the least, aren't actual heartbeats.
As CBN's Faithwire reported, Georgia Democratic gubernatorial candidate Stacey Abrams' recently claimed "there's no such thing as a heartbeat at six weeks" gestation.
"It is a manufactured sound designed to convince people that men have the right to take control of a woman's body," Abrams said in a now-viral video
Georgia Democrat Stacey Abrams: "There is no such thing as a heartbeat at six weeks. It is a manufactured sound designed to convince people that men have the right to take control of a woman's body."

REMINDER: Abrams supports NO LIMITS on abortion. pic.twitter.com/f7XxeqzfF6

— RNC Research (@RNCResearch) September 22, 2022
Dr. Nicole Saphier, a radiologist, appeared on Fox News' "Outnumbered" last week, where she vociferously hit back at Abrams' assertions, calling the aforementioned statements untrue.
"This was a flat-out lie, and facts matter," Saphier said, noting she believes Abrams is accountable to voters as she seeks to become governor. "Unfortunately, people are going to believe what she has to say."
Mirroring its claims about the changes implemented surrounding ectopic pregnancies, Planned Parenthood said it made the shift to protect people from misinformation.
As of a few months ago, Planned Parenthood's website said that "a very basic beating heart" develops by 6 weeks of pregnancy.https://t.co/UC16XqJvBS

1/2https://t.co/MmwwOh8LLA pic.twitter.com/TcPiFvbOmL

— John McCormack (@McCormackJohn) September 22, 2022
"As anti-abortion lawmakers and activists seeking to control people's health-care decisions continue to peddle misinformation and even codify medical inaccuracies into law, it's critical that people get unbiased information from actual experts, like health care providers and educators," Julia Bennett, digital education and learning strategy at Planned Parenthood Federation of America, told The Washington Post.
According to Bennett, the Planned Parenthood website is routinely amended "to ensure that information is medically accurate, reflects the latest science and is accessible to learners."
It's hard to ignore the timing of these changes, though, on the heels of political fights and legal changes. And, again, was the previous information pedaled to women somehow not medically accurate?
It will be interesting to see what — if anything — changes next as the ongoing discussion about abortion progresses and as politics continue to muddy the waters.
***As the number of voices facing big-tech censorship continues to grow, please sign up for Faithwire's daily newsletter and download the CBN News app, developed by our parent company, to stay up-to-date with the latest news from a distinctly Christian perspective.***