Google is celebrating the "Scooby-Doo" canon for officially depicting one of its main characters, Velma, as explicitly gay in the newest movie in the series, "Trick or Treat Scooby-Doo."
Internet users who search "Velma," "Dinkley," "Velma Dinkley," "Scooby Velma," or "Scooby-Doo Velma" on Google will be met with a flurry of pro-LGBT flags and a shower of confetti.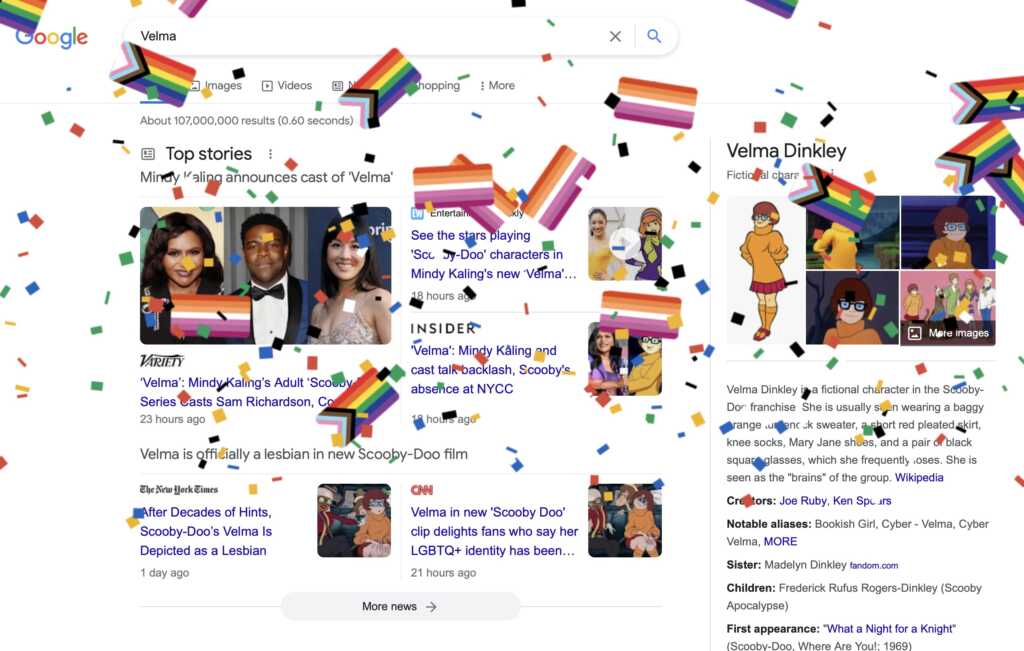 The pink, white, and orange rectangle featured in the search results is the "lesbian flag," according to Today.
In a statement to Variety, Google's senior interaction designer, Anthony Irwin, said the tech company "saw a long-anticipated moment for a character people love, and had a good feeling it'd be an identity-affirming surprise for fans around the world."
Listen to the latest episode of CBN's Quick Start podcast 👇
"We didn't expect it to be so well received, resonating across so many different cultures and age groups," he said, "but people need things to be happy about, and when we can help everyone celebrate together, that's pretty great."
There's no doubt about Velma's sexual orientation in the new animated movie. In one scene, the character is depicted blushing and clearly feeling attracted to another female character, Coco Diablo.
Hayley Kiyoko, the musician and actor who played Velma in the Cartoon Network's 2009 live-action film "Scooby-Doo: The Mystery Begins," celebrated the now-openly gay character.
"I remember booking Velma in 2008," she tweeted. "It was my first big role in a movie. I also remember thinking, 'I wonder if they know they hired a lesbian as Velma[.]' Here we are, 14 years later."
The new pro-LGBT storyline in the "Scooby-Doo" film — produced by Warner Bros. Discovery — comes as other entertainment brands, like The Walt Disney Company, are pushing similar agendas.
In fact, Disney CEO Bob Chapek has vowed to be a "better ally" to the LGBT community. And Karey Burke, president of general entertainment for Disney, said she would like to see "many, many, many LGBTQIA characters" depicted in Disney films and TV shows.
This spring, Disney+ released a revamped version of its 20-year-old animated series, "The Proud Family." The new show, "The Proud Family: Louder and Prouder," centers on two multiethnic, gay dads who adopted a teen daughter, who is a racial activist.
Before that, Disney released an animated series, "The Owl House," that featured a 14-year-old character named Luz Noceda. The iconic brand confirmed her character is openly bisexual.
California-based Pastor John MacArthur was quick to condemn Disney. At the time, he said during one of his sermons, "Children are under a relentless assault by all the forces of evil, and they are defenseless. And we have a society and a culture that wants to make sure that those who are pumping out this destruction are free to keep doing it without restraint."
***As the number of voices facing big-tech censorship continues to grow, please sign up for Faithwire's daily newsletter and download the CBN News app, developed by our parent company, to stay up-to-date with the latest news from a distinctly Christian perspective.***