America is at a moral crossroads, with the Judeo-Christian tradition that once underpinned culture being pushed aside and replaced by the "gospel of the self."
Listen to the latest episode of CBN's Quick Start podcast 👇
"The America's Values Study," a new survey from the Cultural Research Center at Arizona Christian University, showcases the extent to which this dynamic is gripping Americans' hearts and minds.
Respondents were asked, regardless of their faith, about "America's foundation for determining right and wrong." They were given three options: the Bible, what respondents feel in their hearts, or majority rule.
The largest proportion — 42% — selected what people feel in their heart, compared to 29% who said majority rule, and an additional 29% who chose the Bible.
Dr. George Barna, who conducted the research, released a statement, framing these data points in another way: "Stated differently, seven out of 10 adults (71%) now contend that man rather than God should be the judge of right and wrong."
This reality runs counter-biblical and explains why society has descended into moral chaos. Underscoring that point, Barna said people are becoming increasingly comfortable with the notion they are the "arbiters of morality."
"In the same way that most Americans now contend that there is no absolute moral truth, they also now believe that there is no divine guidance required or even available to define right and wrong," he said.
The groups most likely to see emotions as being the arbiter of moral truth were those with no religious affiliation (53%), those who prioritize happiness, comfort, and equality (51%) and LGBTQ people (50%).
On the flip side, those most likely to select the Bible as the ultimate barometer of truth were those with a biblical worldview (66%), those who attend evangelical churches (62%), and Republican conservatives (58%), among others.
Barna said the data exposes other telling information about current cultural trends, particularly when it comes to government or God being the baseline through which truth is derived.
"One could reasonably argue that the nation's ideas about right and wrong are now more likely to come from the White House and the halls of Congress than from our houses of worship," he said. "The laws of the land are replacing the laws of God in determining good and evil in America."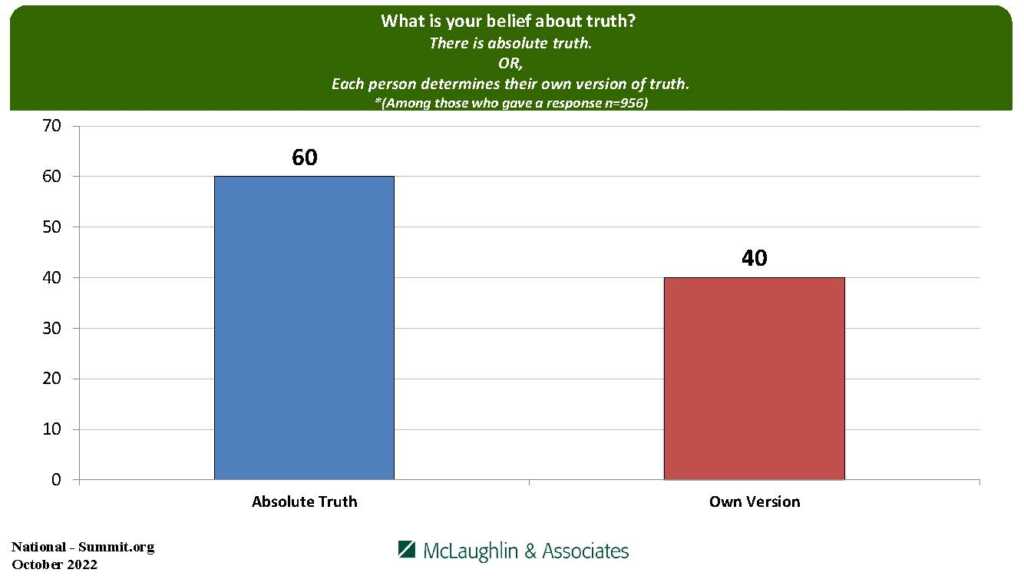 Another survey released Tuesday sheds further light on the state of morals and values. While research from McLaughlin & Associates and Summit Ministries found 60% of Americans believe there is "absolute truth," 40% said they believe each individual determines their own version of truth.
That latter proportion is stunningly high, though the numbers become even more problematic when examining young people between the ages of 18 and 29. Only 42% of this cohort believes in "absolute truth," with 55% embracing the idea that each person determines his or her own truth.
"The number of Americans who say there is no absolute truth is alarmingly high. But among young adults, we have now officially passed the tipping point," Dr. Jeff Myers, president of Summit.org and the author of the new book "Truth Changes Everything: How People of Faith Can Transform the World in Times of Crisis," said in a statement. "The majority of youth now say that each person determines their own version of truth."
He warned this has "grave consequences" for mental health, communities, justice, and purpose. See more of the results here.
***As the number of voices facing big-tech censorship continues to grow, please sign up for Faithwire's daily newsletter and download the CBN News app, developed by our parent company, to stay up-to-date with the latest news from a distinctly Christian perspective.***