As the midterms quickly approach, a new poll is shedding light on Americans' feelings about politicians who support gender transitions for children.
Listen to the latest episode of CBN's Quick Start podcast 👇
The Convention of States Action, in partnership with The Trafalgar Group, found the majority of Americans — 73% — are unlikely to vote for candidates who support puberty blockers, sex-change surgeries, and related hormones for trans-identified youth.
And when you dig into the data, you find 63% saying they are "not likely at all" to vote for these candidates, with an additional 9% proclaiming they are at least "somewhat less likely" to do so.
Only 27% of American voters said they would likely choose a candidate who supports such measures.
The issue is, of course, most pronounced among Republican voters, with 97% stating they would not vote for a candidate supporting puberty blockers, hormones, and sex-change surgeries for children.
This proportion is at 79% for independents, with Democrats standing out; just 43% of progressive voters said such support would preclude their vote.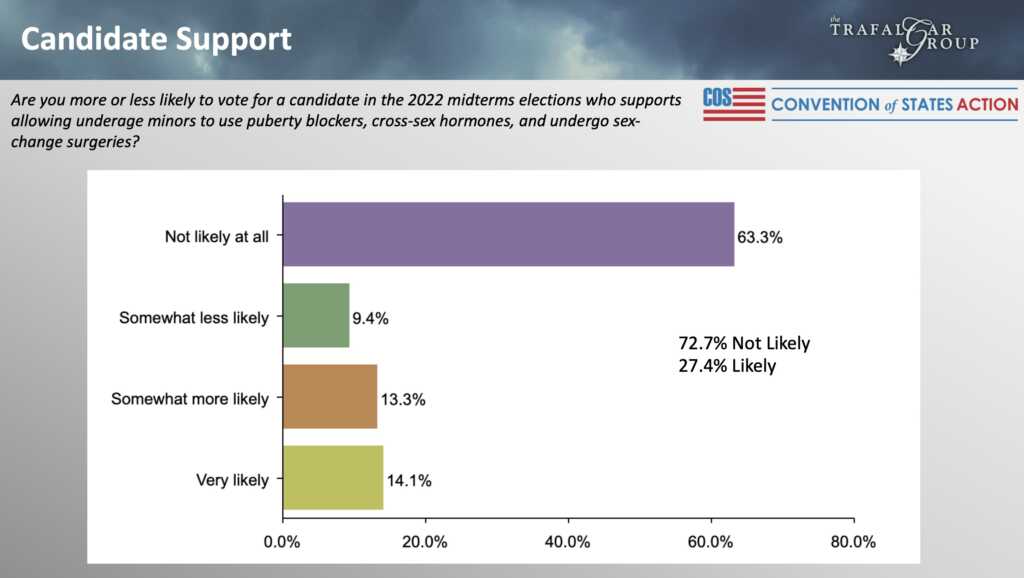 Mark Meckler, president of the Convention of States, said in a statement he believes the polling is evidence Democrats have gone "too far" on this ever-contentious social issue.
"As with so many other election 2022 issues, the far left has gone too far in pushing unrestricted transgender procedures for any child at nearly any age without any restrictions," he said.
Meckler continued, "Voters — most of whom are parents — know that this policy goes wildly beyond common sense in a country where we restrict entertainment, alcohol use, medications, driving, voting, and even criminal sentencing for minors."
The survey, conducted by The Trafalgar Group among 1,080 likely general election voters between Oct. 25 and Oct. 30, comes at a critical time before key elections are held across the U.S. It also comes as debate over the transgender issue — particularly its impact on minors — reaches a fever pitch.
As previously reported, a separate release last month from The Trafalgar Group showed U.S. voters oppose puberty blockers and gender transitions for children, with 79% of respondents saying they believe underage minors should wait until adulthood to take such measures.
Notably, the majority of every political cohort said underage minors should be required to wait until adulthood.
This was true of 97% of Republicans and 85% of Independents. Democrats were, again, the most significant outliers, despite the majority — 53% — saying children should wait until adulthood.
***As the number of voices facing big-tech censorship continues to grow, please sign up for Faithwire's daily newsletter and download the CBN News app, developed by our parent company, to stay up-to-date with the latest news from a distinctly Christian perspective.***